Falling temperatures, dew points across East, South provide refreshing taste of fall
The interior Northeast will be downright chilly Friday morning, with lows dropping down into the 40s or even the upper 30s.
The feel of fall is sweeping across parts of the country, ushering in the urge to start scheming for that perfect Halloween costume.
Cooler and drier air filtering in behind a cold front in the East gave those across the eastern third of the country another fall-like morning Wednesday. Low temperatures in the 50s were recorded in many areas, and lows in the 60s even spread down to the Gulf Coast which was 10 to 15 degrees below average for mid-September.
Ample sunshine over this dry air mass will allow temperatures to quickly rebound to near average, with Wednesday afternoon's highs climbing into the 70s and 80s.
"When we're talking dew point temperatures in the 70s, that's when we get into the miserable extreme range. That air you can wear. It's sticky. It's sweaty. It's almost oppressive," FOX Weather meteorologist Jane Minar said. "But when we drop into the 50s, that's when you step outside, and it is cool, it is crisp. And that's what we're dealing with right now."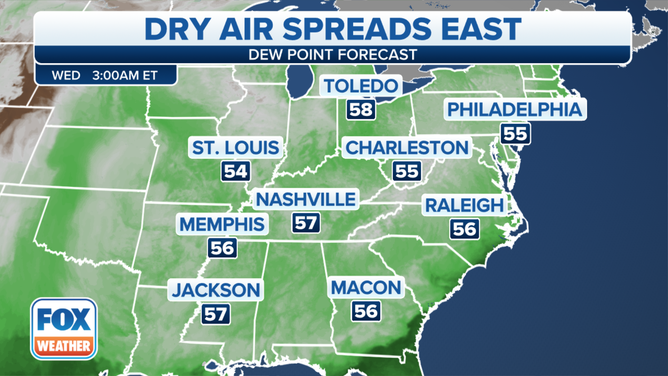 DEW POINT VS. HUMIDITY: WHICH ONE IS A BETTER MEASURE OF HOW MUGGY THE AIR FEELS?
It was a cool start to the day in Atlanta on Wednesday morning with a 57-degree dew point and temperatures in the 60s. 
"It's going to be one of those mornings that I always love to open up the door with," Minar said. "You get a little shiver, maybe even could get away with a light sweater, especially in Alabama and Mississippi this morning."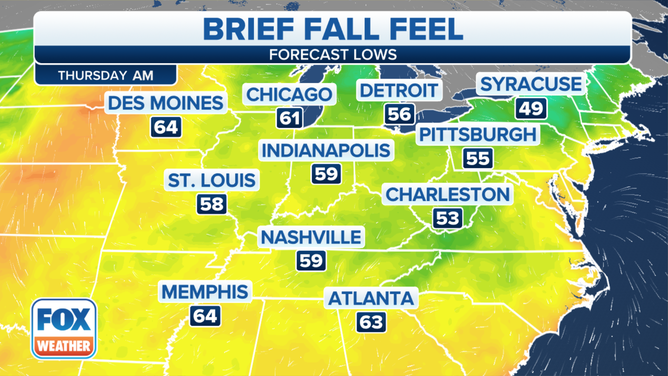 Everyone will continue to warm into the weekend except the Northeast, where another cold front passage will foster even cooler days Thursday and Friday.
Even under nearly cloudless skies, highs in the interior Northeast will struggle to get out of the 60s on Thursday. The major cities along Interstate 95 will rise into the lower to mid-70s.
HOW TO WATCH FOX WEATHER ON TV
It'll be downright chilly Friday morning, with lows dropping down into the 40s or even the upper 30s across nearly all of the interior Northeast.
Expect another cool day and night on Saturday before temperatures rise back to summerlike levels next week.