Extreme heat grips Plains, upper Midwest
Temperatures will remain in the 90s and 100s on Wednesday
Temperatures in the Plains and upper Midwest will soar into the 90s and 100s on Wednesday, prompting people living in those areas to take precautions to prevent heat-related illnesses.
HOW TO WATCH FOX WEATHER ON TV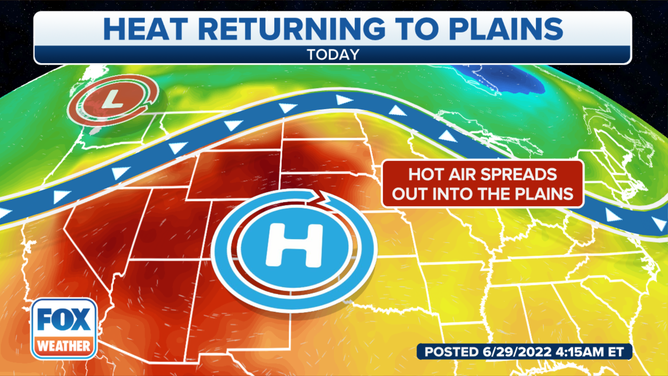 The extreme heat is thanks to a ridge of high pressure that's pushing the jet stream north to the Canadian border.
And with that area of high pressure, all the air under it is forced to the surface. When that happens, the air heats up, and temperatures can soar.
FIRESTARTER: LEAVING YOUR WATER BOTTLE IN THE SUNLIGHT CAN HAVE DISASTROUS RESULTS
High temperatures on Wednesday, June 29.
(FOX Weather)
---
Check out these high temperatures across the region on Wednesday.
Except for areas of the northern Rockies like Billings, Montana and Cheyenne, Wyoming, temperatures generally will be in the 90s. But, there are some areas of the Central Plains that will see temperatures at or above 100 degrees.
Areas most likely to experience that heat will be in places like Pierre, South Dakota, where a high temperature of 104 degrees is expected today. Elsewhere, across South Dakota and Nebraska will also be above 100 degrees.
Further south in Dodge City, temperatures are expected to level off around 94 degrees.
In the upper Midwest, like Minneapolis, temperatures will also be in the low to mid-90s during the day.
KEEPING YOUR FURRY FRIEND SAFE AND HEALTHY AS TEMPERATURES RISE 
Temperatures are expected to be well above average on Wednesday.
(FOX Weather)
---
While it is summer and warm temperatures are expected, what we'll be experiencing across the region today is above average for this time of year.
Cities from Bismarck and Fargo in North Dakota south into Colorado and Kansas will see temperatures warmer than usual, but areas of the Dakotas and Central Plains could see temperatures that are between 10 and 20 degrees above average.
STOP THE WASTE AND SAVE YOUR WALLET: BUDGET-FRIENDLY WAYS TO KEEP COOL DURING HEAT WAVES
Heat precautions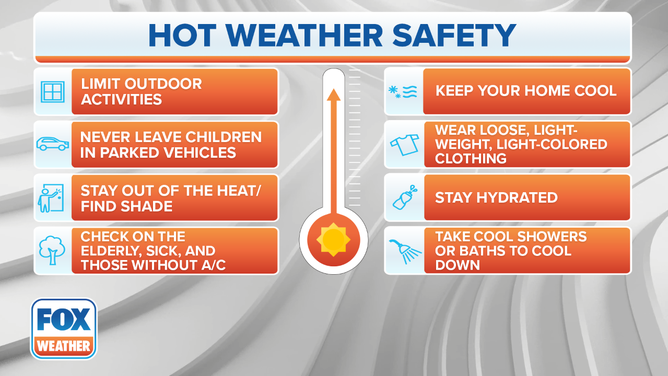 The best time to go outdoors during a hot summer day is in the early morning or late in the evening when temperatures tend to be cooler than during the afternoon.
If you need to go outdoors during the heat of the day, experts advise you to wear loose, light-colored clothing and drink plenty of fluids.
CLICK HERE TO GET THE FOX WEATHER UPDATE PODCAST
The dangerous heat can make vehicles deadly for anyone left inside without air conditioning running. Make sure to "look before you lock" to ensure you have not left any children or pets unattended. 
Track the temperatures in your area with the FOX Weather app. The free FOX Weather livestream is also available 24/7 on the website and app and on your favorite streaming platform. The FOX Weather Update podcast also provides weather information for the entire country.