Heat Advisories posted in Southern California ahead of Super Bowl LVI
More than four-dozen record highs could be tied or broken from California to southern Oregon
While much of the U.S. enjoys an early taste of spring this week, the West Coast will take it one step further as summerlike heat could place dozens of record-high temperatures in jeopardy through the weekend.
A strong dome of high pressure has parked itself over the West, setting the stage for a prolonged stretch of warm and dry weather with the jet stream remaining well to the north in Canada. This setup will direct any significant storm systems away from the West Coast.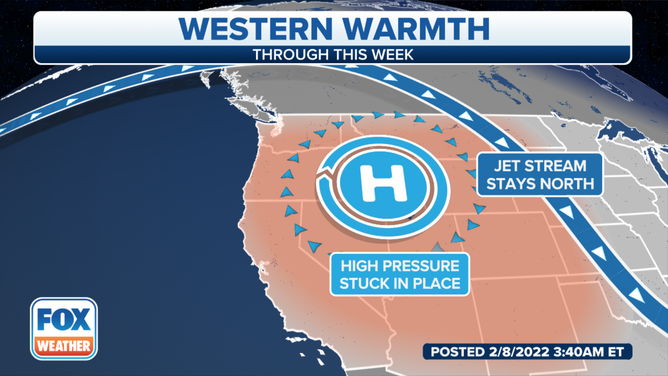 On Tuesday, high temperatures will be 10 to 20 degrees above average for much of California and southern Oregon. That translates to highs in the 60s and 70s for most areas.
Even warmer temperatures are expected Wednesday when highs up to 90 degrees are possible in Southern California, and this taste of summer might continue through Super Bowl Sunday.
SKIERS IN WEST 'GETTING GRUMPY' AS DRY FORECAST PERSISTS AND SNOWPACK FADES
In advance of this potential February heat wave, the National Weather Service has issued a Heat Advisory from Wednesday morning through Sunday afternoon for portions of Southern California, including the Los Angeles metro area – home of Super Bowl LVI on Sunday.
"The unseasonable heat will increase the potential for heat-related illnesses for visitors from other parts of the country where it is very cold," the NWS noted in the Excessive Heat Watch.
WHY 50 DEGREES FEELS FRIGID TO SOME BUT WARM TO OTHERS: THE SCIENCE OF ACCLIMATION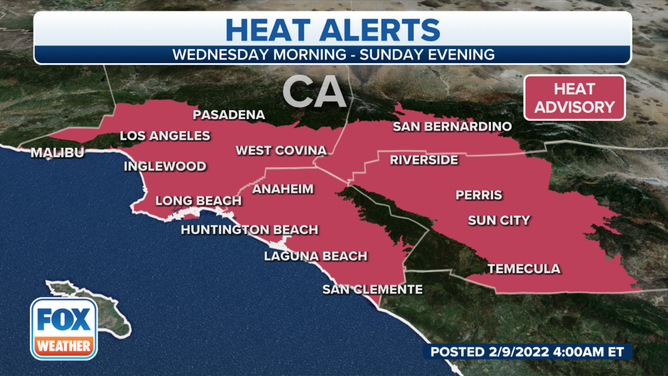 More than four-dozen record highs could be tied or broken from California to southern Oregon between Wednesday and Sunday. Record heat will be the most widespread Thursday and Friday.
In California, Los Angeles, San Francisco, San Jose and Burbank are all forecast to break their daily record highs Thursday afternoon.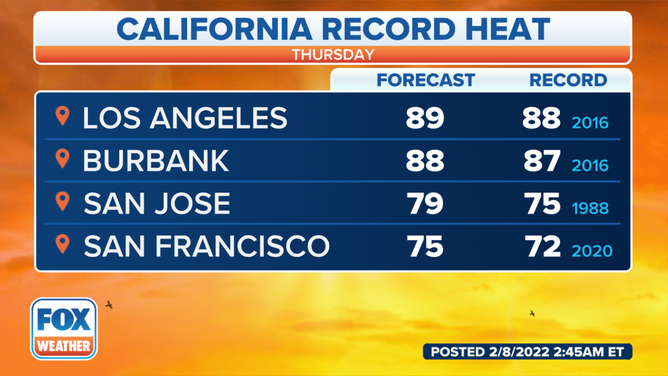 On Friday, Los Angeles and Sacramento are predicted to tie their daily record highs, while San Diego and Fresno, California, could each break their records.
HOW HARNESSING THE SUN'S POWER HELPS CALIFORNIA MAN'S 'BURNING DESIRE' TO CREATE ART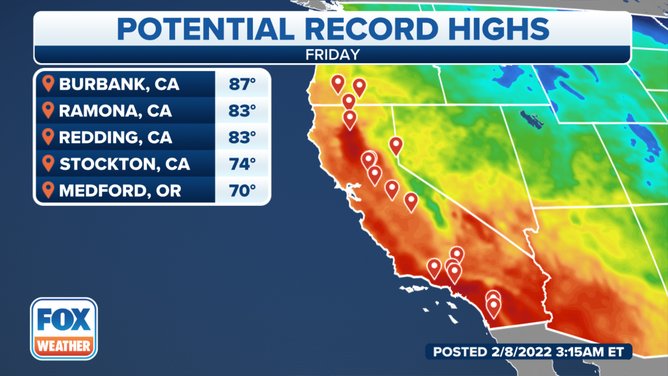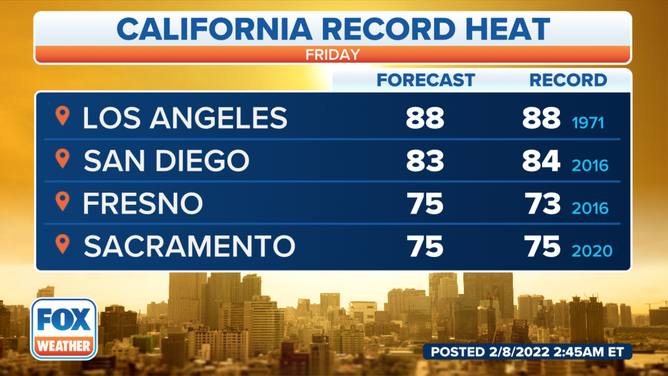 "Due to these anomalously high max temperatures with the potential to reach record-breaking values, along with the heightened spotlight across the L.A. area this week, an Excessive Heat Watch has been issued for the coast and coastal valleys," the NWS office in Los Angeles wrote in its forecast discussion Tuesday morning. "The afternoon highs will pose heat risks for people enjoying outdoor activities each afternoon Wednesday through Friday."
Very warm temperatures will continue through the weekend, but areas along the coast and in the lower valleys will be a few degrees cooler because a weak sea breeze is expected to develop, so record highs will not be as widespread on Saturday or Sunday.