Tiger Island Fire continues to burn as residents of entire Louisiana towns forced to evacuate
Record heat and drought are creating some of the worst fire conditions for the state since the turn of the century, according to the National Weather Service.
MERRYVILLE, La. – Mandatory evacuation orders remain in place Saturday for several Louisiana communities as efforts to battle the Tiger Island Fire in Beauregard Parish continue.
As of Saturday, the Forestry Department reported that containment remains at approximately 50%, but is improving. Twelve residential structures have been lost to the fire, but there have been no reported injuries or loss of life, according to the Beauregard Parish Sheriff's Office.
More than 30,000 acres have burned since local fire departments, volunteers and the National Guard started battling the fire, which started Tuesday morning. By Wednesday, the first mandatory evacuations went out for parts of Singer, Louisiana, with evacuation orders issued for other communities in the days that followed.
"It's burning very intensely," said Mike Strain, Louisiana Commissioner of Agriculture and Forestry. "It's moving pretty fast, and you can feel the air picking up. That's from the heat of the fire sucking air into the fire."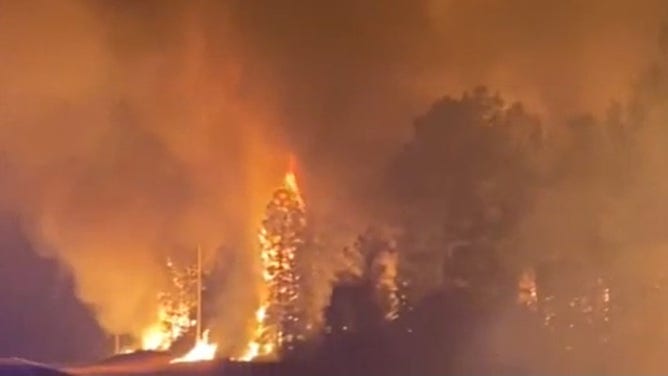 Texas Gov. Greg Abbott said he has deployed 89 firefighters, paramedics and emergency management personnel along with emergency response resources to Louisiana to help combat the devastating wildfires currently burning near the Texas-Louisiana border and across the Pelican State.
"Texas has deployed firefighters, emergency response personnel, and resources to help our neighbors in Louisiana respond to devastating wildfires," Abbott said. "Just as the State of Louisiana offered their support and assistance during Hurricane Harvey six years ago, Texas is swiftly providing the personnel and resources our neighbors need to combat these destructive wildfires impacting their state."

'Biggest fire danger' since 2000
High temperatures, drought and variable winds prompted the NWS to issue a Fire Weather Warning through Friday night for critical to extreme fire weather conditions.
"This is rapidly becoming the biggest fire danger threat this area has had since the summer of 2000," the National Weather Service office in Lake Charles office warned. "Fires can spread rapidly in these conditions."
CHICAGO HITS 100 DEGREES FOR FIRST TIME IN 11 YEARS AS HEAT ALERTS COVER 20 STATES
It's not just flames firefighters face but extreme heat. Merryville hit a high of 109 on Thursday. With humidity, the temperature felt like 118, according to the NWS.
"It's hot. That fire is hot. It's 109 degrees out here, and you can feel the heat and the intensity of the fire this far away," said Strain from the command post.
Crews try to knock down the fire to stop the spread
Air tankers and helicopters are dropping water and fire retardant on the blaze to try to knock the fire down out of the tops of the trees, where flames are very difficult to contain, Strain said.
2 WEEKS AFTER MAUI FIRES, NUMBER OF UNACCOUNTED FOR REMAINS ELUSIVE WITH OFFICIALS PLEADING FOR DNA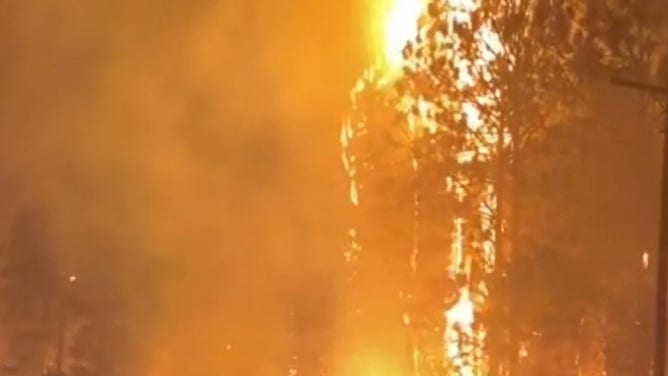 "It'll jump a road, and also, what happens when it's burning hot and high in the trees, it'll throw a debris field up into the air," Strain said on social media. "From this fire, they've already found embers that are still lit 20 miles away."
State officials have been pleading with the public across all media to observe burn bans.
"Everybody out here, every man and woman out here on this fire putting their life on the line, you know, to save the community and their family and the property here," added Strain.
The fight for water pressure
Water pressure has been another challenge firefighters faced as neighbors attempted to help by using their personal water hoses to fight fires, according to the sheriff. But that dropped water pressure and volume for the actual firefighters.
"People in the community who are attempting to use their personal water hoses to combat fire are severely handicapping the efforts to supply the fire fighting agencies here on scene to have water to use to fight fires," the sheriff's office wrote in a Facebook post. "Volume and pressure have become a MAJOR issue."
WHY FIREFIGHTERS ARE FIGHTING WILDFIRES WITH FIRE
Almost 360 wildfires have broken out so far this August across the state.