Magnitude 3.9 earthquake rattles portions of Georgia early Saturday
Reports of shaking have been received in Savannah, Bluffton, Statesboro and as far away as Columbia, Augusta, Warner Robins and Atlanta
STILLMORE, Ga. – An earthquake was reported early Saturday morning near Stillmore, Georgia.
An initial report from the United States Geological Survey showed a magnitude 4.5 but was later revised to 3.9.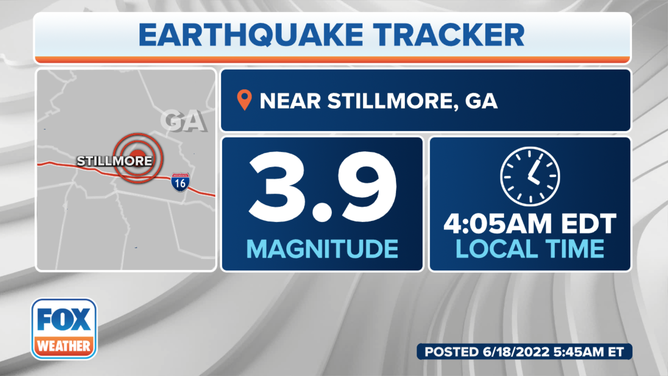 It was reported about 4:05 a.m. local time and hit at a depth of 0.8 km.
WHY EARTHQUAKES ARE FELT DIFFERENTLY IN THE US
Reports of shaking have been received in Savannah, Bluffton, Statesboro and as far away as Columbia, Augusta, Warner Robins and Atlanta, the National Weather Service in Charleston, South Carolina, said.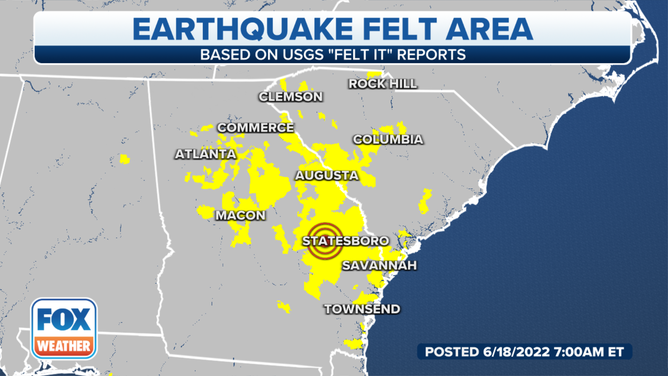 No reports of damage have been received so far.
The USGS estimates that around 500,000 earthquakes occur each year. Many of those happen deep in Earth's crust, and without the use of seismographs, they would go undetected. Seismologists estimate that only around 20% of the world's earthquakes are felt by humans and about 100 each year cause damage.
CLICK HERE TO GET THE FOX WEATHER UPDATE PODCAST
Be sure to download the FOX Weather app for the latest weather conditions and warnings in your area. The free FOX Weather livestream is also available 24/7 on the website and app and on your favorite streaming platform. The FOX Weather Update podcast also provides weather information for the entire country.