Disaster declaration signed as raging wildfires burn across 11 Texas counties
According to the NWS, western and central Texas remain under an elevated fire risk due to high winds, low humidity and drought conditions
EASTLAND, Texas – The governor of Texas has issued a disaster declaration for 11 counties in response to wildfire activity throughout several communities.
Emergency managers ordered mandatory evacuations for Bluff Dale in Erath County and Lipan in Hood County. The Big L Fire has so far burned 3,000 acres but is only 5% contained.
Evacuations for the deadly Eastland Complex fire have been dropped, but the fire is still only 30% contained and has already burned 54,015 acres. The fire claimed the life of a deputy and destroyed over 50 homes.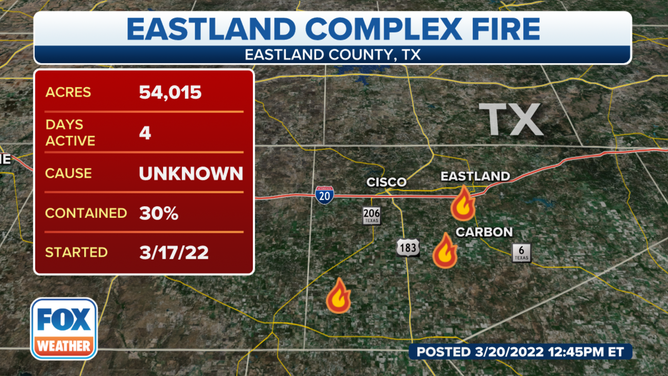 Flags were lowered to half-staff in Eastland County in honor of Deputy Barbara Fenley, who lost her life while trying to save others from the fires.
"We will never forget her sacrifice, and the state will continue to work closely with first responders and local leaders to mitigate these fires and support our communities as they recover," Gov. Greg Abbott said.
DEPUTY KILLED WHILE TRYING TO SAVE PEOPLE FROM TEXAS BRUSH FIRES
Four fires that started over Wednesday and Thursday – the Walling, Wheat Field, Kidd and Oak Mott fires – were combined for management purposes into the Eastland Complex, according to Texas A&M Forest Service. Three more fires broke out on Sunday adding to the complex; Blowing Basin, Cedar Mountain and Magnum.
Kidd Fire – 42,333 acres burned 40% contained
Blowing Basin Fire – 258 acres burned, 50% contained
Cedar Mountain Fire - 250 acres burned, 0% contained
Oak Mott Fire – 4,031 acres burned, 75% contained
Wheat Field Fire – 7,268 acres burned, 55% contained
Magnum Fire – 11 acres burned, 85% contained
Walling Fire – 383 acres burned, 100% contained
Abbot has also waived vehicle size, weight and permitting requirements to make sure farmers and ranchers can get hay and feed to their livestock and other supplies can get to those who need it most. Click here for a full list of state resources.
Texans affected by the fires are seeking shelter at a handful of churches and community centers in Eastland, Gorman and Cisco. Hay and feed, as well as a temporary animal shelter, have also been provided at the Texas Cattle Exchange in Eastland.
TEXAS WILDFIRES DESTROY BUILDINGS, SEND RANCHERS SCRAMBLING TO SAVE CATTLE
In addition to some Eastland County residents losing their homes, some historic buildings, like a church in Ranger, were destroyed by the fires, the Texas A&M Forest Service said.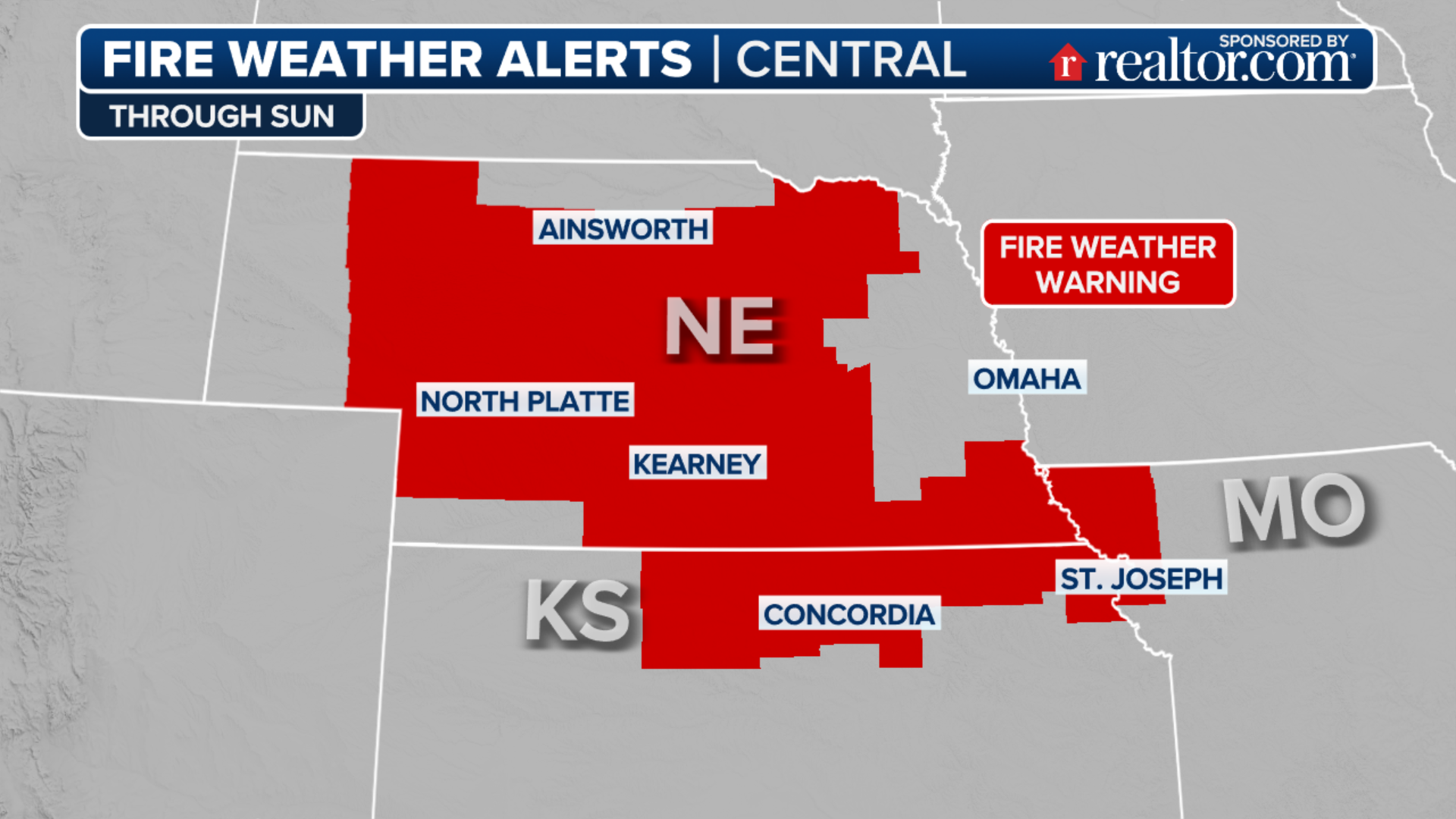 (FOX Weather)
---
Earlier this week, Abbott directed the Texas Division of Emergency Management to activate the State Emergency Operations Center and increase resources to respond to elevated and critical risks for wildfires in Texas.
AT LEAST 50 HOMES DESTROYED AFTER WIND-DRIVEN FIRES ERUPT IN TEXAS
According to the National Weather Service, western and central Texas remain under an elevated fire risk due to high winds, low humidity and drought conditions.
Firefighters are battling more fires statewide.
Latest on more Texas wildfires:
Sunday Late Fire – 400 acres burned 95% contained in Live Oak County
Wells 2 Fire – 300 acres burned, 60% contained in Archer County
Three Sections Fire – 300 acres burned, 80% contained in McMullen County
Ramsey Fire – 800 acres burned, 0% contained in Brown County
Nocona Hills Fire – 640 acres burned, 0% contained
Texans are encouraged to remain weather-aware and practice wildfire safety, particularly in areas where burn bans are active, to keep their communities safe.