Violent derecho flattens corn crops in Illinois with 100-mph winds
Homes lost shingles, and several trees had fallen on properties around Farmer City, Illinois as the derecho blasted through. Just outside of town, crops had been flattened by the blistering winds.
CHAMPAIGN, Illinois -- A powerful derecho with 100 mph winds slammed into the Midwest on Thursday night, causing damage to corn and other agricultural crops in Illinois. 
Senior Meteorologist Andrew Pritchard, with Nutrien Ag Solutions, was in Farmer City when the weather overtook the area at an extremely fast-moving speed. 
"I've seen a lot of storms in the Midwest, but this type of storm, this derecho, gives you a pit in your stomach because there is nowhere you can go," Pritchard said.
When the winds died down, he came across significant damage around Farmer City. Homes lost shingles and several trees had fallen on properties in the town. Just outside of town, he found crops that had been flattened by the blistering winds.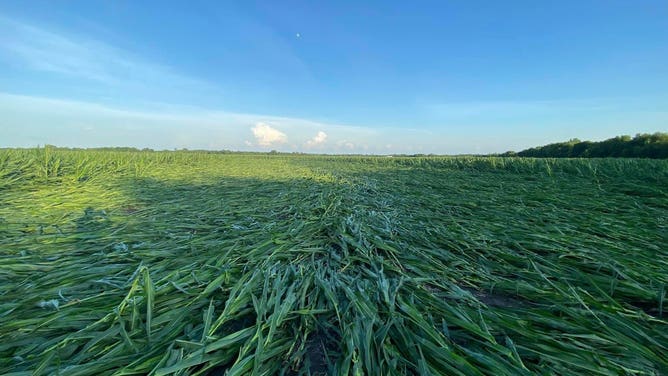 "You watched this line come in and really quickly overtook Farmer City," Pritchard said.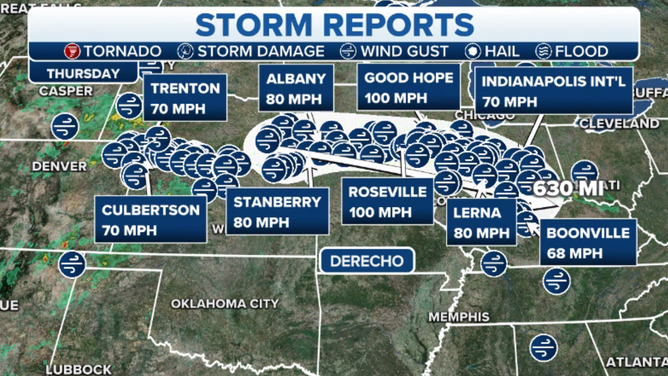 Despite the damages, it does not appear to be widespread. Some crops were not completely flattened and may recover, said Pritchard. Another benefit is that corn crops do have a few months left of growth.
"You go all spring and the first part of summer here waiting for rain of any kind, and it finally comes along with 80 mph winds," Pritchard said.
500 miles of damage
The storm is classified as a derecho, according to the FOX Forecast Center, because it produced straight-line wind damage over a span of at least 400 miles with wind gusts over 60 mph. Wind damage reports from Thursday's storms stretched more than 500 miles.
At the peak of the storm, over 500,000 people had lost power. The morning after the storm, many areas across Central Illinois were without power and restoration efforts were improving throughout the day. Temperatures were mild, in the high 60s on Friday morning, but the relative humidity was near 100%.
Pitchard said he's among those still without power.
Even with the damages, Pitchard said Thursday's weather event does not compare to the August 2020 derecho in the Midwest, which was "in a league of its own."
According to the National Weather Service, the 2020 derecho had maximum sustained winds of 140 mph causing widespread swatch of wind damages in Iowa and Illinois.