Death toll rising after historic tornado outbreak in America's heartland
Officials says dozens could be dead from the tornado outbreak.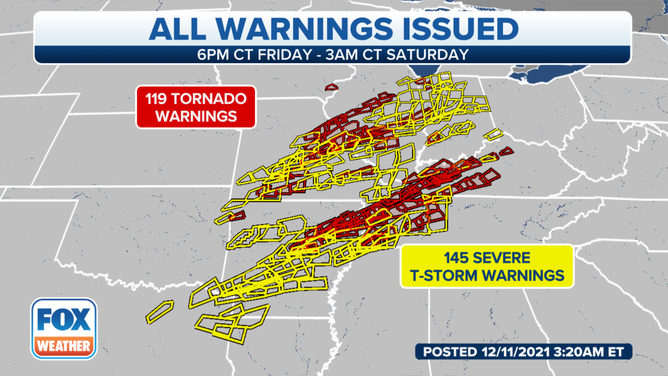 The FOX Weather team is providing live updates through our FOX Weather Wire. CLICK HERE to follow along.
Atmospheric conditions came together for a significant tornado outbreak in America's Heartland on Friday evening, leaving behind destruction that officials believe could be catastrophic.
Thunderstorms started erupting after sunset and triggered numerous Tornado Warnings across at least seven states.
Meteorologists from National Weather Services offices will survey damage paths on Saturday, but initial reports from the Storm Prediction Center indicate more than two dozen tornadoes impacted states from Arkansas to Kentucky.
Outbreak started in Arkansas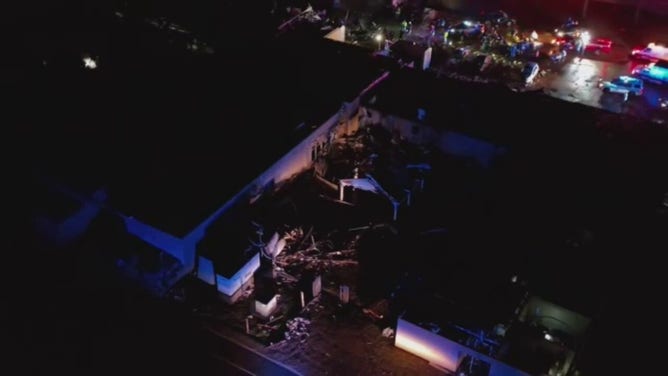 One of the first tornadoes of the outbreak struck a nursing home in Monette, Arkansas killing one person and trapping nearly 2 dozen.
Rescues were still combing through the debris during the overnight hours looking for additional victims.
Pictures from nearby Leachville, Arkansas, show much of the same devastation impacting businesses, including a Dollar General.
It is unclear if anyone was in the store during the severe weather.
Damage outside of St. Louis
Emergency management believes a tornado was responsible for destroying homes and businesses outside of St. Louis.
Authorities reported at least one death and two injuries in Defiance, MO.
Amazon workers trapped in Illinois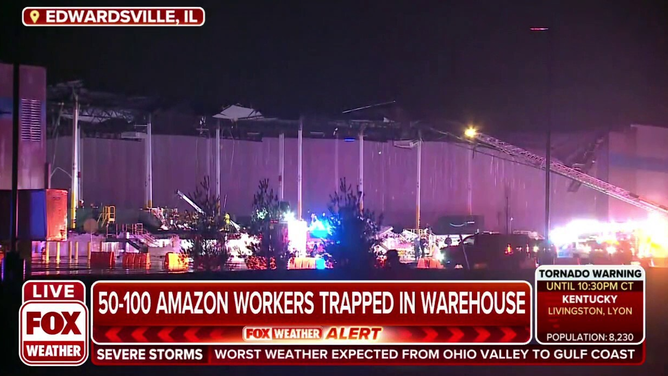 Governor JB Pritzker activated the State Emergency Operations Center to respond to damage in several towns. 
Officials said the hardest-hit area was Madison County, where local authorities responded to a collapse of a warehouse. 
Reports indicate upwards of 100 employees were trapped in an Amazon warehouse in near Pontoon Beach, Illinois.
FOX 2 reported first responders transported at least 40 workers to a local police department.
An Amazon spokesperson released the following statement regarding the damage: "The safety and well-being of our employees and partners is our top priority right now. We're assessing the situation and will share additional information when it's available."
Catastrophic damage in Kentucky
Tornadoes struck at least two towns in western Kentucky, leaving behind significant damage.
Gov. Beshear declared a state of emergency based on the significant tornado damage in multiple Western Kentucky counties. He said in a press conference Saturday morning that the death toll has reached 70 and could exceed 100 by the end of the day. 
Authorities warned they expected dozens of fatalities after a significant tornado struck Mayfield, KY.
At least 100 people were reported trapped in a Candle Factory in the small town.
Western Kentucky University officials report significant damage in the Bowling Green area. So far, no reports of injuries on campus, but an emergency operations center has been established.

During a news conference Saturday morning Gov. Beshear said "This has been one of the toughest nights in Kentucky history."
Several Killed in Tennessee
Several supercells created paths damage through the western part of the state.
At least three fatalities were reported in Lake and Obion counties.
National Weather Service meteorologists will likely survey the damage paths to determine how many tornadoes impacted the Volunteer State.
As the storms pushed eastward, Tornado Warnings were also issued for the metro Nashville area.
Wind gusts were clocked at 78 mph at the city's international airport.