'I am now more aware': Deadly storms that ravaged Kentucky 10 years ago have left lasting legacy
Those who survived the tornadoes were left with stories of tragedy and loss, but also hope and encouragement that continue to be told even after 10 years.
EAST BERNSTADT, Ky. -- March 2, 2012, is a day residents of the Ohio and Tennessee River valleys will never forget.
On this day, a historic and deadly tornado outbreak occurred across the region, with Indiana and Kentucky taking the hardest hit. The outbreak left 22 dead in Kentucky alone, and those who survived were left with stories of tragedy and loss but hope and encouragement as well that continue to be told even after 10 years.  
Meteorologists had been watching the increasingly-dire forecast unfold in the days leading up to the outbreak. Kentucky was going to be in the warm sector of this storm system, which is an area of warm surface air between a cold front and a warm front. This put them in the prime location for a significant tornado outbreak.
HOW TO WATCH FOX WEATHER ON TV
And when the sun rose on that Friday morning, all ingredients were indeed coming together to produce a nasty day of severe weather.  Sunshine was common as temperatures eventually hit the record-breaking 70s and 80s. Residents could feel the humid air and knew something was going to give.
As confidence in dangerous weather continued to increase, national severe storm forecasters at the Storm Prediction Center (SPC) placed Kentucky in a rare "high" risk for severe weather – the highest threat level their five-level scale goes to and issued only during the most threatening and dangerous events. A high risk is very rare at any point in the year, but we've only seen five issued in March in the last 25 years across the whole country, according to the SPC.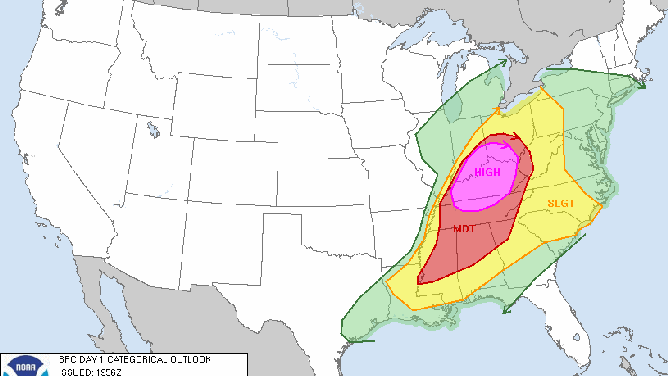 At 10 a.m., the first tornado watch of the day was issued in western Kentucky. But this wasn't an ordinary tornado watch, this was given a rare Particularly Dangerous Situation designation. That type of watch is only issued when forecasters have high confidence that multiple strong-to-violent tornadoes will occur in the watch area, so it really raised some eyebrows.
Storms popped quickly in the afternoon and severe thunderstorm warnings and tornado warnings soon lit up those areas. The PDS tornado watch was extended to the east as the storms moved through the state.
Then meteorologists' biggest fears became reality, as 70 tornadoes ripped through seven states.  There were 18 confirmed tornadoes just in Kentucky, and several were long-tracked, violent tornadoes. Twenty-two people died in Kentucky, making it one of the worst tornado outbreaks to ever hit the state.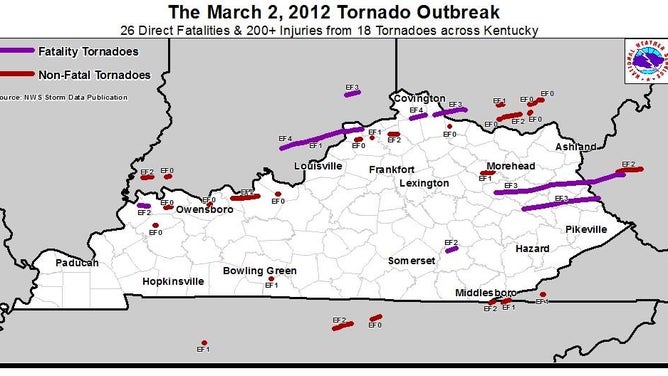 Towns like East Bernstadt, West Liberty and Sayllersville in Kentucky will never be the same as those were three of the hardest hit areas. Ten years later, you can still see the destruction left behind on that day.
Surviving nature's fury
In East Bernstadt, homes were destroyed and lives were lost in the small community, but we also find a story of hope and a true miracle.
Amy Harris was visiting her friend's mobile home on the other side of town that evening. She was aware of the threat of severe weather but decided to go ahead and hang out with her friend.
About 7 p.m., her phone rang. It was her mom who, with terror in her voice, told Amy a tornado was headed right for her and her friend, and they needed to get out of the mobile home immediately. At the same time, Amy's phone alerted her of a tornado warning.
By that time, skies were getting dark, and the wind was quickly picking up, so they knew it was too late to leave and decided to take shelter in the hallway of the mobile home.
When reaching the hallway, they could hear loud noises coming from outside, and they knew that the tornado was there. The next thing Amy remembers is emergency personnel getting to her. She was alert but couldn't remember what happened between her kneeling down to take shelter and being found by rescuers. All she remembers was yelling for her mom.
'THIS IS HOME': MAYFIELD RECOVERY CONTINUES 2 MONTHS AFTER DEADLY TORNADO OUTBREAK
She was rushed to a nearby hospital, but upon arrival doctors immediately called for a helicopter to have her airlifted to the University of Kentucky Hospital because her injuries were so severe. Her left leg was missing from her knee down, but she was unaware of this because all her other injuries were so extensive.
Once arriving at UK Hospital, doctors put her in a medically induced coma because her kidneys were shutting down from her serious internal injuries. Doctors told her mom that she would likely never wake up and there was nothing else they could do for her.
But four weeks later, they were able to drain fluid off her kidneys and doctors started to see a big turnaround. One week later, Amy woke up from her coma and her condition continued to improve. She was devastated to learn that she had lost her left leg, but ultimately she was thankful to be alive.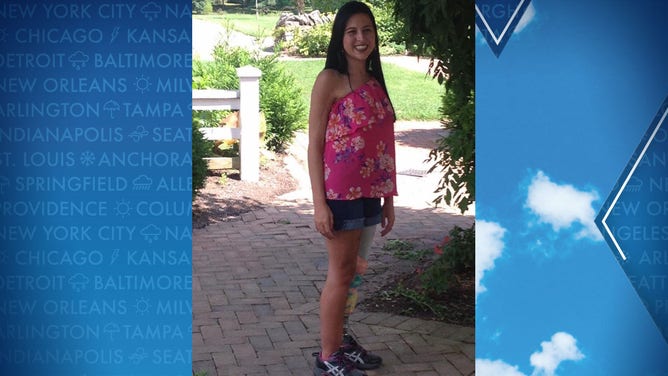 Over the next couple of weeks, she was sent to a rehab center. After spending some time there, she returned home to start her life over. The next several weeks brought multiple trips to rehab as she learned to walk with a new prosthetic leg.
Now, she is a walking miracle and continues to tell her story over again because she has a new outlook on life.
"Life is short," Harris said. "Don't take it for granted. You can overcome anything with the right mindset."
Harris said she'll always keep tabs on severe weather now.
"I am now more aware anytime there is a chance for severe weather," she said. "Don't let it take a life-changing event to make you more aware like it did me."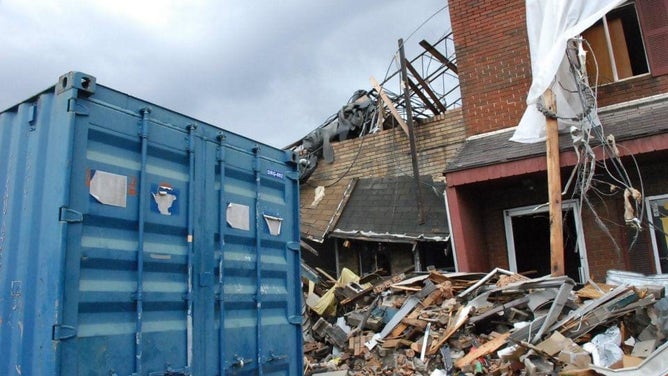 Helping the community in time of need
When tragedy strikes, it also tends to bring out the good in people, and that's exactly the case for Laiken Coffey, who lives in Mt. Vernon, Kentucky. Coffey was aware of the severe weather threat that day while talking to several of her friends in a group chat.
One of those friends was from West Liberty -- right in the tornado's path. He sent in the group text: "A tornado is headed straight for my town, please pray guys."
Several anxious hours passed before they heard from him. Thankfully, he was OK but had lost cell phone service during the storm. He began to send pictures to Coffey and she knew she had to do something. So she began to collect money for the tornado victims of West Liberty.
After a few days, she had collected $1,000. She and her mom loaded up in her car and made the two-hour journey to take the money to West Liberty.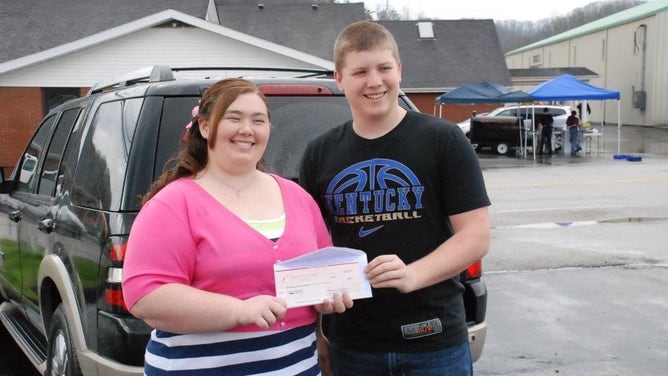 Upon arriving, Coffey was in complete shock at what she saw.
"It was unlike anything I had ever seen -- and pictures didn't do justice," said Coffey. 
Now that she has seen such devastation from Mother Nature, she takes any severe watches and warnings more seriously than ever before.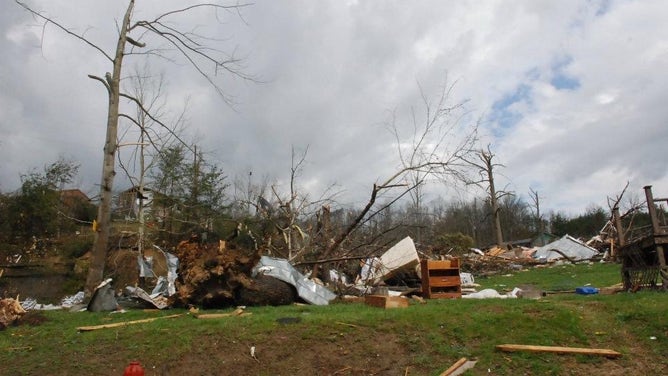 Storm sparks interest in meteorology
That day continues to have impacts on those who lived through it, including me. I was only 12-years-old at the time, but I was already interested in the weather. I remember being glued to the TV and computer, watching my local meteorologist track the storms that day wishing I could do the same and help alert people.
It is this event that really confirmed to me that I wanted to be a meteorologist. I am now in college to become a broadcast meteorologist because I want to alert people of the danger Mother Nature throws their way.