Dangerously cold air sweeping across central US
Wind chill values of -40 degrees could be felt in the northern United States
Dangerously cold air is continuing to sweep across the central United States, dropping temperatures in some areas to 40 degrees below average for this time of year.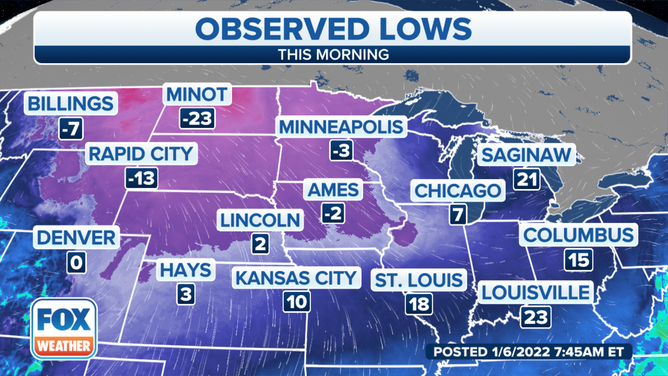 It's been a very cold start to the day for people from the Northern Plains to the Southern Plains, and strong winds will make it feel even colder.
So far, Minot, North Dakota, has plummeted to 23 degrees below zero, and those sub-zero temperatures are being felt across the region.
Billings, Montana, dropped to minus 7 degrees, and Rapid City, South Dakota, fell to 13 below zero.
To the east, Minneapolis has seen a temperature of 3 degrees below zero. Even Ames, Iowa, dipped below zero.
It has been a bit warmer to the south but still well below freezing.
Denver, Hays, Kansas and Lincoln, Nebraska, have all been below 10 degrees.
Temperatures in the teens and 20s were also felt in Chicago, St. Louis, Saginaw, Michigan, Columbus and Louisville.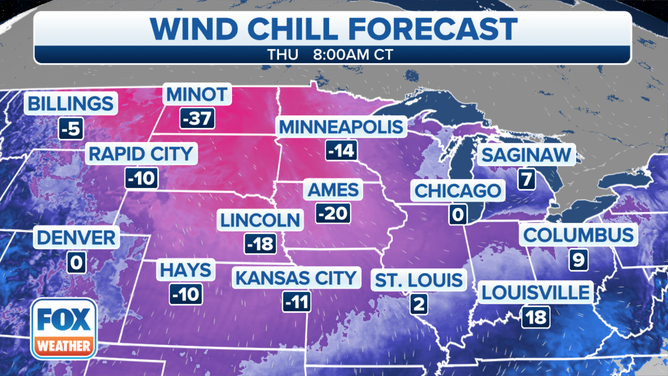 When you add in gusty winds with those bitterly low temperatures, wind chill values could reach nearly 40 degrees below zero across the Northern Plains and Upper Midwest. Areas surrounding Minot, North Dakota, have the best chance of seeing those life-threatening wind chill values. 
More sub-zero values could also be felt to the west in Billings, Rapid City and Denver. Even areas to the south and east, like Minneapolis, Ames, Lincoln and Kansas City, could have wind chill values between minus 20 degrees and just above zero.
What does the wind chill mean?
The cold temperatures and strong winds will allow for frostbite to occur very quickly, so anyone outside during the day should dress in layers and take the proper precautions.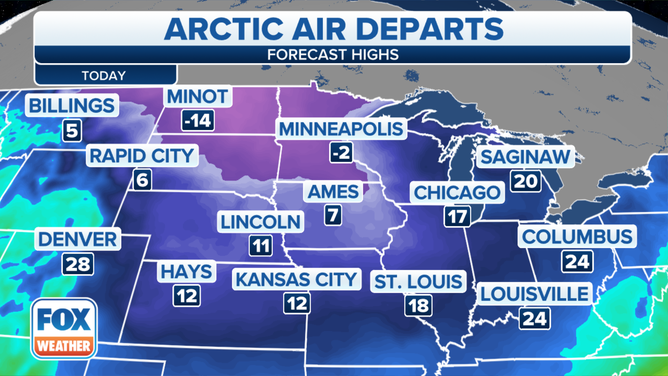 And for people living in the northern United States, don't expect a warmup anytime soon.
On Thursday, temperatures will remain below zero in Minot and Minneapolis. Expect temperatures in the single digits in the Billings, Rapid City and Ames areas.
Below freezing temperatures will also be felt from Montana to the Mississippi Valley on Thursday.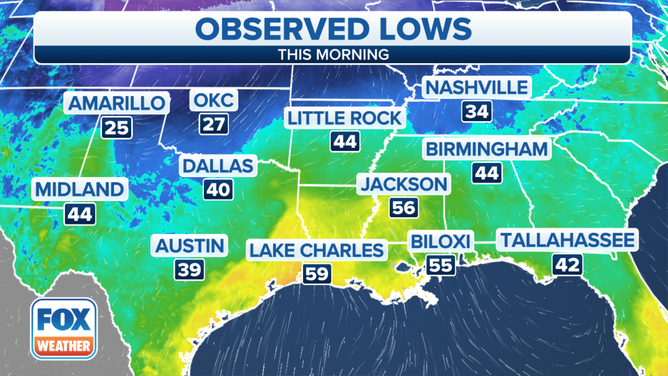 Those cold temperatures won't be limited to the northern United States. Areas of the south will also be cold.
While not as cold as the north, temperatures have been below freezing in Amarillo, Texas and Oklahoma City. Nashville saw temperatures of 34 degrees Thursday morning.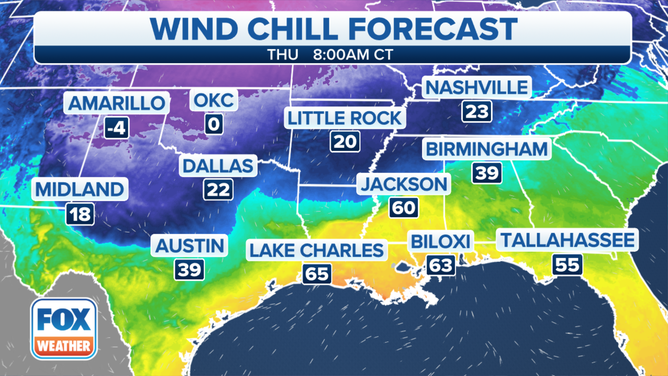 It will feel even colder when you factor in the wind on Thursday.
Zero and sub-zero wind chill values will be felt across the Texas and Oklahoma panhandles. Wind chill values in the teens and 20s will also be felt from Midland into Dallas and from Little Rock into Nashville.