12 tornadoes reported in late October outbreak
At least 12 tornadoes have been confirmed since Tuesday
Louisiana Governor John Bel Edwards said in a news conference Thursday morning that a major disaster declaration is "not likely forthcoming" after Wednesday's EF-2 tornado that ripped through parts of Lake Charles.
The twister was one of 12 tornadoes reported from Kansas to Mississippi.
Edwards noted there was significant damage to 12 homes in Lake Charles, with less severe damage to "several more." No one was killed by the twister, but two people suffered injuries that Edwards blamed on straight-line winds rather than the tornado.
Ryan Nettles was one of the homeowners hit hard by the severe storms in Lake Charles on Wednesday.
"It sucked out my windows and then sucked my front door in, even with the deadbolt locked," Nettles said.
He and his wife were still in the process of cleaning up from the record-breaking hurricane season of 2020 when Wednesday's line of storms came rolling through.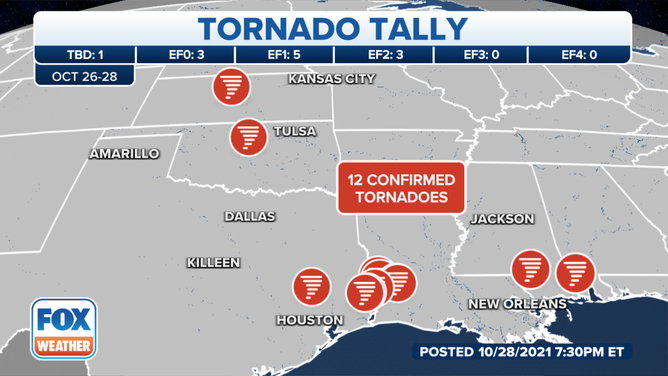 The outbreak's tornado count includes four twisters that struck southeastern Texas on Wednesday. Two of these tornadoes were ranked EF-2s with winds around 130 mph.

A NWS survey said a woman was critically injured near Little Cypress, Texas when her mobile home was flipped by one of the two EF-2 tornadoes.
During Wednesday's outbreak, more than 50,000 people from Texas and Louisiana were without power during the height of the storms.
One death was reported from an EF-1 tornado in Jackson County, Mississippi. Authorities said a woman's vehicle was blown off Highway 63 near Moss Point, on Wednesday evening.
If you come across damage in the impacted regions, you are encouraged to report it to the local emergency management agency or the National Weather Service.