A woman in Mississippi died after a tornado blew her car off the highway
NWS confirms E-0 tornado in Jackson County, Mississippi
A woman died Wednesday after her vehicle was caught in the path of a tornado in Jackson County, Mississippi, emergency management officials said. 
According to the Jackson County Emergency Services director, a 62-year-old was driving on Highway 63 near Moss Point when her vehicle was blown off the road during a severe storm. The driver died at the scene.
National Weather Service Jackson County confirmed an EF-0 tornado was in the area at the time of the driver's death. It was an EF-1 but quickly dropped to an EF-0.
Tornadoes are rated from 0 to 5 on the Enhanced Fujita Scale to estimate the twister's intensity in terms of damage and destruction caused along its path.
The tornado was part of an outbreak fueled by intense storms moving from the Plains across the Gulf Coast states that continue to make its way across Florida Thursday.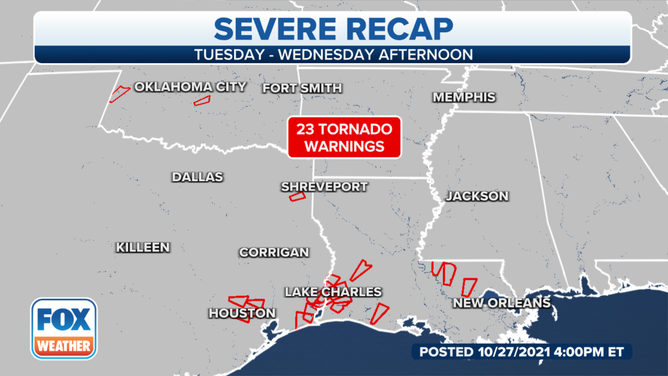 The 62-year-old driver became the first confirmed death related to the tornado outbreak. 
Another tornado with estimated wind speeds up to 110 mph was confirmed in Picayune, Mississippi, by the NWS New Orleans survey team. 
The National Weather Service was on the ground Thursday in Mississippi, Texas and Louisiana surveying the damage. 
Video and photo and Louisiana and Texas show widespread destruction. 
Another driver in Texas was on Interstate-10 when a tornado passed in front of her car. Video she recorded shows the twister ripping up power lines and picking up anything in its path.
The NWS has recorded at least 12 confirmed tornadoes since Tuesday, but more are expected to be confirmed as surveys continue.