Colorado ski resort opens first slopes of the season in North America
First snowstorm of the season dumps 2 feet in some western states
It's officially ski season in North American, at least for one Colorado ski area.
Wolf Creek Ski Area in Pagosa Springs, Colorado, received 14 inches of snow from the season's first winter storm, allowing for skiers and snowboarders to hit the slopes starting Saturday.
Rosanna Pitcher, Wolf Creek Ski Area vice president of marketing and sales, said 14 inches might be a conservative estimate because it was a windy snowstorm, moving snowdrifts in many places.
The first big snowstorm of the season rolled in on Sunday, dropping up to 2 feet of snow across parts of the western U.S. before winding down Wednesday.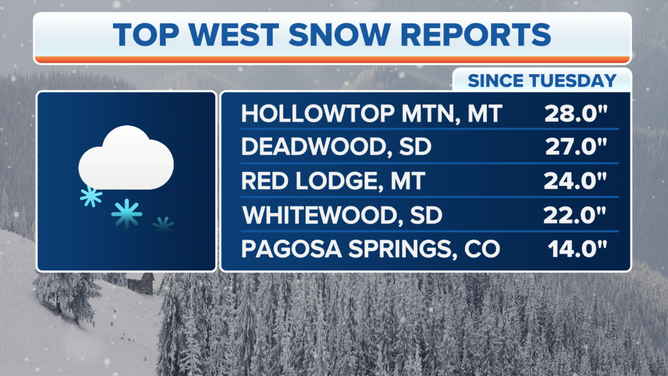 According to the global ski tracking website skiresort.info, Wolf Creek will be the first in North America to open for the season.
Pitcher said the resort didn't intentionally decide to open first, adding early season skiing isn't for everyone because it's not perfect.
"This time of year, people are very excited to get their skis and boards out," Pitcher said. "The exciting part of autumn is to have a snowstorm."
According to Pitcher, the resort typically opens ahead of Halloween weekend, but the earliest opening on record for the ski area was Oct. 8. Last year, the lifts began operating on Oct. 28.
The slopes will offer some autumn views as trees hang on to their fall colors for those who come out. 
"We think we're going to have a really good product, and it will be really fun," Pitcher said. "The trees are still really golden. It will be a beautiful ride."
Wolf Creek will open the Nova Lift and Lynx Lift from 9 a.m. to 4 p.m. The coffee and espresso bar will be operating, and the restaurant will also be open.
Skiers and riders should check the ski area website for updates ahead of the weekend.
Pagosa Springs, Colorado, where Wolf Creek is located, didn't receive the most, or even close to the most, snow during the winter storm.
More than 2 feet of snow fell in Hollowtop Mountain, Montana; Deadwood, South Dakota and Red Lodge, Montana.
During the last weeks of September, a strong cold front brought enough snow for a light dusting in Colorado, getting people excited for the incoming ski season.
Meanwhile, some areas of the west have to hang on a bit longer to shred some fresh powder.
The slopes off Red Lodge Mountain in Montana got 24 inches of snow since Tuesday. Opening day at the resort is set for Nov. 26.