Colder temperatures settle across eastern United States
The cold temperatures stretch from the U.S.-Canada border all the way south to the Gulf Coast
People in the eastern half of the United States will need to grab a jacket before heading out Tuesday as colder air settles in just in time for Thanksgiving.

A ridge of high pressure settled over the Ohio and Tennessee valleys is pulling cold Canadian air from the north and allowing temperatures 10 to 20 degrees below average across the East.
The cold temperatures stretch from the U.S.-Canada border, where it was 26 degrees in Caribou, Maine, and 10 degrees in Marquette, Michigan, all the way south to the Gulf Coast, where Pensacola and Ocala, Florida, saw temperatures in the 40s Tuesday morning.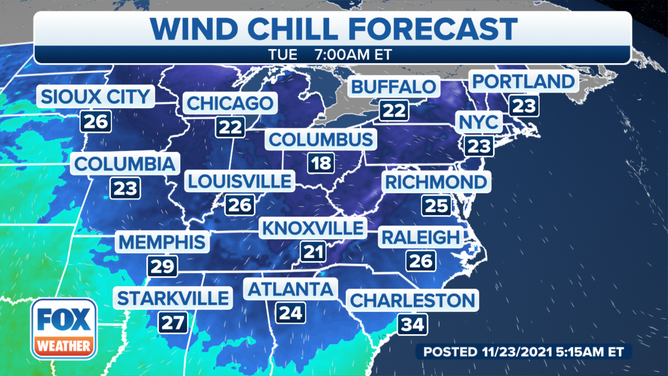 And when you factor in the winds, it's going to feel a lot colder. 
Tuesday morning will feel below freezing across an area that stretches from the Midwest to the Mississippi Valley into the Southeast, Northeast and New England.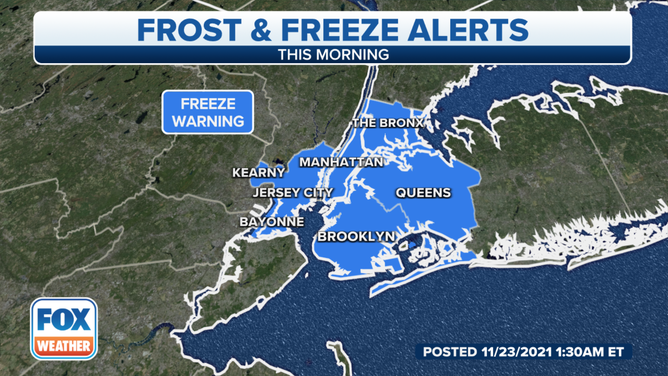 Freeze warnings were issued for the New York City area through Tuesday morning as temperatures dropped to freezing or below overnight. Residents were asked to take steps to protect plants from the cold and wrap or drain pipes or allow them to drip slowly so they didn't freeze and burst.
Staten Island wasn't included in the freeze warning because it had already seen its first freeze of the season.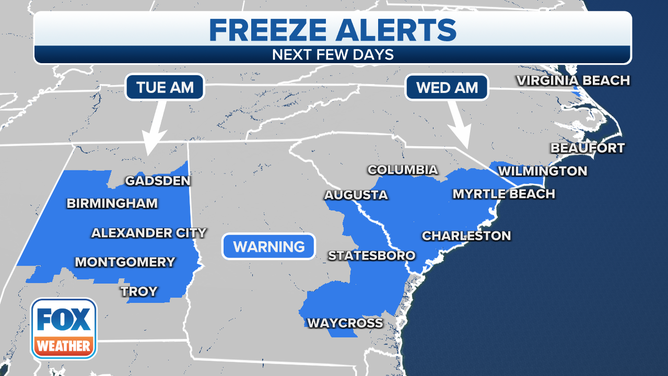 As the colder temperatures get pulled farther to the south, more frost and freeze alerts were issued across parts of the Southeast. Freeze warnings were in effect for all of central Alabama until 9 a.m. local time Tuesday. Temperatures are expected to rise into the 50s by Tuesday afternoon.
That's not the end of the cold temperatures, however. More freeze warnings were issued for southeastern South Carolina, including Charleston, and parts of southeastern Georgia from Tuesday night into Wednesday morning.