Cold front tracking into Northeast with much colder temperatures, rain
Friday will be 20 to 30 degrees colder in much of the eastern U.S.
A cold front will usher in much colder temperatures as it tracks into the Northeast with an area of rain on Thursday.
Ahead of the front, it will feel more like September up and down the East Coast. High temperatures Thursday will soar into the 60s as far north as southern New England, while widespread 70s are predicted across the mid-Atlantic and Southeast.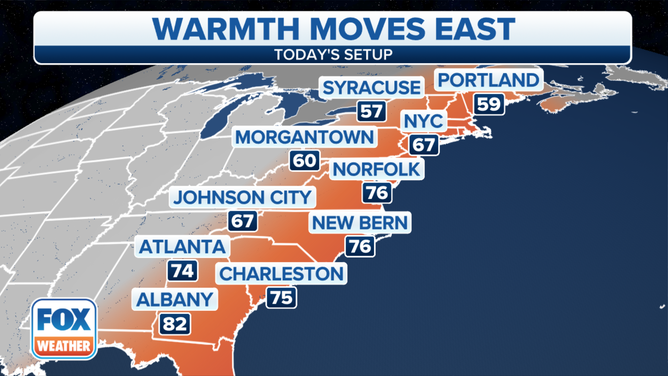 But big changes are ahead in the wake of the cold front, as temperatures Friday will be 20 to 30 degrees colder in much of the eastern U.S. The Plains and Midwest are already feeling the chill on Thursday, with highs stuck in the 30s and 40s across the North and mainly the 50s in the South.
By Friday and Saturday mornings, freezing temperatures are expected all the way to the Deep South.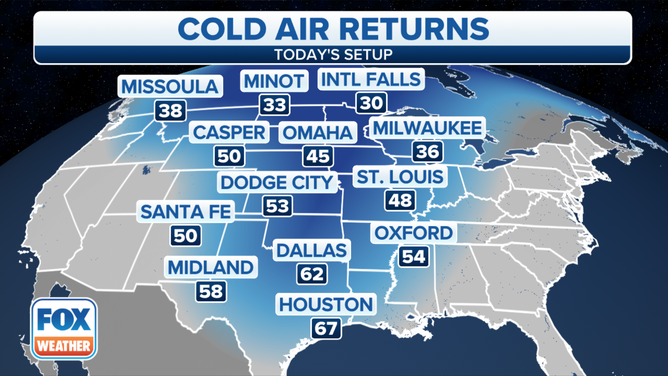 This cold air will lead to the development of lake-effect snow in the Great Lakes snowbelts, possibly beginning as early as Thursday afternoon after the frontal passage.
THE NATION'S FIRST HEAT WAVE RANKING PROPOSED FOR CALIFORNIA
Rain moves eastward
An area of rain associated with the cold front will slide into the Northeast on Thursday. Showers will overspread areas from the interior Northeast to the Tennessee Valley through the day. The rain will arrive in Pittsburgh during the morning commute, but it should hold off until the evening commute in Albany, New York.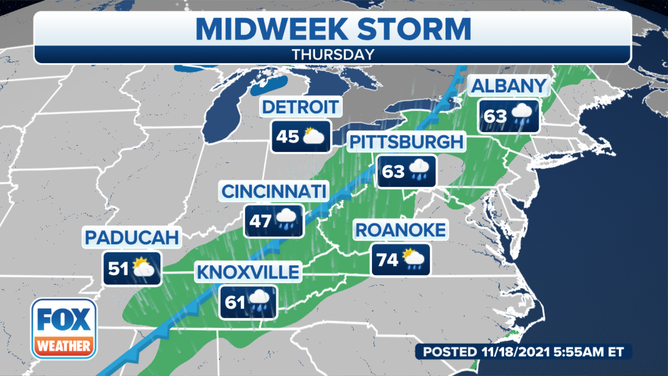 Showers will eventually reach the East Coast by Thursday night. The rain should hold off until after the evening commute along the Interstate 95 corridor from New York City to Philadelphia to Washington. Boston will likely stay dry until about midnight.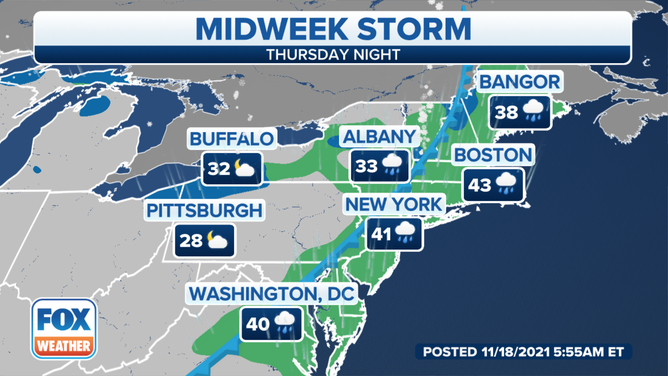 Rainfall amounts will be light across the Northeast.
Most areas will receive less than a half-inch of rain, but a few isolated spots might pick up a half-inch or more.