Cold front to bring much needed relief from heat in central US
Temperatures could fall between 20 and 30 degrees between Thursday and Saturday
Parts of the central and northern United States will see some much-needed relief from the scorching temperatures as a cold front sweeps through the region over the weekend.
In the meantime, temperatures will remain above average over the next two days until that happens, with daytime highs getting into the 90s and 100s.
Here's a look at what to expect as we end the work week and prepare for the weekend.
HOW TO WATCH FOX WEATHER ON TV
High temperatures on Friday, June 24.
(FOX Weather)
---
On Friday, high temperatures during the day will be in the upper 80s to lower 90s across the Northern Plains and into the upper Midwest.
This includes cities such as Bismarck, North Dakota, Lincoln, Nebraska, Kansas City, Missouri, and Minneapolis. It will be even hotter across the Central Plains, where temperatures will easily rise above 100 degrees in places like Dodge City, Kansas.
And with the heat and humidity comes the risk of some strong to severe thunderstorms across the Northern Plains and upper Midwest with damaging winds and large hail being the primary threats.
WHERE DID THE' DOG DAYS OF SUMMER' COME FROM?
High temperatures on Saturday, June 25.
(FOX Weather)
---
The cold front will begin sweeping across the Northern Tier starting Saturday.
Areas of the Northern Plains will feel the relief first, with cities like Billings, Montana and Bismarck only getting into the upper 60s during the day – a more than 20-degree temperature difference.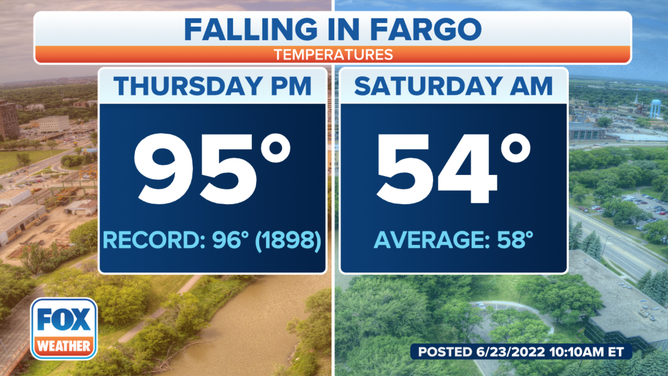 Another area that could see an extreme temperature difference is Fargo, North Dakota. The high temperature on Thursday will be around 95 degrees, just one degree shy of its old record set in 1898.
It will be warm again on Friday. But with the arrival of the cold front on Saturday, temperatures will drop into the low to mid-50s. That's below its average temperature of 58 degrees.
The relief will come later on Saturday into the afternoon and evening across the rest of the region, as temperatures ahead of the cold front will again soar into the 80s and 90s.
There's also a chance for strong to severe thunderstorms across portions of Iowa, Kansas and Missouri as daytime heating fuels their development.
High temperatures on Sunday, June 26.
(FOX Weather)
---
Sunday will be another day with cooler temperatures across the region, with many areas not getting out of the 70s by the afternoon.
CLICK HERE TO GET THE FOX WEATHER UPDATE PODCAST
The Northern Tier will see temperatures in the upper 70s, with Bismarck seeing a high of about 78 degrees.
Those cooler temperatures will also stretch to the south and east, with Kansas City seeing a high around 77 degrees and Minneapolis and Des Moines, Iowa, coming in around 76 degrees.