Southeastern flooding continues even as the storm pushes Northeast
The prolonged wind event will likely produce coastal flooding along the coast of North and South Carolina into the Mid-Atlantic
A nor'easter that developed off the coast of Florida Friday is moving away from the coast, but strong winds and some rain will continue for the Carolinas. 
Currently, the storm, off the North and South Carolina state line is continuing to head northeast slowly.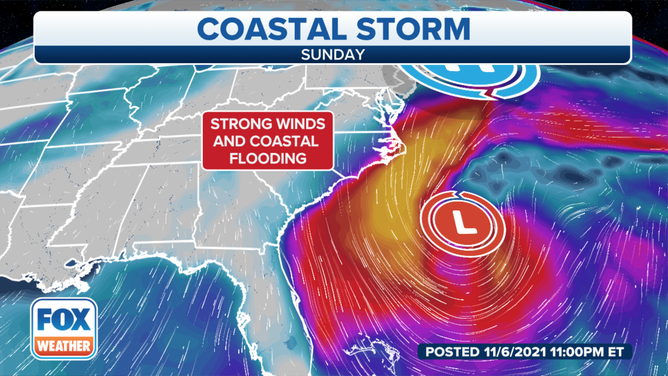 An area of high pressure is starting to build to the west of the storm, which is forcing the system to pull away from the United States.
However, areas along the East Coast will continue to deal with strong winds and coastal flooding. In combination with ongoing King Tides, the prolonged wind event will likely produce coastal flooding along the coast of North and South Carolina into the Mid-Atlantic.
The storm is also creating some impressive wave heights. Waves along the coast from Florida to Georgia are between 3 and 4 feet, but they get larger to the north and east. Waves of about 9 feet can be expected along the North and South Carolina coast. Further out into the ocean, waves have been reported between 9 and 15 feet high.
Several areas along the coast have reported wind gusts between 25 and almost 40 mph, including Hatteras, Beaufort and Wilmington in North Carolina. Myrtle Beach reported a gust of 36 mph Sunday morning.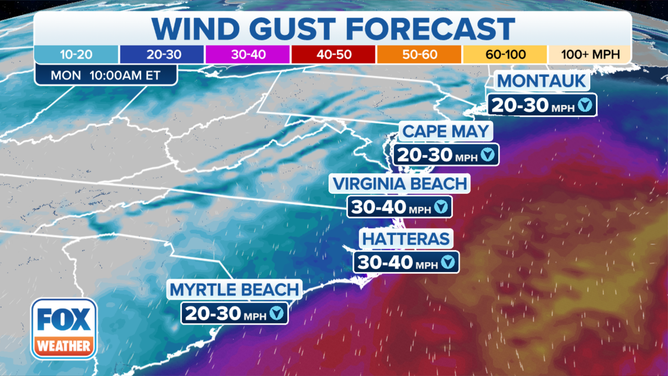 Gusts between 30 and 40 mph are expected along the North Carolina and Virginia coasts. Gusts of 20 to 30 mph are possible along the South Carolina, New Jersey and New York coasts.
The strong gusts won't begin to let up until at least Monday morning.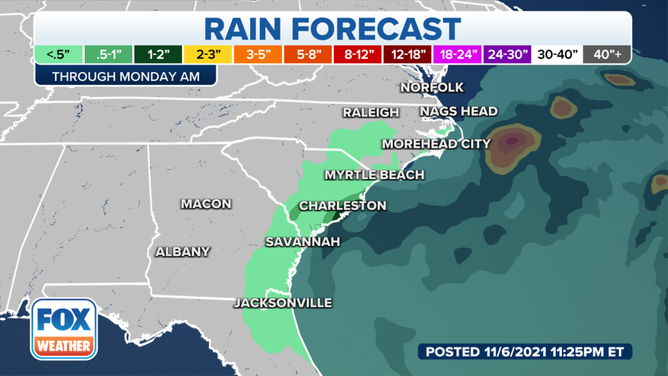 Rain won't be a big issue with this storm as it will likely be mostly a wind event.  Most of the heavier, steadier showers are already offshore.
FOX Weather Correspondent Nicole Valdes was in Charleston, South Carolina, where major coastal flooding was reported over the weekend.
Valdes said tides were higher than usual and strong winds were pushing water from Charleston Harbor inland, flooding roads in the area.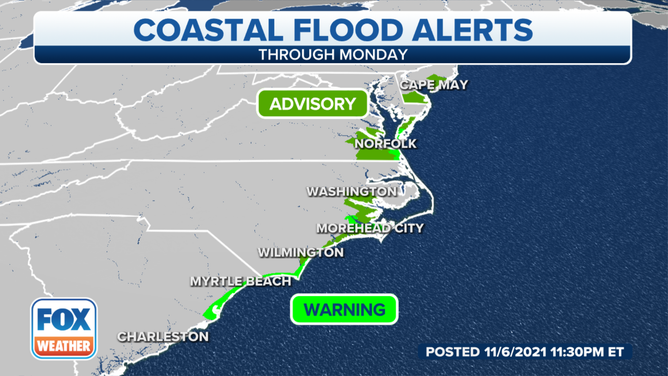 Local residents told Valdez that they're used to flooding but were surprised at how fast the water rose and how far inland the water started to creep.

The city of Charleston has trucks positioned to clear debris that has clogged storm drains to help lower the water levels.
Vehicles have been seen driving through the water, which should be avoided because it may be difficult to see how deep the water is or how quickly it's flowing.