Coast-to-coast storm to bring heavy snow to Northern Plains, upper Midwest this weekend
The warm side of this system will bring rain and isolated severe thunderstorms to the southern and eastern US
A coast-to-coast storm will crash ashore in the Pacific Northwest Friday night, then dump heavy snow across the Northern Plains and upper Midwest this weekend before spreading rain and thunderstorms into the southern and eastern U.S. early next week.
The storm will tap an Arctic air mass over Canada, causing an area of snow to develop over the northern High Plains Saturday morning. Snow is also expected back to the west across the far northern Rockies and the Washington Cascades as the storm ingests additional moisture from the Pacific Ocean.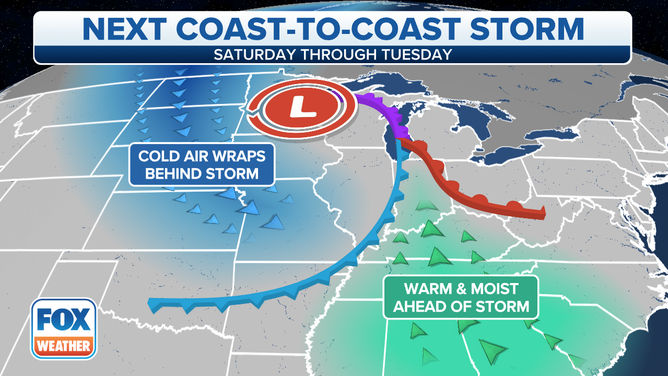 Saturday night, this system will team up with a developing low-pressure system over central Montana, leading to a widespread area of moderate to heavy snow from northeastern Montana to northern Minnesota.
On Sunday, the heavy snow risk will shift eastward and target mainly northern Minnesota, far northern Wisconsin, the Upper Peninsula of Michigan and northern Lower Michigan. A wintry mix of snow, sleet and freezing rain is possible in parts of central Lower Michigan.
WHICH IS THE SNOWIEST MONTH OF THE YEAR?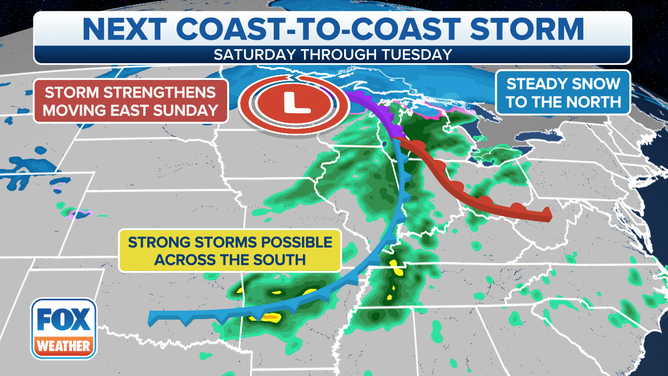 The National Weather Service has issued Winter Storm Warnings and Winter Weather Advisories for much of northern and northeastern Montana from early Saturday morning into early Sunday morning.
Winter Storm Watches have been hoisted to the east from northern North Dakota into northern Minnesota and far northwestern Wisconsin from Saturday afternoon through late Sunday night.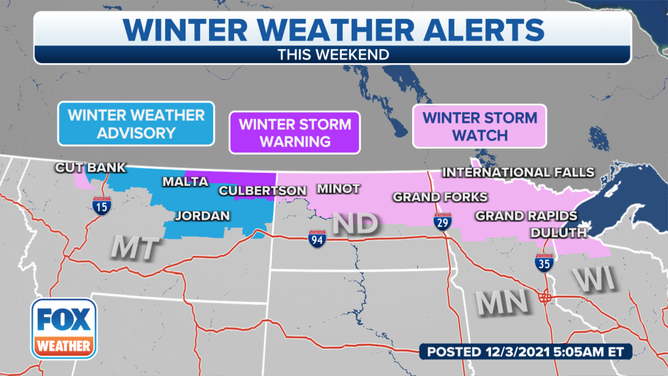 More than 5 inches of snow is possible through the weekend in parts of northeastern Montana, the northern half of North Dakota (mainly north of Interstate 94), northern Minnesota, far northern Wisconsin, the Upper Peninsula of Michigan and northern Lower Michigan.
In addition to the heavy snow, wind gusts of 35 to 40 mph or higher could create areas of blowing and drifting snow with low visibility. Travel conditions will likely be very difficult in this region.
WHAT YOU SHOULD KNOW ABOUT BLOWING, DRIFTING SNOW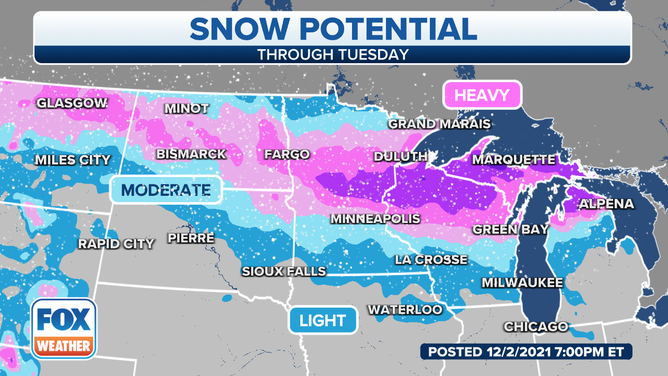 The warm side of this system will bring rain and thunderstorms to the southern and eastern U.S. Sunday and Monday.
Sunday into Sunday night, rain will sweep across the Great Lakes, Ohio Valley and mid-South. Locally heavy rainfall is possible in some areas, but the flash-flood risk is low.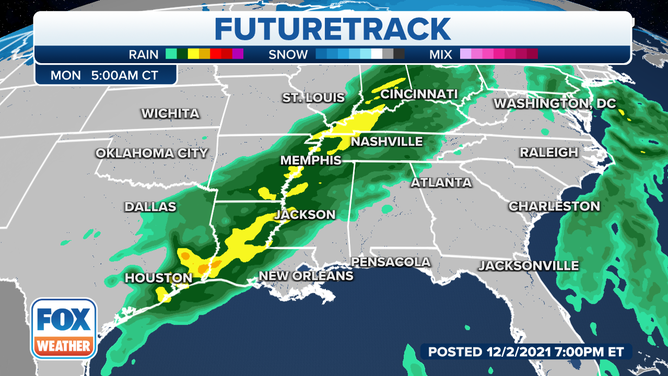 Isolated severe thunderstorms may also develop Sunday into Sunday night from parts of eastern Oklahoma and eastern Texas into the mid-South. Damaging wind gusts and large hail are the main threats from any storms that turn severe.
FALL IS THE SECOND SEVERE WEATHER SEASON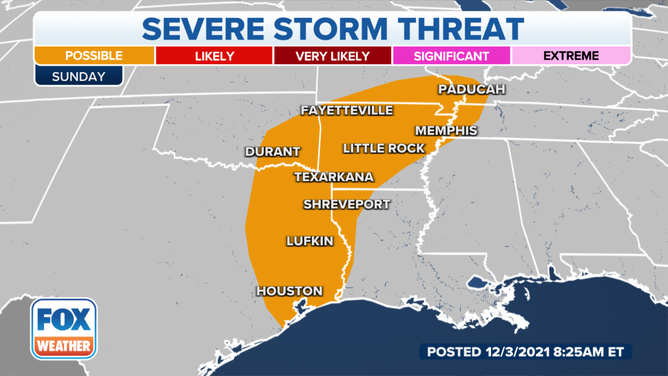 This batch of rain and thunderstorms will continue to slide eastward Monday, with rain expected from the Northeast and mid-Atlantic to the Gulf Coast.
Locally heavy rainfall is possible once again, but the risk for any severe storms across the South is low. This system will finally exit the East Coast Monday night.