Clipper system bringing quick round of snow, ice to Northeast on Wednesday
Freezing rain caused roads to become icy during the Wednesday morning commute
A clipper system is sweeping across the Northeast on Wednesday, bringing a quick round of snow and ice to New England.
Freezing rain caused roads to become icy during the Wednesday morning commute. Speed limits were reduced to 45 mph on many roadways in New Hampshire and Maine, including the entire Maine Turnpike (Interstate 95) from the New Hampshire state line to Augusta, Maine.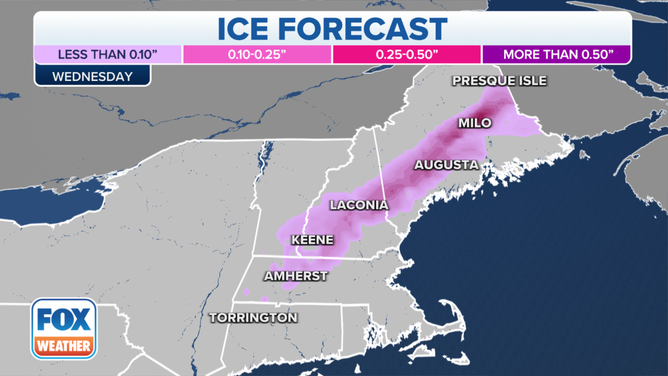 Delayed openings were also reported at many schools from New York's Catskills and mid-Hudson Valley to Massachusetts and New Hampshire.
CHRISTMAS TRAVEL FORECAST: WHERE HOLIDAY TRAVELERS CAN EXPECT RAIN OR SNOW TO TRIGGER FLIGHT DELAYS THIS WEEK
The freezing rain will transition to periods of moderate to heavy snow across parts of New Hampshire and Maine, with a few snow showers back to the west in Vermont and upstate New York.
Snow will continue into Wednesday evening in Maine before tapering off to flurries overnight.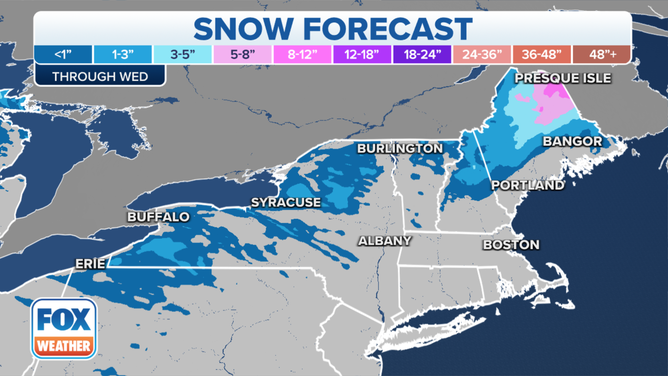 A Winter Storm Warning is posted in northern Maine, where the heaviest snow is expected with this system.
Winter Weather Advisories are in effect from the mid-Hudson Valley into northern Connecticut, western and central Massachusetts, southeastern Vermont, southern New Hampshire and much of the rest of Maine, where snow and ice are still expected to cause hazardous travel conditions on Wednesday.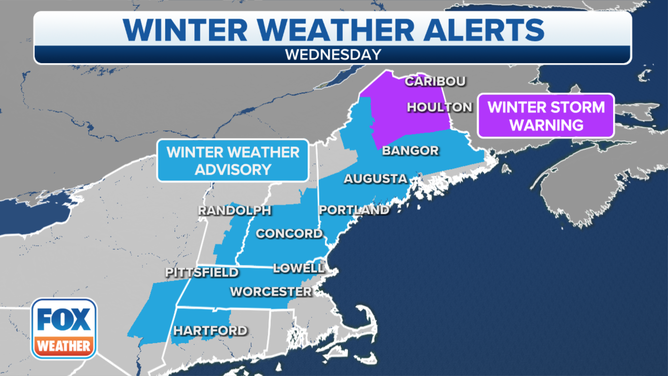 Northeastern Maine is forecast to receive 6 to 12 inches of snow from this system. The highest amounts will be near the border with New Brunswick, Canada.
WHITE CHRISTMAS CHANCES TO REMAIN A DREAM FOR MOST OF THE U.S.
Much lighter amounts are expected elsewhere in northern New England due to the mixing with freezing rain. Snow showers in upstate New York could drop an inch or two in some areas.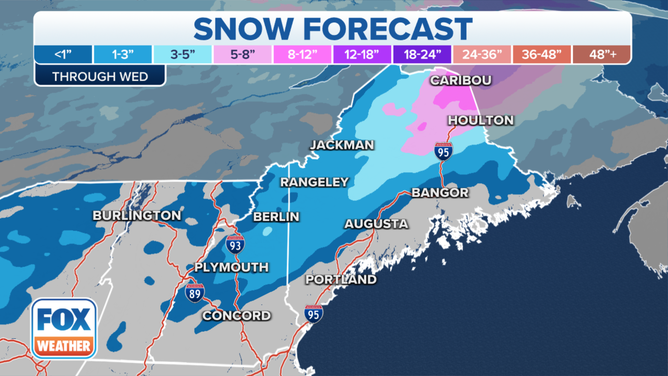 The best threat for an additional glaze of ice on Wednesday will be in portions of interior Maine.
However, patchy ice will remain possible farther south into central New England and the mid-Hudson Valley until temperatures rise above freezing Wednesday afternoon.