Cleanup begins after 'Kona low' brings widespread flooding, landslides to Hawaii
A powerful storm system caused widespread flooding and landslides across the Hawaiian islands over the past week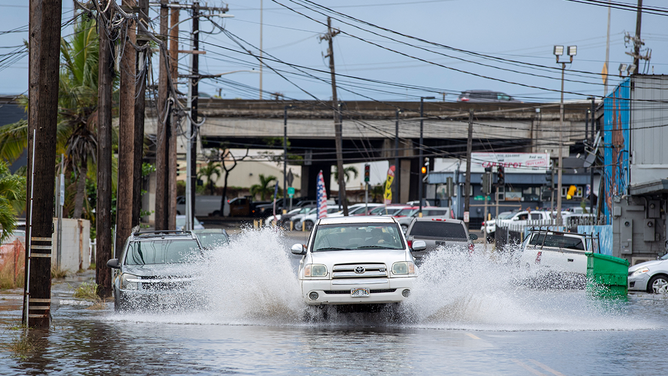 HONOLULU - Residents in Hawaii have started to clean up and assess damage after a powerful storm system known as a "Kona low" brought heavy rain and high winds to the Aloha State for nearly a week.
Some parts of the state received nearly 20 inches of rain, which led to widespread flooding, triggered landslides and caused power outages that affected thousands of residents.
As a result, Hawaii Gov. David Ige declared a state of emergency that will remain in effect until at least Friday.
How a tropical paradise is home to the rainiest spot in the nation
"The emergency declaration allows the state to use (funds) to support state and county efforts in providing quick and efficient relief of suffering, damage and losses caused by flooding and other effects of heavy rain," Hawaii Gov. David Ige said in a statement posted to Twitter Monday.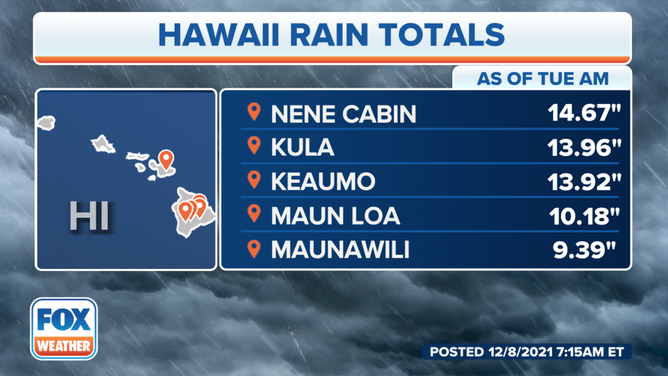 The storm system was located about 700 miles west of the island of Kauai as of Wednesday morning and will continue to drift away from the Hawaiian islands throughout the day.
The National Weather Service said a rainband west of Kauai would continue to produce heavy rain and thunderstorms near Kauai County. Therefore, the threat for flash flooding remains for the islands of Kauai and Niihau as the band lingers close enough to both islands.
The threat for flooding will diminish by late Wednesday morning as the low-pressure system continues to drift farther away from the western half of the island chain.
Residents are only being asked to return home to assess damage when it's safe to do so and remain vigilant.
Once home, residents are reminded to document any damage to property before starting to clean up. Photos and other documentation will be needed if funding becomes available to assist with the recovery from the storm.
Once the damage is documented, residents can begin the cleanup immediately. They do not need to wait for a flood insurance adjuster to arrive, according to the Hawaii Emergency Management Agency.
Residents are asked to be aware of any structural damage, as floodwaters may have weakened roads or building foundations.
It's also advised to avoid walking in floodwaters, as they may contain hidden debris, be contaminated with sewage or be electrically charged.