Mudslides triggered in Hawaii as 14 inches of rain falls on parts of the state
More than a foot of rain has fallen in parts of Hawaii over the past two days
MAUI, Hawaii – Low pressure off the coast of the Hawaiian Islands is bringing big surf and heavy rain.
The Big Island was the first to feel the effects of the powerful storm. Officials are starting to assess the damage, and Hawaiian Electric is still trying to restore power to more than 5,000 customers.
The National Weather Service in Honolulu said a Kona low northwest of the islands will continue to bring the threat of heavy rain and a few thunderstorms with gusty winds to Kauai County and Oahu on Tuesday. The low is expected to drift away from the area on Wednesday.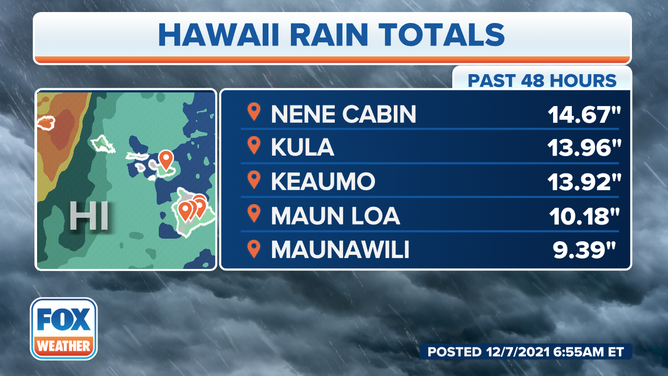 Footage by the County of Maui on Monday shows large mud mounds in Kihei. The Maui County Emergency Management Agency warned residents to be prepared as "power outages, downed trees, flooded streams and roadways" affected the area.
Hawaiian Electric said hundreds of customers in downtown Honolulu and Chinatown were without power overnight. Because of the continued heavy rain, the utility company said customers won't have power restored until at least Tuesday morning.
"Trendiwendi" on Twitter posted this video from Ewa Beach. More than a foot of rain has fallen in parts of Hawaii over the past two days.
"Hawaiian_kor" on Twitter posted this video from Oahu.
Conditions have started to improve on the eastern side of the state with "much drier condition expected over Maui County and the Big Island on Tuesday," the NWS said.
The Maui Police Department shared this video of Honoapiilani Highway on Dec. 6 showing water cascading over rock cliffs while cars and trucks pass by. 
"Please stay home and off the roads if there is no need for you to travel. And if you are traveling, please be safe and drive with caution and care for one another!! Aloha and stay dry," the Maui Police Department said in a Facebook post.
Southwest Airlines passenger Andrew Giesemann posted a video to Twitter showing him and others disembarking a flight from San Jose, California, in heavy rain. Giesemann said they were on the runway for more than an hour after the flight landed. They were later ushered into a darkened terminal after the power went out at Kahului Airport on Dec. 5.
Hawaii's Department of Transportation said the runway was not operational on Sunday, as the airport was working to get generators up and running.
Crews also worked to clear several blockages that have led to flooding on roads. Early Tuesday morning the DOT was able to free one of those blockages in Kalihi Stream at Dillingham Boulevard and would work to clear the debris.