State of emergency declared in Hawaii as 'Kona low' continues to deliver heavy rain
More than a foot of rain has fallen in some parts of the state
A state of emergency has been declared in Hawaii as relentless rain has led to flash flooding that will continue through at least Wednesday.
A "Kona low" sitting to the northwest of the islands will continue to bring the threat of heavy rain and gusty winds to Kauai County and Oahu throughout the day Tuesday, with the system expected to drift away from the area Wednesday.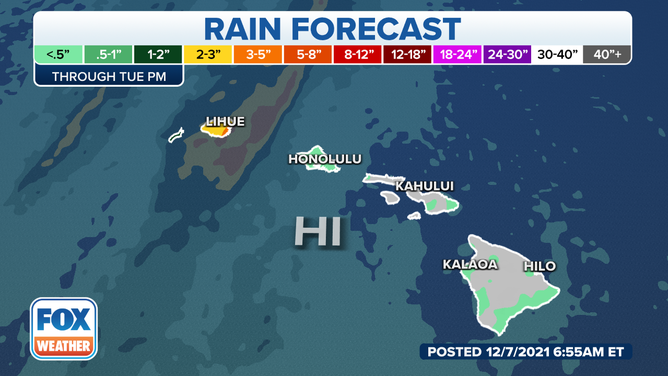 How a tropical paradise is home to the rainiest spot in the nation
"The emergency declaration allows the state to use (funds) to support state and county efforts in providing quick and efficient relief of suffering, damage and losses caused by flooding and other effects of heavy rain," Hawaii Gov. David Ige said in a statement posted to Twitter Monday.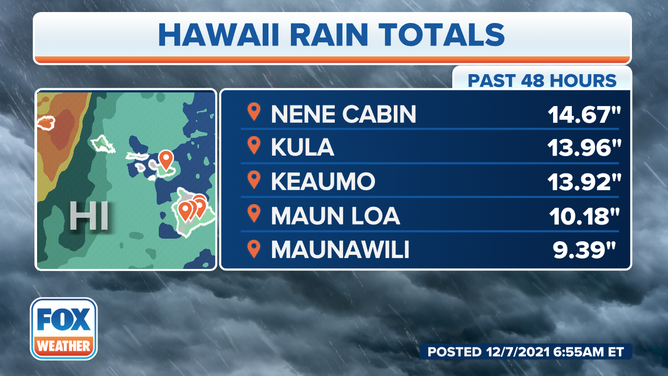 Nene Cabin picked up nearly 15 inches of rain in the past two days. Kula and Keaumo also saw more than a foot of rain. Other areas with higher rain totals include Maun Loa, with 10.18 inches of rain, and Maunawili picked up a little less than 10 inches.
The National Weather Service says a nearly stationary band of heavier rain has persisted over Oahu for several hours overnight Monday into Tuesday, adding to the already-impressive rainfall totals that have been reported across the state.
Some thunderstorms embedded in that band of rain could be on the stringer side, producing some strong winds.
At least four emergency shelters have been opened in Honolulu as the threat for "catastrophic" flooding continues for the next several hours. 
Crews are also working to restore power to more than 5,000 customers. Hawaiian Electric said hundreds of customers in downtown Honolulu and Chinatown were without power overnight. And because of the continued heavy rain, the utility company said customers won't have power restored until at least Tuesday morning.
"We understand the inconvenience that this causes for our customers, and we are committed to restoring power as safely and as quickly as possible," Jim Alberts, senior vice president of operations, said. "Our employees are dedicated to this effort, and we have crews on location, ready to take action as soon as the rains let up."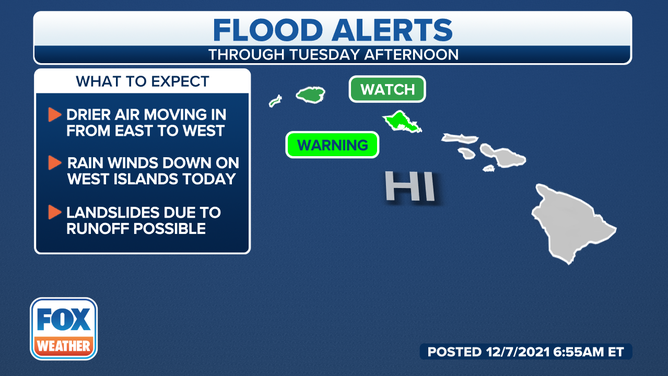 Forecasters say there will be little movement of the Kona low over the next 24 hours before it begins to pull away from the state Wednesday.
Therefore, Flood Watches remain in effect for Oahu and Kauai County Tuesday, and those could be extended depending on the movement of the Kona low.