Celebrate 'Ice Cream for Breakfast' Day with these cool ice-cream-themed city forecasts
We take a peek at the forecasts for 10 ice-cream-themed places as we celebrate International Eat Ice Cream for Breakfast Day.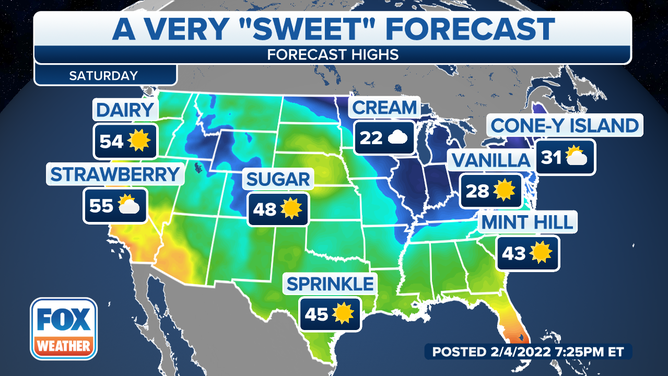 If you're up early Saturday, it's a perfect time time to partake in a sweet treat for breakfast as Feb. 5 is known as "International Eat Ice Cream for Breakfast" Day.
It's a tradition that began over 55 years ago in Rochester, New York, during -- what else? -- a blizzard. Florence Rappaport was snowed in under several feet of snow during the blizzard of 1966 with six kids running around and started a tradition by giving ice cream for breakfast.
The tradition spread throughout the region and eventually became celebrated across the globe.
MORE: Ice Cream for Breakfast? How a Blizzard Inspired a Beloved Holiday
And while no one is buried under several feet of snow this time around, a large section of the nation will be dealing with far below-normal temperatures Saturday as an arctic air mass settles into the Midwest, Great Lakes and much of the East Coast.
On the other hand, it will be relatively mild across Montana, the Dakotas and the Pacific Northwest.
While you (hopefully) enjoy a summertime treat in the middle of winter, here are 7 facts about ice cream from the International Dairy Foods Association:
About 6.4 billion pounds of ice cream and frozen yogurt were produced in the U.S. in 2019.
The Great Lakes area (Illinois, Michigan, Ohio, Indiana and Wisconsin) is the most successful ice cream market
Most ice cream is made from March through July with July being the busiest month for ice cream makers.
Ice cream has a $13.1 billion impact on the U.S. economy.
Strawberry is the most popular fruit in ice cream and pecan is the most popular nut flavoring
Waffle cones and sugar cones are the most popular ice cream contains
The top 10 ice cream flavors? In order: Vanilla, Chocolate, Cookies N' Cream, Mint Chocolate Chip, Chocolate Chip Cookie Dough, Buttered Pecan, Cookie Dough, Strawberry, Moose Tracks and Neapolitan.