Does car insurance cover hurricane damage? These are coverages you need
Hurricane season is here, so it's an excellent time to remind drivers about insurance claims and safe driving tips.
Do you know if your car insurance would cover any damage when a hurricane strikes your area?
While each claim is different, the key is having the proper coverage on your policy, according to Matt Christopher, vice president of claims and shared services at Clearcover Insurance.
"It's important that you talk to your insurance company or your independent agent," he said. "You want to ensure that you have the right coverage to cover these events."
Several coverages can apply for weather-related damage such as hurricanes; the rock star of them is comprehensive coverage.
WHAT IS COVERED BY FLOOD INSURANCE AND WHO SHOULD GET IT?
"The things that come with hurricanes, such as wind," Christopher said. "Wind is going to knock down branches and damage your vehicle. That's when your comprehensive would come into play."
Christopher adds that coverage also applies for damage from flooding, hail and heavy rains.
You'll likely pay a deductible – an amount you'll owe in association with comprehensive coverage.
"It's basically sharing the risk with the insurance company," Christopher said.
HERE'S WHAT TO DO AFTER YOUR CAR IS FLOODED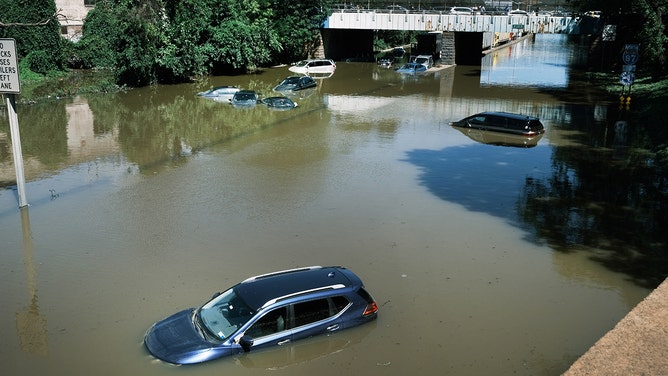 The other coverage that really can come into play with hurricanes is collision.
"Think about hurricanes, there's a lot of rain, and it could cause slick roads, and you could lose control," Christopher said. "You could strike another vehicle or a tree or a rock. And that's when collision can come into play."
And just like comprehensive, there's a deductible associated with the collision, and you would be responsible for paying for your coverage to kick in.
But not all water damage is covered, and every single claim will be different, Christopher said. While most insurance policies don't cover intentional acts, it's best to speak with your insurance company or professional.
"Make sure you have the proper coverage in place because preparation is absolutely key," Christopher said. "You need to have this coverage ahead of a storm."
Christopher said that insurance companies couldn't retroactively provide coverage after a storm, so you must be ready before hurricanes make landfall.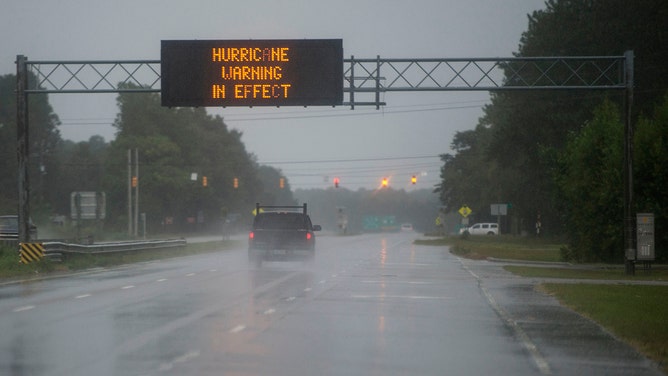 Driving in hurricanes
It can be challenging and dangerous to drive during strong winds and storms that come with heavy rain and floods. 
A critical tip is to keep a safe distance from other vehicles, especially tall vehicles, such as trucks that can be pushed or flipped by strong winds. If you exit a highway to wait for a storm to pass, park away from trees, power lines, and any objects that could fall on your car.
PROPERTY SUSTAIN HURRICANE DAMAGE? HERE'S WHAT YOU SHOULD DO
Rain can cause hydroplaning when your vehicle slides on the road, leaving you with less control. According to Aceable, an online educational platform and resource for drivers, it only takes six inches of water on a road to cause your tires to lose traction and slide out of control. 
A foot of standing water causes most vehicles to float, leaving you unable to steer or brake. And two feet of water can carry away large cars, such as pickup trucks and SUVs, and even damage your engine, known as a hydrolock. 
So, always avoid driving through standing water and immediately get out of your vehicle if you get into trouble. 
Auto insurance helps reimburse you for repairs but won't save your life.