Bryan Norcross: What was Ophelia drifts over the mid-Atlantic, Philippe forms and Invest 91L to watch
Between the Caribbean islands and Africa, Tropical Storm Philippe is slowly tracking east, with Invest 91L behind it.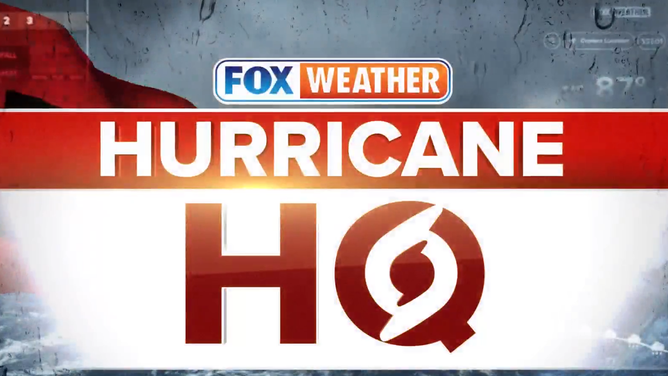 Updated Sunday at 9:30 a.m. EDT
We're tracking three systems across the Atlantic. All of them are slow movers, so nothing is happening fast.
Former Tropical Storm Ophelia's center of circulation is lodged over the mid-Atlantic states with a large band of showers and a broad area of moisture well to the north. The cool and damp conditions with periods of rain will persist until the remnants of Ophelia move away by late tomorrow.
Tropical Storm Ophelia strengthened and moved north with the help of a strong upper-air disturbance along the Eastern Seaboard. That disturbance is still part of the equation and is only slowly moving out, which is why things are progressing so slowly.
High-tide flooding continues in rivers and bays along the mid-Atlantic and Northeast coasts due to the persistent winds off the ocean. The wind is now blowing offshore across North Carolina and Virginia, which will allow flooded areas up and around the rivers and bays to drain.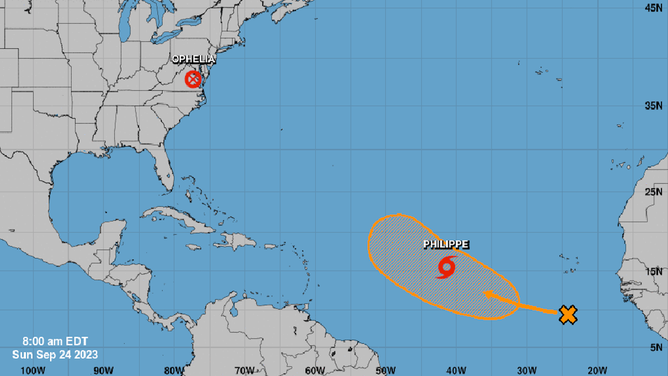 Powerful, persistent waves energized by ex-Ophelia's circulation and the high-pressure system to the north will continue to pound beaches in New Jersey, New York and the surrounding area. Beach erosion is likely due to the waves and extra strong along-shore currents.
The effects of ex-Ophelia will begin to fade today. Nice weather returns by Tuesday.
Between the Caribbean islands and Africa, Tropical Storm Philippe is slowly tracking east. It is not forecast to get terribly strong as it turns to the north well before reaching the islands.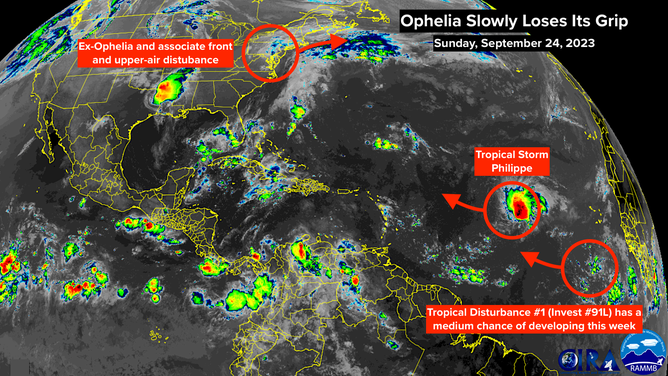 Behind it, Tropical Disturbance #1 – officially tagged Invest 91L – is following closely behind Philippe. The National Hurricane Center is giving it a medium chance of becoming a tropical depression or Tropical Storm Rina in the next several days. Early forecasts indicate that it will turn north before the islands as well.
Steering currents are very weak, however. When both Philippe and the disturbance reach the waters northeast of the islands late this week, it's not clear if or how the two systems are going to interact with the weak steering and/or each other. There is no indication that either of them would become a problem, but systems drifting around in the warm Atlantic bear watching.
In a week or so, long-range computer forecasts show a strong dip in the jet stream setting up over the East Coast of the U.S. This would divert any systems away from land, and it could drive the first strong cold front of the year down the entire Florida Peninsula.