Pacific Bomb Cyclone by the numbers: 159 mph mountain gust, 12" of rain, 3 feet of snow
The deepest storm ever measured in the eastern Pacific Ocean near the Pacific Coast left behind flooding rains, wind-swept damage and the first major snow to the California mountains.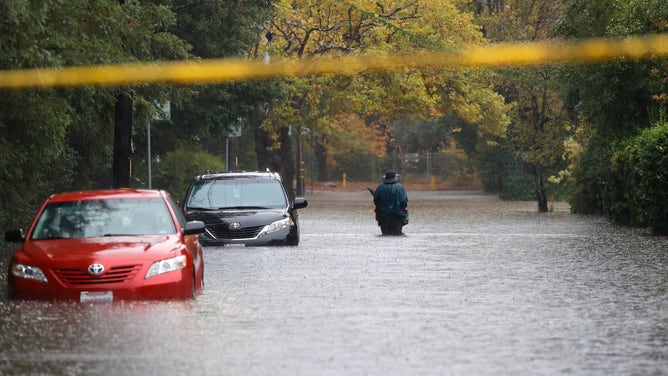 SAN FRANCISCO -- The deepest storm ever measured in the eastern Pacific Ocean near the Pacific Coast left behind flooding rains, wind-swept damage and the first significant snow to the California mountains. Here are some of the peak wind speeds and storm rainfall and snowfall totals from the storm: 
WIND:
A few mountain tops registered extreme wind speeds, topped by an anemometer on California's Mammoth Mountain.  The gauge reported the strongest gust of the storm at 159 mph, according to the National Weather Service.  Mines Tower recorded a gust of 92 mph, while the summit of Mt. Rose experienced a 90 mph gust.
High winds were reported across the lowlands of western Washington, Oregon and coastal California as well.
On Washington's south coast, Ocean Park registered an 86 mph gust while 74 mph gusts were recorded on both sides of the mouth of the Columbia River -- at Clatsop Spit in Oregon and Cape Disappointment in Washington.
The Yaquina Bay Bridge in Newport, Oregon felt a gust of 82 mph while just up the coast in Yachats, the wind hit 71 mph.
But even more populated places the effects of the record storm. Seattle hit a gust of 54 mph, while nearby Everett hit 61 mph, and Tacoma hit 52 mph. 
Strong gusts hit the Bay Area, too, with San Francisco Airport hitting 60 mph and Oakland receiving a 45 mph gust.
Over 630,000 PG&E customers lost power in California, while over 160,000 lost power in Western Washington and 30,000 were left in the dark around Portland and northern Oregon. Two people died near Seattle when winds toppled a tree onto a car during peak winds Sunday afternoon.
RAIN:
The storm carried a robust atmospheric river into California, bringing record rainfall totals to an area that had just spent months parched in drought.
Sacramento set its all-time 24-hour rainfall record with 5.44 inches, breaking the old record of 5.28 inches in 1880. The city had just come off a record 212-day dry streak earlier in the month.
Up in Reno, Nevada, the city received 2.92 inches over two days, nearly doubling its two-day record total for October (1.65 inches.). Reno just spent an entire year cobbling together 3.01 inches of rain between Oct. 1, 2020, and Sept. 30, 2021. Then they received nearly that amount in two days. 
Mt. Tamalpais had the wettest report into the National Weather Service at 16.55 inches of rain for their storm total, while a gauge 5 miles east of Santa Rosa measured an even foot of rain. Mount Diablo had 8.44 inches. 
READ: What is an atmospheric river?
But even the Bay Area lowlands were soaked. Napa reported 5.46 inches of rain, with 4.62 inches at San Francisco Airport and 4.56 inches at Oakland.  In Downtown San Francisco, the 4.02 inches received was far and away the wettest October day on record, besting 2.48 inches set in 2009, and records go back to 1849.
SNOW:
Higher up in the Sierra Nevada Mountains, the rain turned to heavy snow. While causing some traffic issues on the freeways over the passes, it was a welcome relief to water managers.
The University of California Central Sierra Snow Lab recorded 33.1 inches of snow for a storm total, giving the spot a total of 47.7 inches for October -- just 1.9 inches shy of their 2004 record.  
Northstar ski resort received a full three feet of snow. At the same time, Donner Pass along Interstate 80 near the California/Nevada border picked up 33 inches of snow in the storm, and a spotter near Truckee reported 25 inches. 
The Sierra Crest mountains had anywhere from 2 to 4 feet of snow over 7,000 feet, with 1-2 feet reported in the Tahoe basin.
Kirkwood had 15 inches, and Bear Valley tallied 8 inches.
According to the National Weather Service, the storm has left much of Northern California with over 300 percent of their average rainfall for October.  And long-range forecasts have more rain in the forecast for Northern California at times into early November.