Boil-water advisory lifted in Jackson after weekslong water crisis
Mississippi's capital city had been without clean water for more than 7 weeks and under a boil-water notice since late July. Maintaining clean water has been a problem in Jackson for years.
Mississippi Gov. Tate Reeves announced during a news conference on Thursday that clean water had been restored to Jackson, and the boil water advisory for the city and surrounding areas was lifted. 
The capital city of Mississippi was without clean water for more than seven weeks, leaving about 180,000 residents without drinking water or enough water to even flush toilets.
Jackson had been under a boil water notice for weeks, but late August flooding and torrential rain made issues at the water treatment facility worse with low water pressure and inadequate treatment to clean the water.
HOW TO WATCH FOX WEATHER ON TV
On Tuesday, the Mississippi State Department of Health began officially conducting tests on the water quality. They collected 120 samples over two days, and the results of those tests allowed for lifting the boil-water advisory, according to the governor's office.
"Since the state of Mississippi stepped in to fix Jackson's water system, we've significantly increased the quantity of water produced, restored water pressure to the city, installed an emergency rental pump, fixed and reinstalled broken parts on-site, and monitored and tested water quality," Reeves said. "We can now announce that we have restored clean water to the city of Jackson." 
After the boil-water advisory was lifted on Thursday, a Jackson resident shared the video below of murky water flowing from a sink tap. 
Days of heavy rainfall over the Jackson area in late August caused the Pearl River to flood, causing the pumps to fail at Jackson's O.B. Curtis Water Treatment Plant, shutting off the already vulnerable water supply to the community.
The National Weather Service's Jackson office reports the Pearl River crested at more than 35 feet on Aug. 29, surpassing the 28-foot flood stage, after some areas along the river recorded more than 10 inches of rain.
On Aug. 30, Reeves and the state Department of Health issued a state of emergency due to the water crisis, which the state attributed to "failures of Jackson's O.B. Curtis Water Treatment Plant."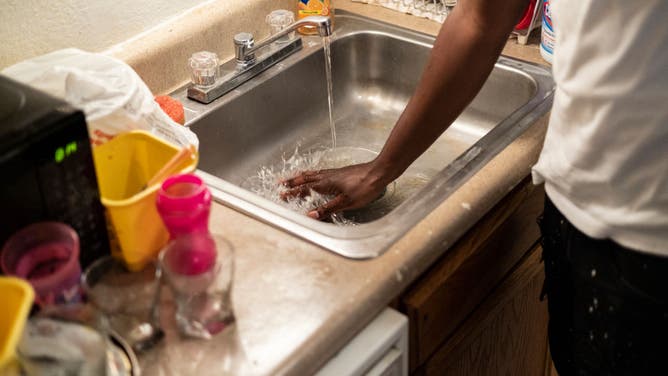 The Mississippi National Guard was activated to assist in Jackson and surrounding areas, distributing nearly 11 million bottles of water.
The Jackson water crisis remains under investigation by the Environmental Protection Agency's inspector general office. In 2014, the same office investigated the Flint, Michigan water crisis, which led to federal charges. 
The video below of coffee-colored water was taken on Sept. 9 by Mississippi Today reporter Molly Minta, who lives in Jackson. 
Environmental news organization Greenwire reported Jackson's water system has been under EPA scrutiny for years.
Jackson Mayor Chokwe Antar Lumumba said he's been asking for funding for the city's crumbling water infrastructure for over two years.
"I've been lifting this challenge – not only locally but nationally – saying that it's not a matter of if our systems will fail, but when our system will fail," he said.
The governor said Jackson's water system would continue to be monitored with regular water quality testing.