4,500 National Guard troops help distribute water in Jackson amid crisis in Mississippi's capital
Jackson-area pastor says several organizations have also teamed up to respond, including a group in Oregon.
JACKSON, Miss. -- Thousands of National Guard troops have joined other officials and volunteers in handing out bottled water Wednesday to beleaguered residents of Jackson, Mississippi, who now face days, if not longer, of dealing without full access to running water.
The city, already having faced weeks of a boil-water order due to failing equipment at their two water treatment plants, fell deeper into crisis this week when floodwaters from earlier torrential rains knocked much of the remaining capacity of the plants out of service.
The result has left more than 150,000 residents with little to no running water.
"Every aspect of life is affected by this (water shortage)," said FOX Weather Multimedia Journalist Will Nunley while reporting from Jackson. "People can't take a shower. You can't flush the toilet; you can't brush your teeth – you can't get your day started. Restaurants are closed because they don't have running water. They don't have bathrooms and sinks to be able to operate their restaurant. Schools (are) closed with students doing remote learning."
President Biden has declared an emergency in Jackson, joining state and local officials' earlier emergency declarations. The federal designation will send emergency funds to Mississippi for 90 days to help solve the crisis.
'Affecting so many different people'
J.J. Thompson, a pastor at Alternative Ministries and a resident of the Jackson area, said he knows people are having a hard time coping with the lack of such a basic necessity as water.
"The situation has become, I won't say dire, but it has come to a point that it is affecting so many different people in so many ways," Thompson said.
Some of those people aren't able to leave their homes to get water at distribution points, according to Thompson. He said several organizations have teamed up to help get water to them, including a group out of Oregon.
"We are called The Hospitality State, and we are faith-based and want to, first of all, thank God for these different organizations that have teamed up," he said.
Thompson said the plan is for these groups to act as middlemen in city, state and federal distribution efforts, taking water to places where large distribution points are impossible.
Thompson, whose home is on a different water system than the one that was affected by flooding, said he has been bringing in water to provide to people who desperately need it.
"Not to be able to get up and just brush my teeth or, in some cases, even take a bath," Thompson said. "So, that is basically where we are right now."
Billions may be needed for a permanent fix
Already, vacuum trucks were stationed at the treatment plants to clean out pumps and tanks inundated by the Pearl River, which had been swollen by heavy rain in the area days earlier. Jackson received more than 9 inches of rain in two days and a total of more than 10 inches in four days. Hundreds fled their homes as the water rose to doorsteps and, in some cases, pushed indoors.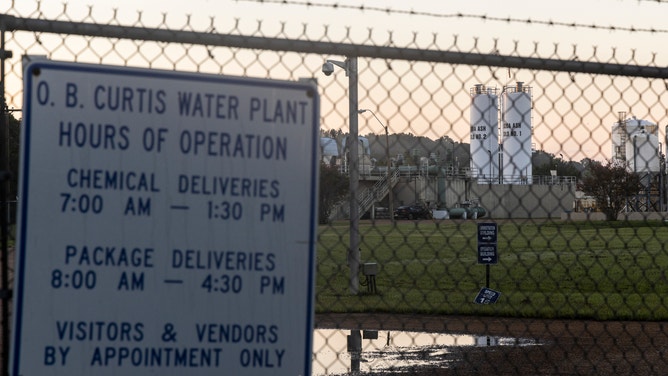 As repairs get underway at the plants, the city and state have established several water distribution sites around the city to give out free bottled water to those in need. Some 4,500 National Guard troops have been activated to assist in the efforts, according to state officials.
Jackson Mayor Chokwe Antar Lumumba said it could take billions of dollars to fix the water system and said he's grateful the state is now stepping in to help with repairs so pumps can get back online and build water pressure.
"The residents of Jackson are worthy of a dependable, sustainable and equitable system," Lumumba said during a press conference Tuesday evening. "And that is why we welcome this support."
There remains no estimate of how long the city will face limited water supplies, though Lumumba said they had seen improvements in water pressure since Tuesday. City and state officials stressed that residents continue to boil any water they get from their taps until further notice.
"This is going to be an ongoing story for quite a while," Nunley said.