Blizzard conditions, dangerous snow squalls impact Great Lakes
Snow squalls could spread into parts of the mid-Atlantic and Northeast on Saturday
A powerful cold front charging through the Northern Plains and upper Midwest brought gusty winds and dangerous snow squalls into Friday evening.
The snow squalls were accompanied by strong, gusty winds of 50 to 65 mph, leading to extremely dangerous driving conditions with near-zero visibility at times. Snowfall rates in the squalls could exceed 1 inch per hour, causing the snow to pile up quickly.
Blizzard Warnings were issued by the National Weather Service for areas where the high winds overlapped with the heavy snow.
WHAT MAKES A BLIZZARD DIFFERENT FROM AN ORDINARY SNOWSTORM?
Winter Weather Advisories are also in effect from portions of eastern North Dakota and northeastern South Dakota into Minnesota, northern Iowa, northern Wisconsin, the Upper Peninsula of Michigan and northwestern Lower Michigan.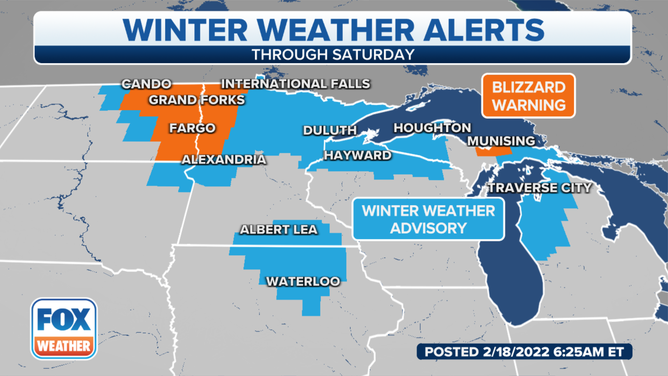 Wind Advisories have been posted from the Dakotas eastward into Michigan to warn residents of the expected 50-plus-mph gusts across the region. A High Wind Warning is also in effect for central North Dakota, where gusts could reach 65 mph.
WHAT YOU SHOULD KNOW ABOUT BLOWING, DRIFTING SNOW
Snowfall amounts will range from 1 to 3 inches in most areas, but locally higher totals up to 6 inches are likely in parts of the Upper Peninsula of Michigan and northern Lower Michigan due to lake-effect snow developing in the wake of this system.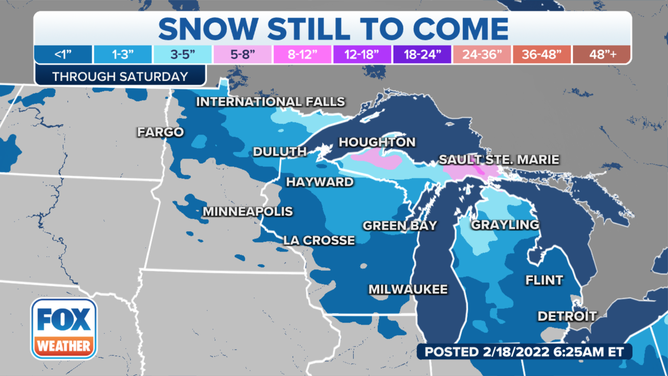 The cold front and accompanying intense snow squalls could spread across Lower Michigan Friday night and into parts of the mid-Atlantic and Northeast on Saturday.
WHAT ARE SNOW SQUALLS AND WHY ARE THEY SO DANGEROUS?
The entire system will exit the Northeast by Sunday morning.