Blast of arctic air a reminder winter isn't over for the Rockies, Plains
Wind Chill Alerts are in effect until Thursday morning
A strong cold front will sweep across the West starting Wednesday, pulling in frigid air from the north that will allow for temperatures to plummet 10-30 degrees below average across the Rockies and Plains.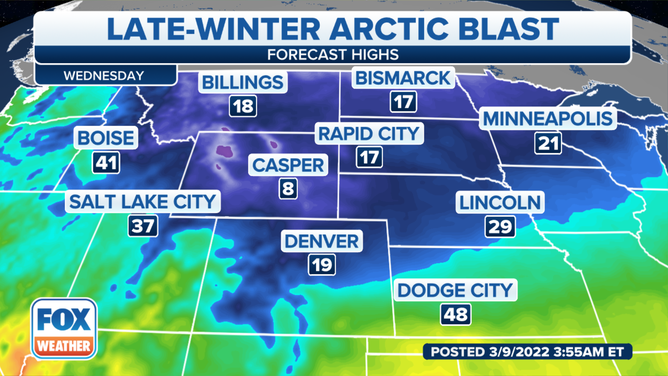 On Wednesday, temperatures will range from the single digits to the upper teens.
Casper, Wyoming, will likely remain in the single digits, with a forecast high Wednesday of only 8 degrees.
The bitterly cold temperatures will extend across the region, with Billings, Montana, getting to around 18 degrees. Both Bismarck, North Dakota and Rapid City, South Dakota, will be around 17 degrees.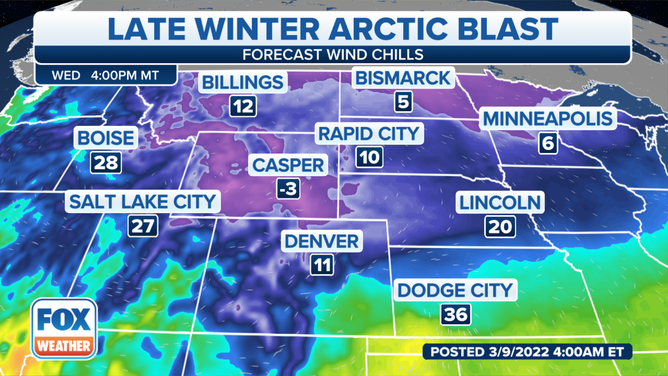 Strong winds will make it feel even colder.
It will feel like the single digits from Bismarck to Minneapolis, and it will feel like 10 degrees in Rapid City.
Casper will feel even colder at -3 degrees.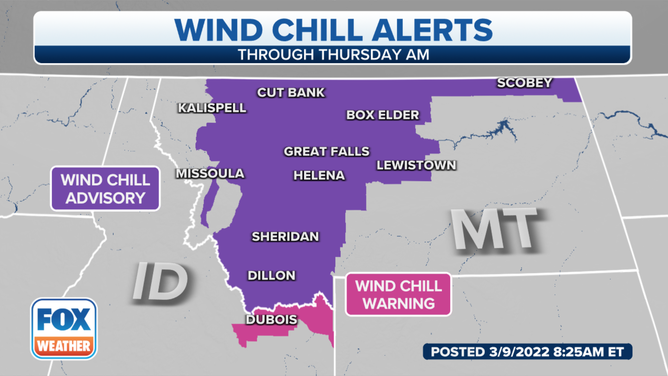 Wind Chill Advisories are in effect across western and northern Montana through Thursday morning. 
Parts of Idaho, including the city of Dubois, are under a Wind Chill Warning where winds will make it feel like -30 degrees at times.
WHAT DOES THE WIND CHILL MEAN?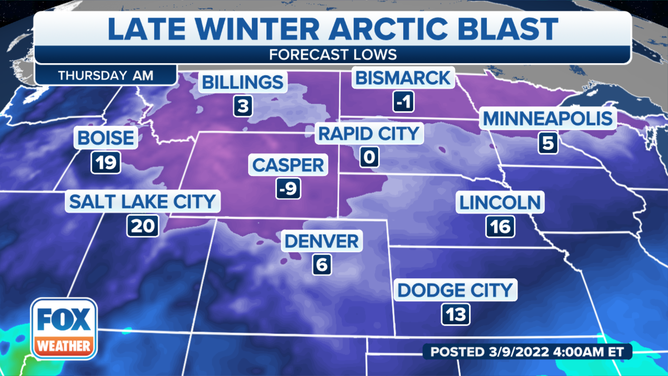 On Thursday morning, it will feel like winter isn't going anywhere. 
Morning low temperatures will drop significantly, with many areas falling into the single digits or below zero to start the day. Billings will be around 3 degrees, with Bismarck dropping to -1 degrees.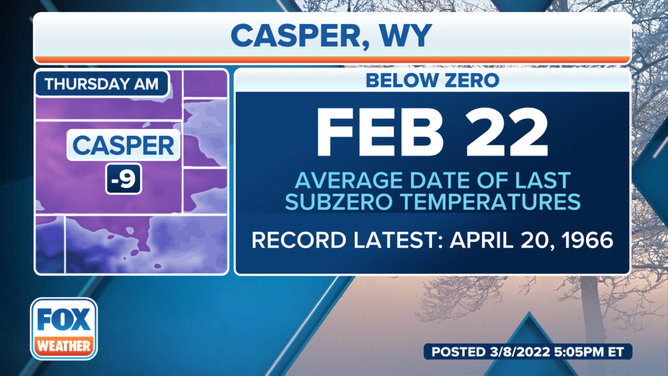 Casper is expected to drop to -9 degrees, which is well past the average date of the last subzero temperatures of the season. The region usually sees its final temperature below zero at the end of February.
The latest subzero temperature was reported on April 20, 1966.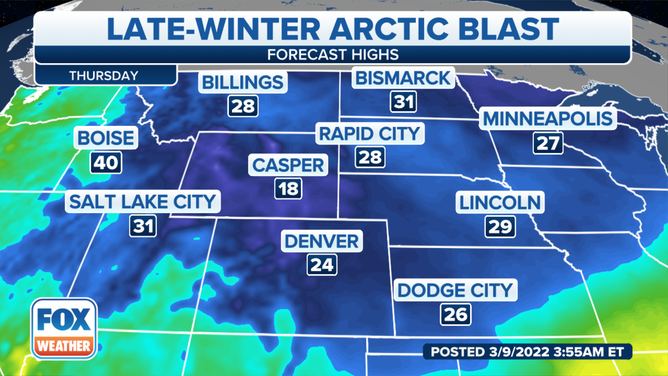 Temperatures will be a little warmer on Thursday, but most areas will remain below freezing during the day.
Bismarck will get close, with a forecast high temperature of about 31 degrees.
Billings and Rapid City will be around 28 degrees, and further south into Billings, temperatures will be about 18 degrees.
Cold temperatures will also be felt to the south in Denver, Colorado and Dodge City, Kansas.
Even the Texas and Oklahoma panhandles could feel the chill with temperatures in the 20s.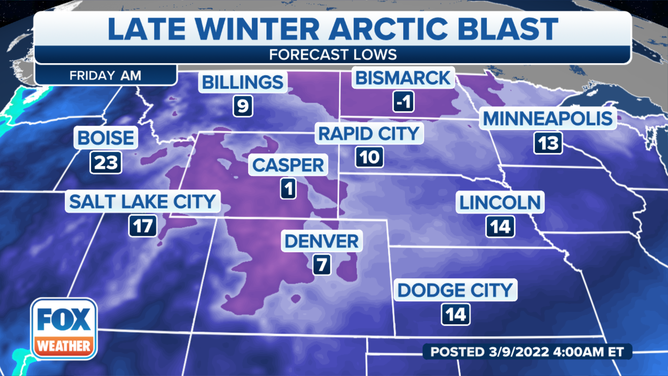 Friday morning will also be bitterly cold, but not as cold as Thursday morning.
Temperatures are forecast to be below zero in Bismarck and across parts of eastern Montana and North Dakota.
To the south, Rapid City will drop to about 10 degrees.