Bitter blast of dangerously cold air moves into Northern Plains
Wind chills could be as low as 50 below zero leading to frostbite
A bitter blast of cold air is moving into the Northern Plains, dropping temperatures between 20 and 45 degrees below average this week.
The National Weather Service in Grand Forks has issued a Wind Chill Warning for portions of northeast North Dakota until noon Wednesday. 
NWS officials warn that the wind chills will be as low as 50 below zero and could lead to frostbite on exposed skin in as little as 10 minutes.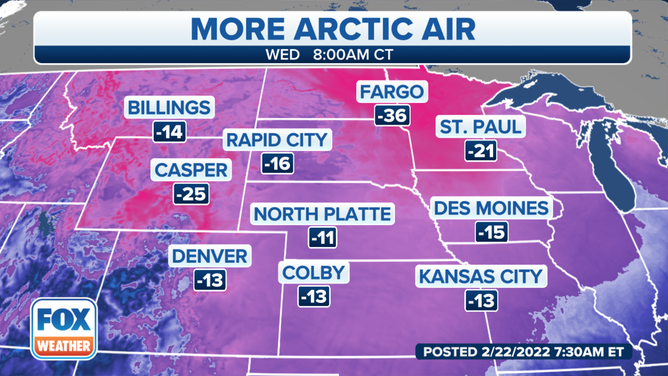 Similar warnings are in effect across the Northern Plains. The NWS in Riverton, Wyoming says wind chills between 20 and 20 below zero are possible into Wednesday morning. 

Temperatures plummeted in the Dakotas, Wyoming and across the Northern Plains as an area of high pressure from Canada pushes the cold air in from the north.
TORNADO WATCH ISSUED AS SEVERE STORMS PACKING TORNADOES, DAMAGING WINDS, LARGE HAIL THREATEN MID-SOUTH ON TUESDAY
Many areas across the Northern Plains won't make it above 0 degrees until Thursday.
Temperatures will be more than 30 degrees below average from parts of Montana, including Billings, southeastward into Wyoming, the Dakotas and the Central Plains.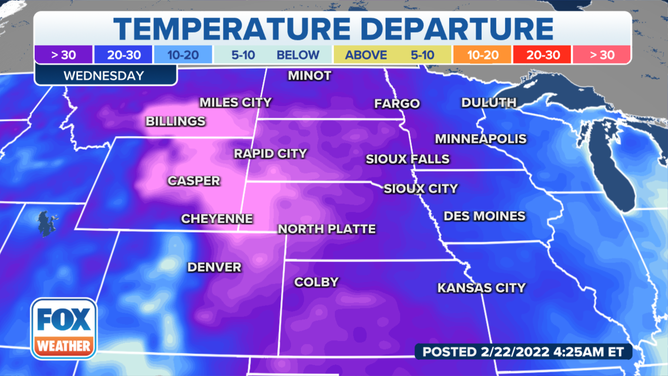 Wednesday will see some relief, but it will still remain dangerously cold in the Northern and Central Plains and Northern Rockies.
WHAT DOES THE WIND CHILL MEAN?
Billings, Casper and Cheyenne, Wyoming, and parts of western Nebraska and South Dakota will still be experiencing temperatures well below average.