Browns vs. Bills in Buffalo: 'Potentially historic' snow forecast for Sunday's Week 11 game
The FOX Forecast Center said a major lake-effect snow event is setting its sights on the eastern shores of Lake Erie, which could spell trouble for the Cleveland Browns and Buffalo Bills on Sunday.
BUFFALO, N.Y. – A "potentially historic" lake-effect snow event eyeing the Great Lakes region could lead to the Buffalo Bills and Cleveland Browns playing in feet of snow Sunday. 
The Cleveland Browns (3-6) will travel to meet the Buffalo Bills (6-3) for a Week 11 matchup at Highmark Stadium in Orchard Park, New York. Kickoff is scheduled for 1 p.m. EST. 
The Browns were blown out by Miami last week 39-17, while the Bills were on the short end of a wild 33-30 overtime loss against the Minnesota Vikings. However, you can throw away any stats or tidbits on either team if the current forecast remains in place. 
'CRIPPLING' LAKE-EFFECT SNOWSTORM EXPECTED TO BURY BUFFALO, NEW YORK, IN UP TO 4 FEET OF SNOW
Upward of 4 feet of snow possible around the Buffalo area
The FOX Forecast Center said a "potentially historic" lake-effect snow event is setting its sights on the eastern shores of lakes Erie and Ontario.
An initial round of snow began Wednesday with more than a foot of snowfall piling up along areas off central Lake Erie, including 17.2 inches in Monroe Center, Ohio, and 16.1 inches in Edgewood, Ohio. But the peak of the event will set up from Thursday into Saturday morning as nearly stationary bands of extraordinarily heavy snow set up off lakes Erie and Ontario. 
These snow bands will produce whiteout conditions as snowfall rates top 2 to 3 inches per hour. Thundersnow is likely, and travel will be nearly impossible.
New York Gov. Kathy Hochul declared a state of emergency for the Buffalo and Watertown areas because of the expected feet of snow. Beginning at 4 p.m. EST Thursday, all commercial traffic will be banned along a 132-mile stretch of the New York State Thruway (Interstate 90) from Rochester, New York, to the Pennsylvania border.
By the time this lake-effect snow event winds down on Sunday, areas that spend the most time under the intense bands will be looking at 2 to 4 feet of accumulation.
Buffalo area snow forecast through Sunday.
(FOX Weather)
---
It's important to note that lake-effect snow bands are highly susceptible to small shifts and movements, which can lead to large variability in snowfall totals over short distances.
HOW THE WEATHER CAN IMPACT FOOTBALL GAMES
Lake-Effect Snow Warnings have been issued on the east and northeast sides of lakes Erie and Ontario, including the cities of Buffalo, Niagara Falls, Watertown and Oswego in New York, Erie in Pennsylvania and Ashtabula in Ohio.
Winter weather alerts have been issued for areas near the Great Lakes.
(FOX Weather)
---
The warnings are currently set to expire when the Bills and Browns kick off Sunday afternoon, but gusty winds and a few lingering snow showers could still impact the game – not to mention the multiple feet of snow that might need to be cleared from Highmark Stadium before the players take the field.
Temperatures are forecast to be a cold 28 degrees at the start of the game, with those snow showers lingering in the area at times.
Buffalo Bills game forecast.
(FOX Weather)
---
The wind is also expected to be a major factor, gusting as high as 30 to 40 mph at game time.
Any significant snow might prompt both teams to run the ball more often and go for it more on fourth down since kicking the ball will be less reliable, especially with the gusty winds.
The Bills are a pass-happy team with MVP candidate quarterback Josh Allen, but look for a big day from the running backs if snow is set to be a factor.
HOW WEATHER CAN HELP YOU WIN SPORTS BETS FOR NFL, MLB GAMES
Lingering snow showers, gusty winds wind and cold temperatures are forecast at kickoff Sunday.
(FOX Weather)
---
Storm could rival historic 2014 lake-effect snow event 
The potential numbers from this event could rival one of the biggest lake-effect snow events in Buffalo's history when a 20-mile-wide band of unrelenting snow dropped over 5 feet across parts of Buffalo's Southtowns in November 2014.  
Snowfall rates reached 6 inches per hour at times during the 48-plus-hour event. The highest snow total recorded was 65 inches in South Cheektowaga, New York.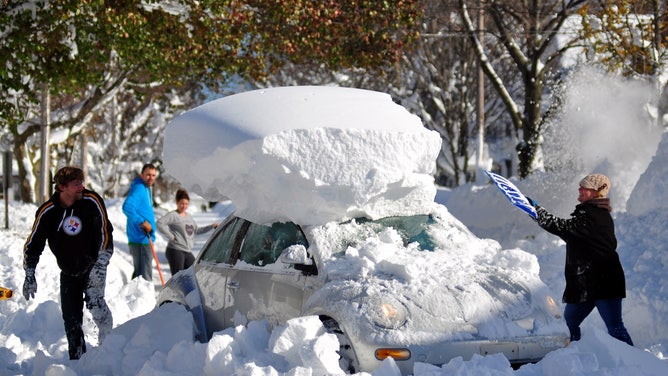 Thousands of motorists were stranded, and 14 were killed during the storm. Hundreds of roofs also collapsed due to the immense weight of the snow.
A day after the historic storm, another lake-effect snowstorm unfolded over the same area, dropping an additional 1 to 4 feet.
By the end of the multi-storm event, later coined "Snowvember," snow totals peaked at 7 feet with 3 to 4 feet of dense snowpack across the region by week's end.
7 WEATHER EXTREMES THAT WILL IMPACT NFL GAMES THIS SEASON
Buffalo Bills' 'Snow Bowl' of 2017 
The Buffalo Bills as a franchise would be no strangers to playing in feet of snow due to a heavy lake-effect snowstorm. 
The Bills and Indianapolis Colts played a game in near-blizzard conditions at Highmark Stadium (then named "New Era Field") in Orchard Park, New York, on Dec. 10, 2017. That game is now known as the "Snow Bowl."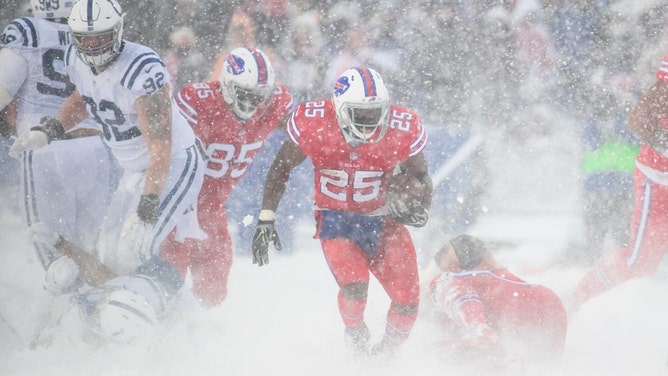 Held amid a heavy lake-effect snowstorm that ultimately dumped 16.7 inches of snow in Orchard Park, 8 to 9 inches fell during the game alone.
The Bills won the game in overtime 13-7.