Monsoon rains reach Utah wildfires, some evacuations lifted
Halfway Hill Fire near Fillmore grows to more than 11,600 acres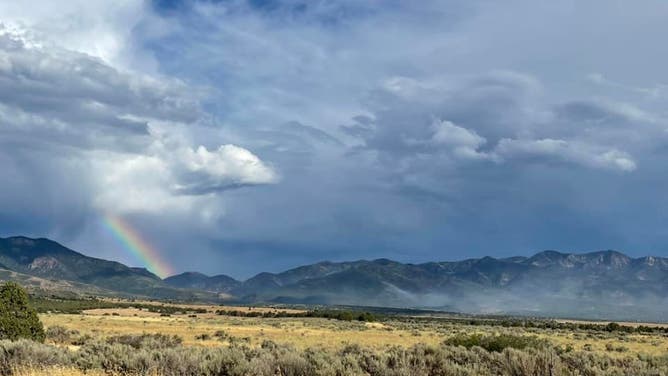 Two significant western wildfires in Utah continued to burn thousands of acres on Thursday even after receiving some beneficial rain from the ongoing Southwest monsoon season.
The Halfway Hill Fire started on July 8, about 3 miles southeast of Fillmore, Utah, growing quickly and prompting evacuations to an area subdivision and recreation areas. The blaze has grown to 11,687 acres with 10% containment. More than 450 firefighters and personnel are working on the wildfire.
On Wednesday evening, residents in the Virginia Hills Subdivision near Fillmore were allowed to return home after first being evacuated on July 8. 
'URGENT ACTION IS NEEDED': IMPERILED GREAT SALT LAKE DROPS TO HISTORIC LOW
Fire officials reported some improvements after rain fell on the wildfire area for about an hour Wednesday. Thunderstorms are likely in the afternoon and evening for the remainder of the week. However, so will hot temperatures and wind.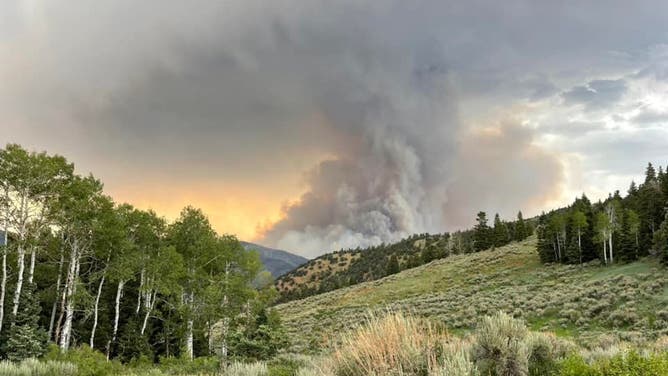 Millard County officials warn residents to be aware of the likelihood of flooding in wildfire burn scar areas. 
"We are encouraging residents within these areas to conduct debris removal from their properties located within drainage areas," the Millard County Sheriff's Office wrote on Facebook. "The Millard County Landfill east of Fillmore is waiving fees for debris removed from drainage areas for the time being.  Please have your personal family emergency plan revised and in place."
WHY RARE 'HIGH RISK' FLOOD DAYS NEED TO BE TAKEN SERIOUSLY
Sandbag resources are also available for Fillmore City residents and throughout Millard County.  
The National Weather Service Salt Lake City has issued a Flood Watch from Friday afternoon for parts of central and southern Utah through Friday evening due to excessive rainfall. The Watch includes Castle Country, San Rafael Swell, Wasatch Plateau/Book Cliffs, Capitol, Reef National Park, Glen Canyon Recreation Area, Lake Powell and Western Canyonlands.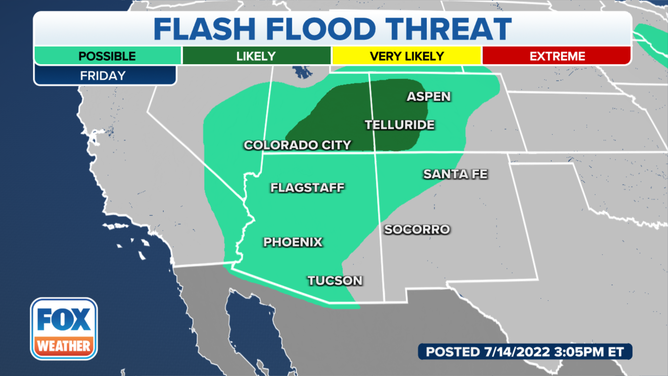 A Flash Flood Warning was also issued Thursday for rural areas of south central Garfield County due to forecasted thunderstorms.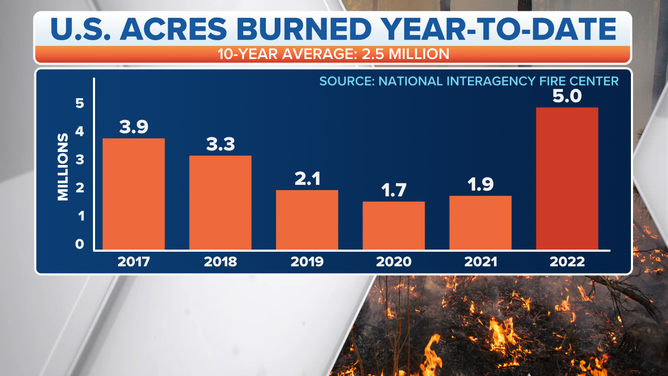 Meanwhile, the Jacob City Fire, which started on July 9, about 1 mile east of Stockton, has consumed 4,185 acres of wildlands. The efforts of more than 470 firefighters and personnel have increased the blaze's containment to 35%.
According to Utah fire officials, thunderstorms dropped moderate rain on Wednesday, wetting the fire area. More thunderstorms from the Southwest monsoon are forecast on Thursday, which could bring minimal rainfall, but cause erratic winds, hindering firefighting efforts.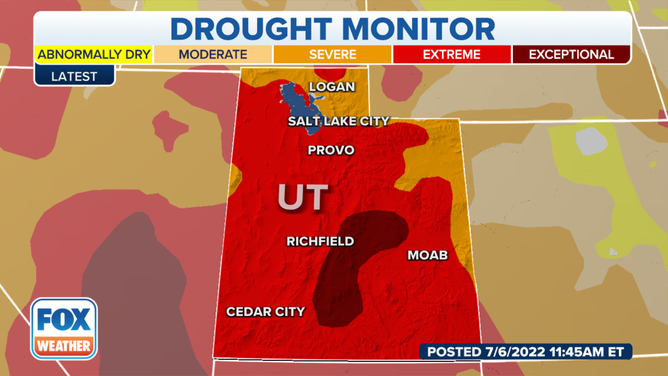 According to the National Interagency Fire Center, more than 5 million acres have burned in wildfires across the U.S. this year, compared to 1.9 million in 2021 and surpassing the 2017 season with nearly 4 million acres. 
Monsoonal moisture has been spotty over the Southwest, including Arizona, New Mexico and Utah, where extreme and exceptional drought conditions persist.