'Urgent action is needed': Imperiled Great Salt Lake drops to historic low
Lake decline presents ecological catastrophe for Utah, environmental groups say
Levels in the Great Salt Lake continue to drop to new historic lows, according to the Utah Department of Natural Resources.
As of July 3, the average daily surface water elevation dropped to 4,190.1 feet. That is about an inch lower than the previous record in October 2021 of 4,190.2 feet. Measurements have been recorded since 1847, showing an 11-foot decline of the lake over the years.
"This is not the type of record we like to break," Utah Department of Natural Resources Executive Director Joel Ferry said in a statement. "Urgent action is needed to help protect and preserve this critical resource. It's clear the lake is in trouble. We recognize more action and resources are needed, and we are actively working with the many stakeholders who value the lake."
HOW TO WATCH FOX WEATHER ON TV
Based on historical data, the levels will likely continue to drop into the fall and winter months. 
The Great Salt Lake depends on snowmelt runoff. According to the Utah Rivers Council, warming air temperatures will have a catastrophic impact, resulting in more rain and less snow in the mountains, disrupting the snowpack runoff that provides 80% of the Wasatch Front's water.  
The 75-mile-long saltwater lake is located in two Utah State Parks, Antelope Island and Great Salt Lake state parks, and is a popular boating and recreational area. The lake provides $1.3 billion annually to Utah's economy for brine shrimp, mineral extraction and recreation. 
According to Utah State Parks, many water levels at state parks are experiencing extreme lows, forcing boat ramps to close. The Antelope Island State Park main ramp is currently closed, and the Great Salt Lake Marina main ramp may be at risk of closing soon. 
The Great Salt Lake is also home to a diverse biological system that supports birds, wetlands and other wildlife. According to the Friends of Great Salt Lake, 75% of Utah's wetlands are located in the lake's ecosystem. 
SNOWFALL CONSIDERED CRUCIAL FOR LONG-TERM DROUGHT MITIGATION
Researchers from Utah State University say water use and climatic fluctuations have impacted the lake's levels since the 19th century.
According to the U.S. Drought Monitor, much of Utah remains in severe to extreme drought, including the area surrounding the lake.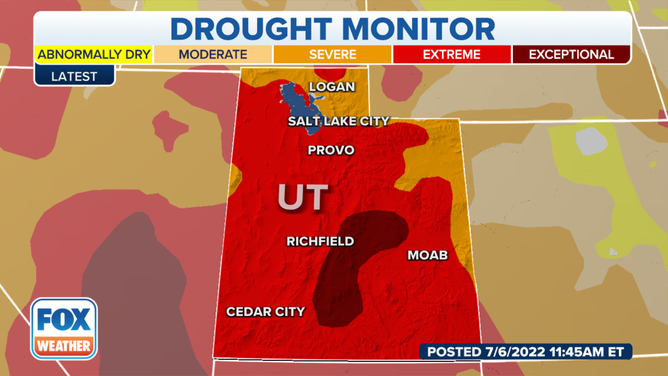 Not only do lower lake levels impact wildlife, but it also increases dust pollution as more toxins are exposed and carried to nearby populations.
FOX 13 Salt Lake reports environmental groups, like the Friends of Great Salt Lake, hope the news of the lake's new record low is a call to action.
"Many people have been in somewhat denial about it, but it's time to own up to where we are," Lynn de Freitas, Friends of Great Salt Lake executive director, told FOX 13.
Environmental groups and Utah government officials say water conservation is the best thing anyone can do for the lake, including cutting back or eliminating outdoor watering. 
CLICK HERE TO GET THE FOX WEATHER UPDATE PODCAST
Be sure to download the FOX Weather app to track any storms in your area and receive potentially life-saving weather alerts issued by the National Weather Service. The free FOX Weather livestream is also available 24/7 on the website and app and on your favorite streaming platform. The FOX Weather Update podcast also provides weather information for the entire country.