What's the average Super Bowl weather in Glendale, Arizona?
The average temperature for Super Bowl games held in Glendale is 65 degrees, and in 2015, the University of Phoenix Stadium, now known as State Farm Stadium, opened its roof.
All eyes are on the weather, as Super Bowl LVII is less than a week away. The Kansas City Chiefs and Philadelphia Eagles will square off at State Farm Stadium in Glendale, Arizona, at 4:30 p.m. MST on February 12.
WHY IS ARROWHEAD IN KANSAS CITY THE LOUDEST NFL STADIUM?
NFL fans in attendance can expect cool weather with forecast highs in the low-60s with sunny skies.
Forecast for Super Bowl LVII.
(FOX Weather)
---
Average Super Bowl weather in the Phoenix area
The Phoenix area has hosted several Super Bowls in years past.
Before 2023, Glendale hosted two Super Bowls, one in 2015 and the other in 2008.
In 2015, the New England Patriots and the Seattle Seahawks saw a kickoff temperature of 66 degrees.
In 2008, the Patriots and the New York Giants faced off when the temperature was slightly cooler, just 61 degrees.
Before State Farm Stadium was built, Super Bowl XXX was held at Sun Devil Stadium in Tempe in 1996. The temperature when the Dallas Cowboys defeated the Pittsburgh Steelers was 68 degrees – ideal conditions for athletes. Overall, the average temperature is 65 degrees for Super Bowl games held in Arizona. 
HOW WEATHER CAN IMPACT FOOTBALL GAMES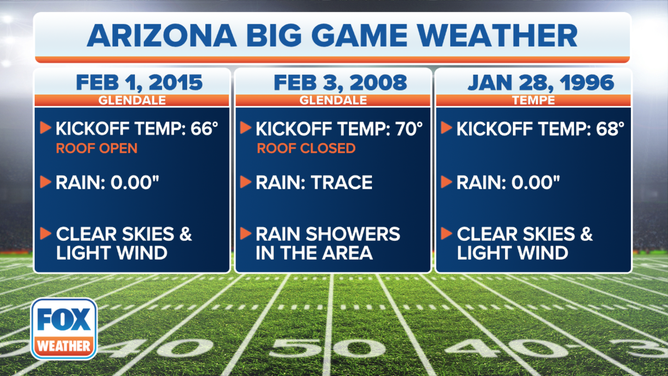 The New England Patriots are the only team that has played in multiple Super Bowls in Arizona. They lost to the Giants in 2008 but beat the Seahawks in 2015.
And even though January is typically one of the wetter months of the year for Arizona, major rainfall does not usually find its way to the desert.   
"Less than 1 inch of rain falls on average in January where the Super Bowl is held," FOX Weather Senior Meteorologist Greg Diamond said.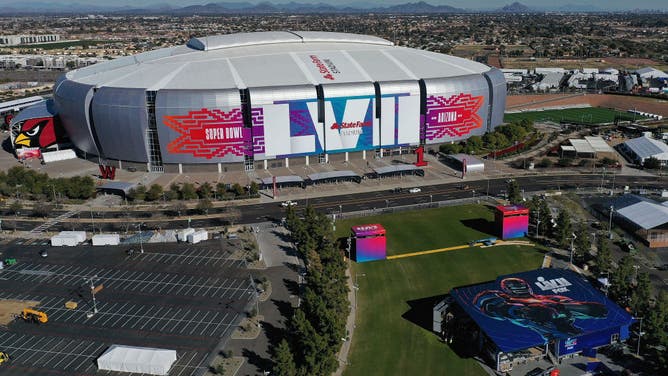 "Clear and dry conditions have been in place during the three Super Bowls in Arizona. The weather was so nice in 2015 that they opened the roof," Diamond added. 
The retractable roof at State Farm Stadium also protects fans and players from being soaked or overheating. 
HOW THE SUPER BOWL PUTS A SPIN ON THE CLASSIC GRASS FIELD 
"The stadium also has a retractable roof than can seal off the facility and allow air conditioning to comfort more than 63,000 fans," FOX Weather Senior Digital Content Producer Heather Brinkmann said.