Atmospheric rivers continue barrage into California with significant flooding threats
This latest atmospheric river will focus the bulk of its rainfall in Northern California, but flooding concerns linger across much of the state with significant flooding likely near the town of Salinas in the wake of the previous storm that brought over a foot of rain to some spots.
SAN FRANCISCO – Heavy rain and flooding continue to plague California as yet another atmospheric river takes aim at the Golden State late week. 
This next storm will focus the bulk of its rainfall in Northern California, but flooding concerns linger across much of the state in the wake of the previous storm Monday and Tuesday that brought over a foot of rain to some spots and some 300 reports of flooding.
On Wednesday lighter rain added to river levels and threatened major flooding impacts.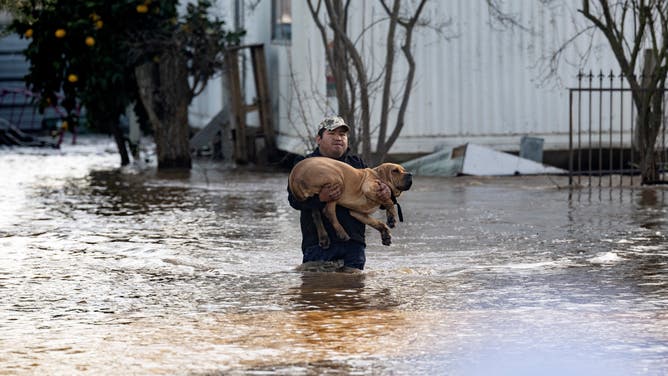 Emergency managers are focusing attention on the Salinas River in Central California, where the river is forecast to crest near or beyond major flood stage by Thursday, leading to significant flooding impacts in the area around Salinas.
Salinas River Forecast
(FOX Weather)
---
According to the FOX Forecast Center, the forecast crest as of Saturday morning of 27.6 feet at Spreckels would be the second-highest level measured and could lead to major flooding in the towns of Castroville, Soledad, Gonzales, Chualar, Spence and Spreckels. 
The Monterey County Sheriff has issued some evacuation orders in the region. 
WHAT IS AN ATMOSPHERIC RIVER? THE PLANET'S LARGEST FRESHWATER RIVERS ARE IN THE SKY
Salinas River Impacts
(FOX Weather)
---
In addition, tens of thousands of acres of agricultural land will flood, leaving primary and secondary roads impassable across the region.
The town of Salinas is forecast to escape flooding unless the river rises more than currently forecast.
PLAN, PREPARE, PROTECT: HOW TO BEST COVER YOUR PROPERTY AGAINST FLOODS
Flash Flood Threat
(FOX Weather)
---
Elsewhere, Flood watches remain in effect for much of Northern California, where Wednesday's rain added another 1 to 3 inches to the soggy totals already collected since the parade of storms began just after Christmas. The heaviest rain fell north of the San Francisco Bay Area.
7-Day Rainfall Forecast
(FOX Weather)
---
Tornado confirmed near Sierra Tuesday
The National Weather Service even confirmed an EF-1 tornado touched down near Milton in Calaveras County. 
The twister had peak winds of 90 mph and was on the ground for about 0.4 miles. The NWS storm survey team found extensive tree damage along the path but no one was injured. 
It's only the second time Calaveras County has reported a confirmed tornado since 1950.
HOW RARE ARE TORNADOES IN CALIFORNIA?
Southern California gets a brief break
On the other hand, Southern California, where two-day rainfall totals of 3 to 10 inches were common through Tuesday and some of the mountains received over 15 inches of rain, finally got a break. Dry weather is expected through Friday, though more rain returns for the weekend.
Up in the Sierra Nevada mountains another 1 to 2 feet will be possible in those highest peaks through Friday. As the snow level rises into the weekend, less than a foot will fall at pass level, according to the FOX Forecast Center. 
Waves will gradually increase along the Northern California coast as the storm approaches, reaching 20 to 25 feet from Thursday into Friday morning.
Another soggy period ahead, but dry weather is on the (distant) horizon
More storms with heavier rain are in the forecast for the weekend and again next week.
Gusty winds reaching over 40 mph will return as well, and more trees are likely to topple in the saturated soil, keeping power crews busy.
More Atmospheric River Threats
(FOX Weather)
---
Yet another potent storm is forecast to strike California next week, though these next storms appear weaker and colder than the bomb cyclone caught up in the Pineapple Express.
Cooler air would allow more snow to fall in the mountains instead of rain and would limit higher-elevation rain runoff. The FOX Forecast Center said that because of these lower snow levels and the greatest cumulative rain forecast to occur in far northwestern California, which hasn't been quite as wet, it appears likely that another more widespread and destructive flood scenario will be avoided, though some flooding threats still remain.
With the cooler air, extreme snowfalls are likely to return to the Sierra Nevada.
The FOX Forecast Center predicts another 60 to 100 inches of snow will fall in the next seven days, which will continue to add to a snowpack that is more than double where it is usually this time of year.
Due to the weight of the snow, avalanche danger will remain high.
MAN KILLED IN AVALANCHE OUTSIDE LAS VEGAS ON MT. CHARLESTON
But drier weather lurks. Long-range forecasts suggest a shift in the weather pattern in about 9 to 10 days, which will bring an extended stretch of mostly dry weather to California and relief from the train of deadly storms.  
California Gov. Gavin Newsom's office said the series of powerful storms had claimed the lives of at least 17 people, which is more than wildfires over the past two years combined. The death toll climbed to 18 on Wednesday when a 43-year-old woman was found dead in her vehicle that had gotten submerged in floodwaters north of San Francisco one day earlier, according to the Sonoma County Sheriff's Office.