At minus 91 degrees, Alaska's feels-like temperature was colder than the state's all-time record low
The lowest actual temperature – not wind chill – ever recorded in Alaska is minus 80 degrees
Imagine waking up to a wind chill colder than minus 90 degrees. That happened Monday morning at one place in Alaska.
Dr. Brian Brettschneider, an Alaska-based climatologist, noted on Twitter the feels-like temperature had dipped to minus 91 degrees early Monday at Howard Pass in northern Alaska's Brooks Range.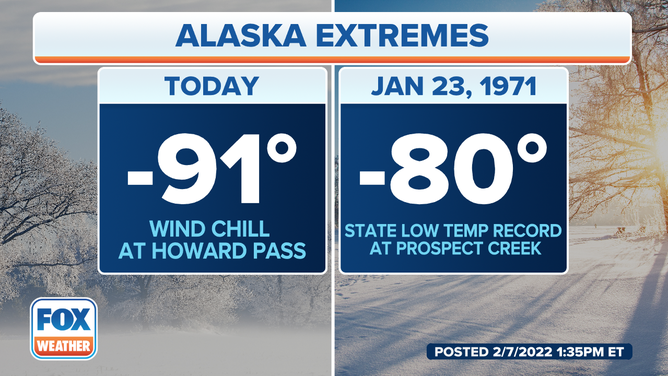 This location is home to some of the state's most extreme weather. In fact, Brettschneider said, Howard Pass had a wind chill of minus 100 degrees a few years ago. 
The lowest actual temperature – not wind chill – ever recorded in Alaska is minus 80 degrees. That was documented by a weather observer at Prospect Creek Camp on the morning of Jan. 23, 1971. The high temperature later that day reached a balmy minus 64 degrees.
Put another way, it felt colder Monday morning at Howard Pass than any temperature ever recorded in Alaska's history.
WHAT DOES THE WIND CHILL MEAN?
Although the Howard Pass area is considered uninhabited, indigenous people have occupied the region for thousands of years.