'Armed Forces Appreciation Day' at the Houston Rodeo to be partly cloudy, warm
Expect a high temperature of around 71 degrees on Wednesday
HOUSTON – Wednesday is Armed Forces Appreciation Day at the Houston Rodeo, and what better way to celebrate than with warm temperatures and breaks of sunshine.
Temperatures are expected to remain on the cooler side in the morning, but expect a nice warmup by the afternoon and evening.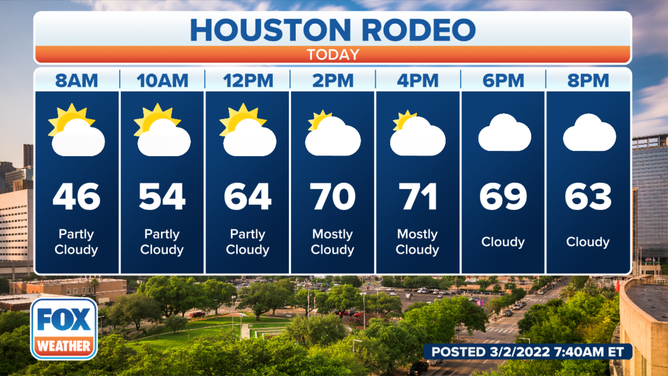 For anyone heading to NRG Park early, temperatures will be around 46 degrees but will jump to about 64 degrees by noon.
Temperatures will continue to rise through the afternoon, getting to a high of around 71 degrees by late afternoon with cloudy conditions moving in.
As people begin to wrap up their day of fun in the evening, temperatures will drop into the 60s.