Alaska town won't see the sun until January
A town north of the Arctic Cricle, Utqiaġvik, Alaska, will have 66 days of darkness between November and January. This phenomenon is called polar night and is opposite of what happens during the summer.
UTQIAGVIK, Alaska – The Sun will set for the final time of the year on Saturday in America's northernmost town, Utqiaġvik, Alaska, and will not be visible again until late January, as the Arctic Circle experiences what are known as polar nights.
Utqiaġvik used to be known as Barrow but changed its name back to a traditional Alaska native name less than a decade ago.
The town won't be completely dark as civil twilight takes over for several hours during what would typically be daytime. According to the National Weather Service, civil twilight begins when the Sun's center is within 6 degrees below the horizon.
Utqiaġvik is about 500 miles northwest of Fairbanks, which does not experience this complete lack of daylight.
The minimum extent of the sunlight in Fairbanks is about 3 hours and 41 minutes, which happens around the winter solstice.
HOW DO ALASKANS COPE WITH NEARLY ALL-DAY DARKNESS IN WINTER, ALL-NIGHT DAYLIGHT IN SUMMER?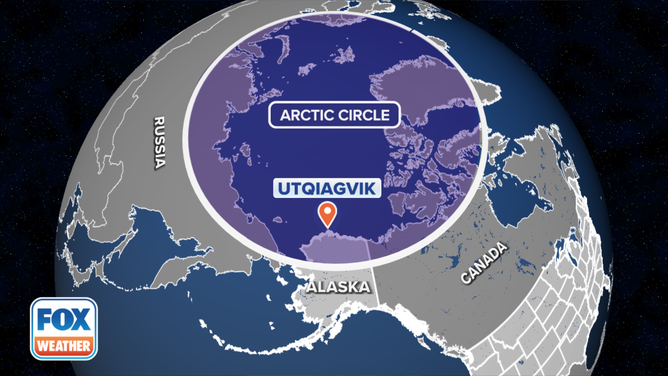 The next time the sun will rise over Utqiaġvik will be on Jan. 23, 2024. Sunrise is set to take place around 1:09 p.m. local time and be visible for around an hour.
The amount of daylight will steadily grow through the spring and reach the point of "midnight sun" during the summer.
During this period, the town sees the opposite of what it experiences over the winter, with 24 hours of sunlight.
HOW TO RECOGNIZE SEASONAL AFFECTIVE DISORDER AS WINTER APPROACHES
According to locals, winter's darkness does tend to have a negative effect on the people who live in the region.
Vitamin D and light-therapy lamps are common forms of treatments added to peoples' regimes until the daylight returns.
Skygazers can reap the rewards with little in the way to obstruct the sights of the stars and planets.