Late-season nor'easter dumps heavy snow, rain across the Northeast
More than 270K power outages reported in New York, Pennsylvania
A strong late-season nor'easter is bringing significant impacts to parts of the interior Northeast, where up to a foot of snow has already piled up in many parts of the higher terrain.
While it's not uncommon for interior portions of the Northeast to receive snowfall in April, it is getting late in the season for such a widespread snowstorm that has dumped several inches of heavy, wet snow in the lower elevations.
Many areas have already seen more than a foot of snow. Virgil, New York, has picked up 18 inches with Indian Lake not far behind at 16 inches.
Piseco and Maryland have also picked up more than a foot of snow.
Winter Storm Warnings and Winter Weather Advisories have been issued by the National Weather Service from the mountains of eastern West Virginia and western Maryland as well as central and northeastern Pennsylvania, central and upstate New York, the northern Berkshires in northwestern Massachusetts and the southern Green Mountains in southern Vermont.
In general, the heaviest snow and greatest travel impacts have been occurring in the Winter Storm Warning areas of central and upstate New York and northeastern Pennsylvania, particularly over the higher terrain of the Adirondacks, Catskills and Poconos.
WHAT MAKES A STORM A NOR'EASTER?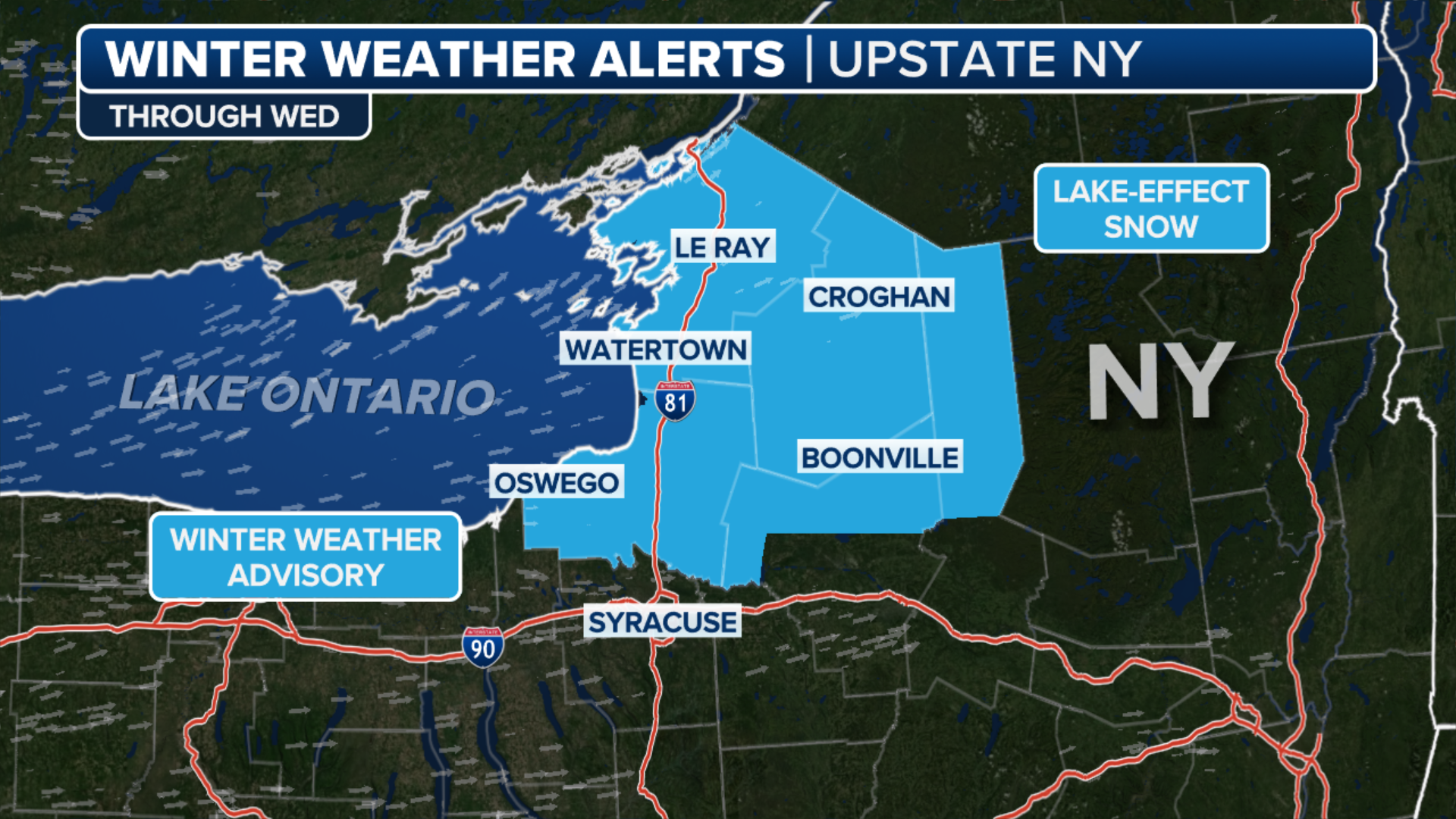 Winter Storm Warnings and Winter Weather Advisories are in effect across the interior Northeast.
(FOX Weather)
---
As the low-pressure system tracked up the East Coast on Monday, precipitation moved from the mid-Atlantic in the afternoon and into the Northeast and New England Monday evening.
Locations along the Eastern Seaboard have seen a soaking rain from this system. As much as 1 to 2 inches of rain has fallen along parts of the mid-Atlantic and Northeast coasts as of Tuesday morning. Minor flooding is not ruled out in urban and poor-drainage areas.
But the main story is the heavy, wet snow piling up across the interior. High snowfall rates between 1 and 2 inches were reported at times.
WHEN CAN YOU EXPECT THE LAST SNOW OF THE SEASON?
The heaviest snow was expected to fall at elevations above 2,000 feet in the Adirondacks, Catskills and Poconos. However, even the lower elevations of the Mohawk, Hudson and Champlain valleys have seen snow.
More than 6 inches of heavy, wet snow was also expected to pile up across the higher terrain of eastern West Virginia, south-central and northeastern Pennsylvania, central and upstate New York and the Green Mountains of Vermont.
Heavy snow caused several accidents across central Pennsylvania and some roads were impassable, according to the National Weather Service in State College. 
And in Broome County, New York, a travel ban was implemented and will continue throughout the day.
Storm reports from the National Weather Service show some snowfall totals of 3 to 6 inches in the higher elevations of northwestern Virginia and western Maryland as of late Monday afternoon. Localized totals up to a foot are possible in the highest elevations of central New York and the Adirondacks.
At lower elevations, several inches of wet snow was reported in cities such as Binghamton, Ithaca, Syracuse and Utica in central New York, but higher amounts were reported in the hills surrounding those cities.
THESE ARE THE 7 SNOWIEST CITIES IN THE U.S.
Albany and Poughkeepsie in eastern New York have seen about an inch or less, but several inches were expected in the higher hills of the Hudson and Mohawk valleys.
Snowfall forecast through Tuesday, April 19, 2022.
(FOX Weather)
---
Significant impacts have been reported because of the weight of the heavy, wet snow, including downed trees, power outages and difficult shoveling.
MEDICAL EXPERTS WARN SHOVELING SNOW CAN BE DANGEROUS TO YOUR HEALTH
The Tuesday morning commute has been slow-going due to slushy, snow-covered roads across the interior Northeast. Students hoping for one last snow day or delayed opening got their wish in some of the areas that saw heavy snow.
Snow will taper off from south to north through the day on Tuesday as the low-pressure system exits into eastern Canada, but lake-effect snow showers will persist across western Pennsylvania and upstate New York as cold temperatures linger across the Northeast.
Additionally, with strong northeasterly winds pounding onshore, there will likely be widespread, minor coastal flooding along the coastline from the Delmarva Peninsula to southern and eastern New England during high tide late Monday night and early Tuesday morning. The coastal Carolinas and Virginia Tidewater could also see minor coastal flooding during the day on Monday.