Appalachia braces for flash flood threat
The combination of a stationary front and plenty of moisture will mean several rounds of showers and thunderstorms through the end of the week.
A frontal boundary stuck over the Interstate 64 corridor will mean several rounds of showers and thunderstorms through the end of the week that could produce more flash flooding events, especially from the Ohio and Tennessee valleys eastward to the Appalachian Mountains.
Thunderstorms on Tuesday morning caused significant flooding in the St. Louis metro that is being blamed for at least one death.
Some areas of eastern Missouri saw more than a foot of rain in less than 48 hours, which made many streets look like rivers.
7 FACTS YOU SHOULD KNOW ABOUT FLASH FLOODS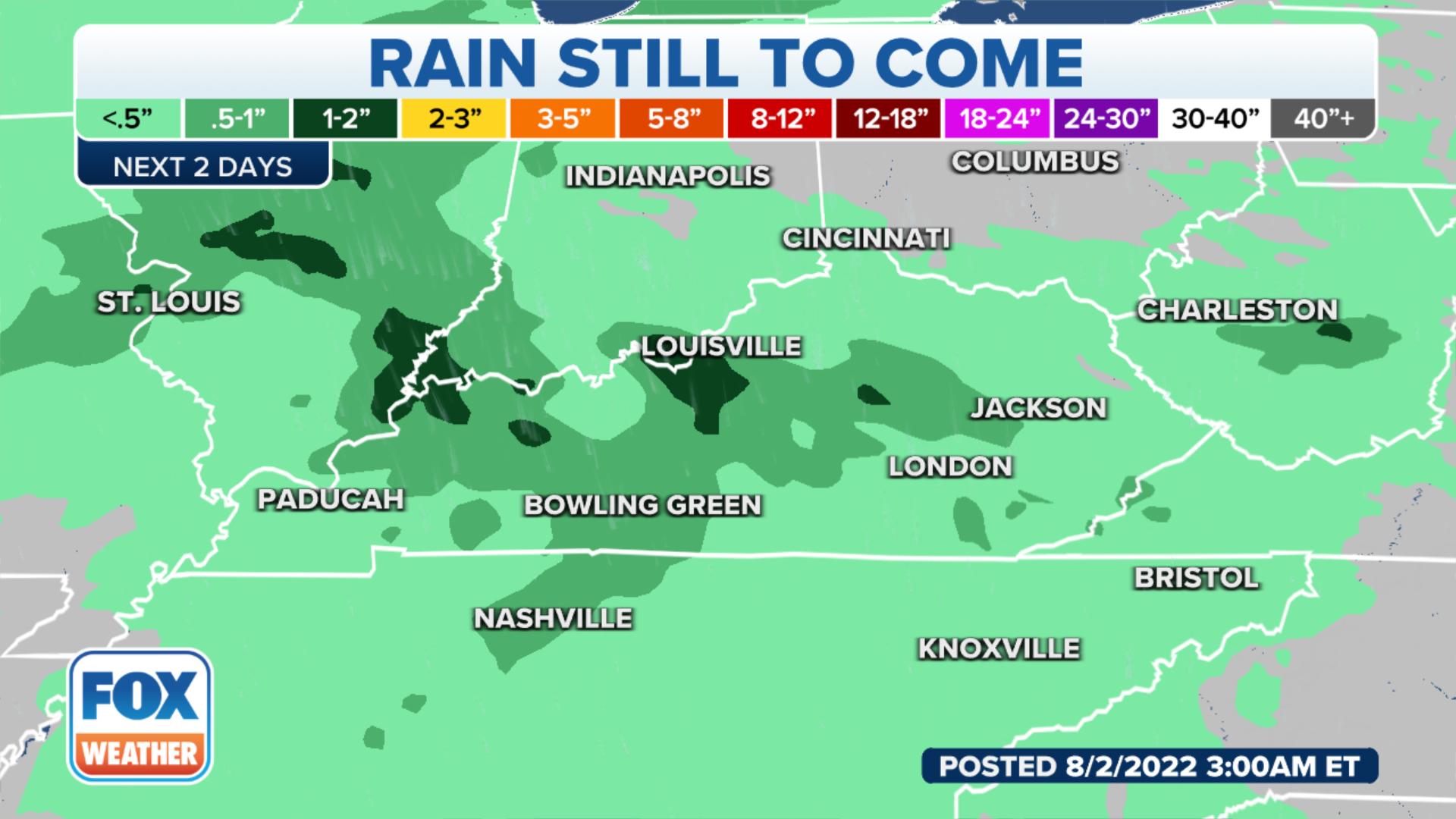 Forecast rainfall
 
---
Forecast models show rainfall amounts of three to five inches, with locally higher values, will be possible from southeastern Missouri through Charleston, West Virginia.
Meteorologists say Appalachia's natural orographic lift may play a role in the increased rainfall event.
Orographic lift occurs when air is forced up a mountainside and cools to the point of water vapor forming. The increased moisture can cause extensive cloud cover and heavy rains.

NOAA's Weather Prediction Center said there is a moderate risk for flash flooding in areas of Kentucky, Virginia and West Virginia through at least the end of the workweek.
HOW TO WATCH FOX WEATHER ON TV
Some of these areas have already experienced heavy rainfall events this summer, meaning any additional precipitation could quickly cause streams and rivers to quickly rise without advanced warning.
Flood Threat
 
---
Residents in Buchanan County, Virginia, experienced a wall of water that moved homes off foundations in mid-July, but fortunately, there were no reported drownings during the disaster.
The National Weather Service has issued Flood Watches for much of Kentucky, West Virginia, southern Ohio and Indiana through at least Wednesday evening due to the threat of heavy rainfall.
Meteorologists encourage residents in the alerted zones to be prepared to seek higher ground if a Flood Warning is issued and never drive on roadways that are underwater.
Flood Threat
 
---
Be sure to download the FOX Weather app to track any storms in your area and receive potentially life-saving weather alerts issued by the National Weather Service. The free FOX Weather livestream is also available 24/7 on the website and app and on your favorite streaming platform. The FOX Weather Update podcast also provides weather information for the entire country.