Another day of record warmth expected across the South on Wednesday
Temperatures could be 20 to 30 degrees above average for this time of year
It's going to feel more like spring or summer rather than winter across the southern United States Wednesday as temperatures soar into the 70s and 80s across the region.
There are also increasing concerns of severe weather – including some tornadoes, large hail and damaging winds – on Wednesday afternoon.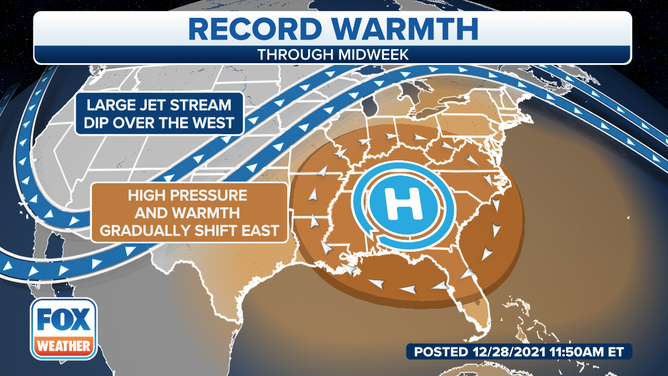 A ridge of high pressure over the South has allowed for temperatures between 20 and 30 degrees above average for this time of year all week. And forecasters say those warmer temperatures can be expected through at least Thursday.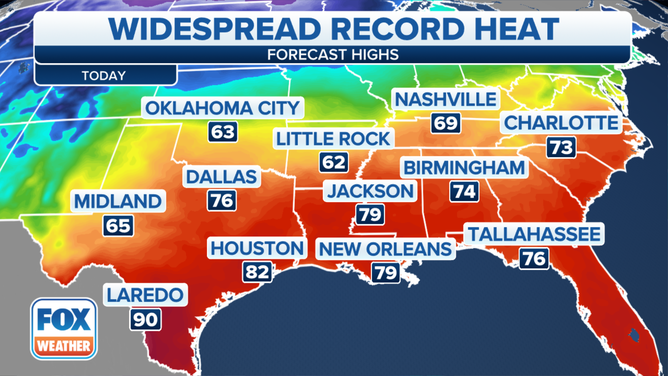 Texas will see the highest temperatures on Wednesday, with 90 degrees forecast in Laredo and 82 degrees in Houston. Those warmer temperatures will extend along the Gulf Coast. New Orleans is expected to get to nearly 80 degrees, and Tallahassee, Florida, will be in the mid-70s.
Farther north, many areas will see temperatures in the mid- to upper 70s.
The exceptions will be in areas around Oklahoma City, Oklahoma; Little Rock, Arkansas; and Nashville, Tennessee, where temperatures are expected to remain in the 60s.
Let's take a look at some of the records in jeopardy on Wednesday.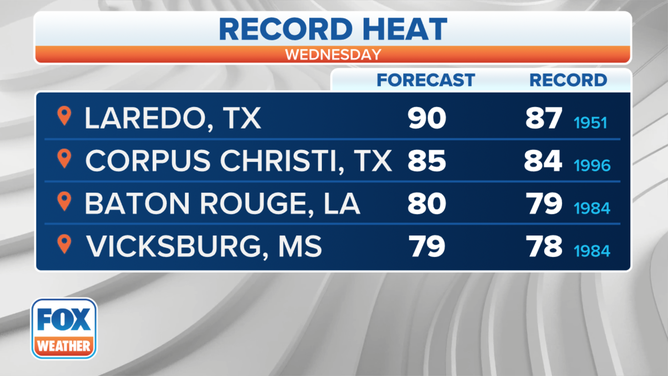 Laredo, Texas, is expected to break its old record of 87 set in 1951. It will be a warm day in the city, as it's expected to reach at least 90 degrees.
Farther south in Corpus Christi, Texas, the old record of 84 could be broken by 1 degree.
To the east in Baton Rouge, Louisiana, temperatures could hit 80 degrees, which would break its old record of 79 degrees set in 1984.
Vicksburg, Mississippi, will likely break its old record by 1 degree.