Picture this, sweaty America: Anchorage now at 9 straight days of significant rain
Alaska is closing in on its all-time record for consecutive days with at least 0.05 inches of rain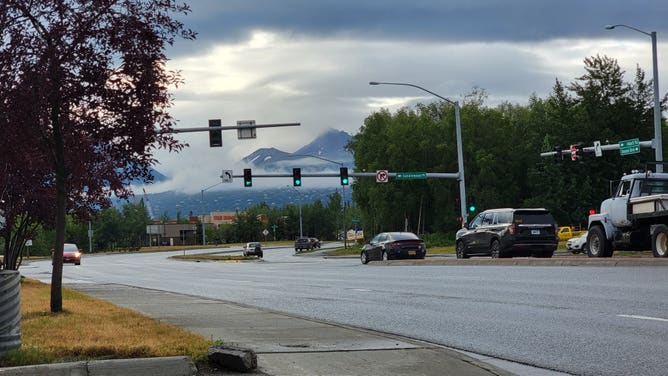 ANCHORAGE, Alaska -- Over 100 million Americans in the Lower 48 are under some sort of heat alert Wednesday as multiple dayslong heat waves are baking several regions across the U.S.
If you're one of those 100 million, you're invited to take a brief mental journey and picture this serene scene: The skies are gray, obscured by a thick overcast sky, hugging still-snowcapped mountains on the horizon. There's a relatively chilly breeze blowing, but a light sweatshirt does no good because it's also raining. Refreshing, right?
The next day, it's the same experience.
Then again on the third day, only it's raining harder.
And again, raining harder still. The temperature can't even climb out of the 50s.
The next day, it's pouring, as it does the next day.
The rain lightens up a little on the seventh day, and then the eighth day comes with a deluge in what will eventually become the fourth-wettest July date on record.
As the clock strikes midnight on the ninth day, it's still raining.
Welcome to the past week-and-some-change of life in Anchorage, Alaska.  Where "heat waves" are when the temperature crosses 65 degrees, which has happened just once since July 11. (The start of the month was warmer than average with a nice three-day run in the mid 70s to kick off July.)
According to Alaska climatologist Brian Brettschneider, Alaska is closing in on its all-time record for consecutive days with at least 0.05 inches of rain, which is 11. Wednesday would make Day 9 (they were at 0.04 inches early Wednesday morning) and rain remains in the forecast through the week.
Rain is a boon for Alaska firefighters
While Anchorage is now more than 2 inches above average in July rainfall, and the city hasn't had an official sunny day since July 5, the soggy pattern has been good news for firefighters battling hundreds of wildfires in the state's interior.
More than 2.5 million acres have burned across the Last Frontier as what had been a drier than average spring and early summer combined with days of thousands of lightning strikes to trigger several blazes.
FIRESTORM 2022: ALASKA'S WILDFIRES BURN MORE THAN 3 MILLION ACRES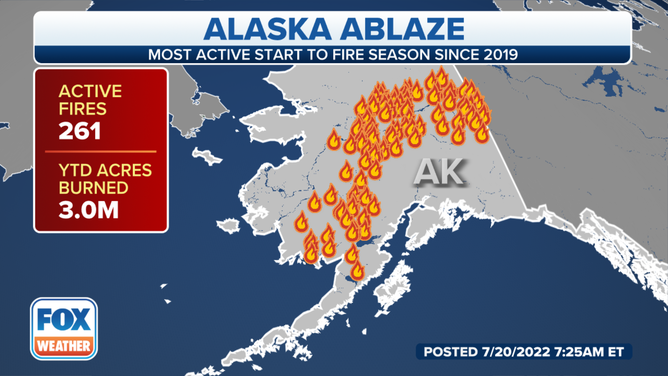 Two of the larger fires, the East Fork and the Lime Complex, were responsible for torching more than a million acres.  The Lime Complex Fire is now 56% contained and firefighters said the rainy weather limits fire activity. The East Fork Fire was considered fully contained by the end of June.
Be sure to download the FOX Weather app to track any storms in your area and receive potentially life-saving weather alerts issued by the National Weather Service. The free FOX Weather livestream is also available 24/7 on the website and app and on your favorite streaming platform. The FOX Weather Update podcast also provides weather information for the entire country.