Severe turbulence in the skies over the Southeast injures 8 aboard an American Airlines flight
An airline representative said two flight attendants and six passengers were transported to a hospital
BIRMINGHAM, Ala. – Severe turbulence in the skies over the Southeast caused pilots of an American Airlines flight to declare an emergency and land in Birmingham, Alabama, Wednesday afternoon after eight people were injured, authorities said.
American Eagle flight 3609 left Tampa around 2:36 p.m. ET and was scheduled to fly to Nashville but encountered severe turbulence in the skies along the Gulf Coast.
The Federal Aviation Administration said the pilots of the Embraer E175 declared an emergency and landed safely at the Birmingham-Shuttlesworth International Airport around 3:17 p.m. CT.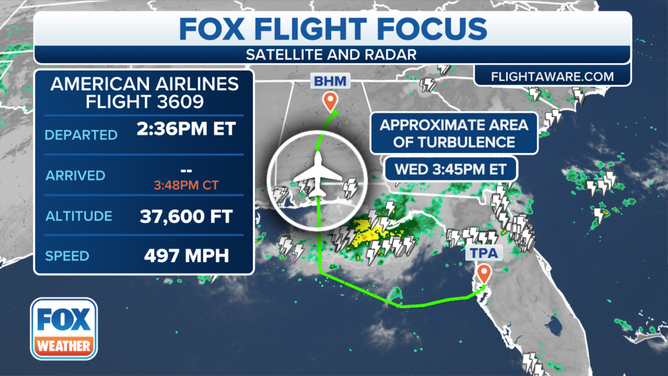 HOW TO WATCH FOX WEATHER ON TV
Among the 56 people aboard, two flight attendants and six passengers were transported to a local hospital for further evaluation, an American Airlines spokesperson said.
Meteorologists said thunderstorms were prevalent along the Gulf Coast, but there were no other reports of severe turbulence in the Alabama-Florida region where flight 3609 declared the emergency.
FAA, AIRLINES WORK TO IMPROVE GRIDLOCK IN SKIES OVER FLORIDA
According to tracking data from FlightAware, the American Eagle plane was more than an hour into its flight when the pilots encountered the rough air.
None of the injuries were reported to be life-threatening, and the FAA will investigate the incident.