Alberta Clipper to bring season's first snow to parts of Midwest, Northeast this weekend
Chicago, Detroit, Milwaukee, Pittsburgh and Columbus, Ohio, could see their first snow of the season
An Alberta Clipper system will dive out of Canada and sweep across parts of the Midwest and Northeast this weekend, bringing the season's first snow to several cities in these regions.
Alberta Clippers are fast-moving weather systems that receive their name from where they originate in western Canada. They sweep across the northern tier of the United States rather frequently during the late-fall and winter months and provide quick bursts of snowfall.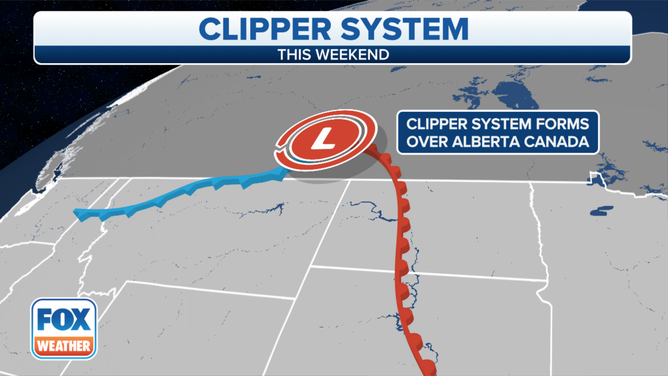 The clipper system will first drop into the Northern Plains on Saturday and race toward the upper Midwest and western Great Lakes on Saturday night. It could wring out the season's first measurable snowfall – at least 0.1 inches – in cites such as Chicago and Milwaukee by Sunday morning.
WHEN CAN YOU EXPECT THE FIRST SNOW OF THE SEASON?
While Minneapolis/St. Paul already saw its first flakes of the season with the storm that impacted the upper Midwest and Northern Plains on Veterans Day and into Friday, the Twin Cities might pick up 1 to 3 inches of snow as the clipper swings through that area Saturday night.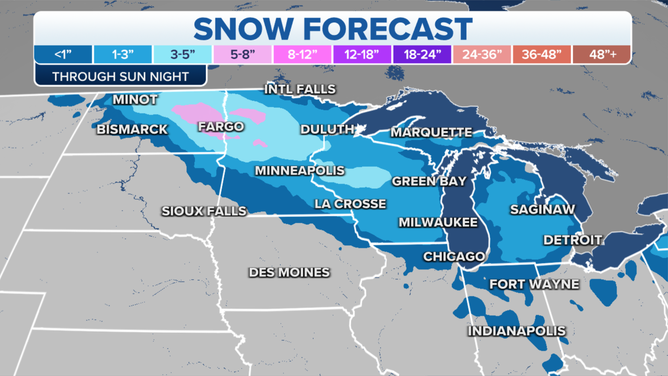 On Sunday, the Alberta Clipper will spread light snow across the Great Lakes region and parts of the Ohio Valley. By Sunday night, light snow will sweep into portions of the interior Northeast from western and central Pennsylvania to upstate New York and northern New England.
The season's first measurable snow is possible Sunday or Sunday night in cities such as Pittsburgh, Detroit and Columbus, Ohio, though amounts should stay under an inch.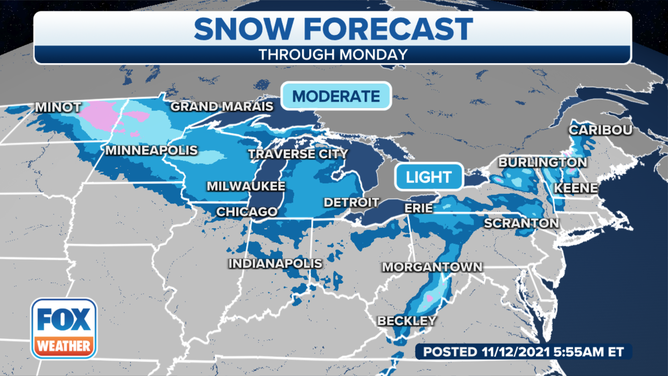 Lake-effect snow is expected to develop in many of the Great Lakes snowbelts this weekend through Monday, so locally higher accumulations are expected downwind of the lakes. Snowfall may also be enhanced in the higher terrain of eastern West Virginia, where several inches of snow could pile up in the mountains.