Alberta Clipper bringing snow to Great Lakes, Northeast
Temperatures will get cooler after the system moves through the region
Some cities in the Great Lakes region are seeing the season's first snowfall as an Alberta Clipper system moves through the area.
Alberta Clippers are fast-moving weather systems that receive their name from where they originate in western Canada. The systems frequently sweep across the northern tier of the United States during the late fall and winter months and provide quick bursts of snow.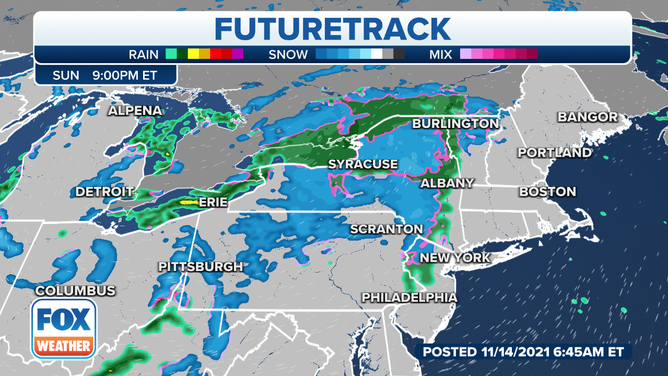 Most locations can expect to see 1 to 3 inches of snow from across Wisconsin and Michigan through Sunday. As we move into Sunday evening, snow is expected to be falling across northern Pennsylvania and New York.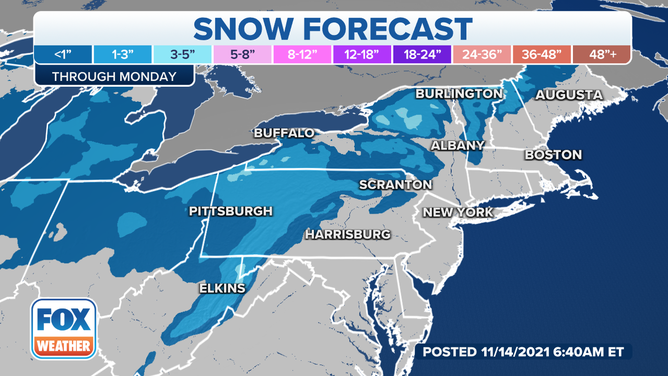 The season's first measurable snow is also possible during the day Sunday into Sunday night in cities like Pittsburgh, Detroit and Columbus, Ohio, though amounts should stay under an inch.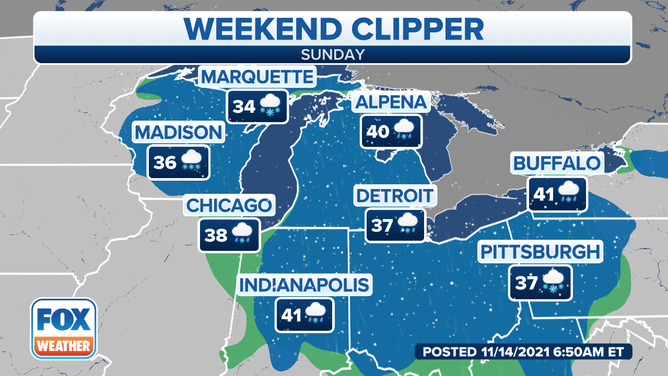 Lake-effect snow is expected to develop in many of the Great Lakes snow belts this weekend through Monday, so locally higher accumulations are expected downwind of the lakes. Snowfall may also be enhanced in the higher terrain of eastern West Virginia, where several inches of snow could pile up in the mountains.
Another big headline with this system is the cold air that will be pulled in behind it. Temperatures will only be in the 30s for places like Madison, Wisconsin.
Further south, in places like Chicago and Indianapolis, snow will mix with rain as temperatures will still be chilly but will be a bit warmer as we get into the upper-30s and low-40s.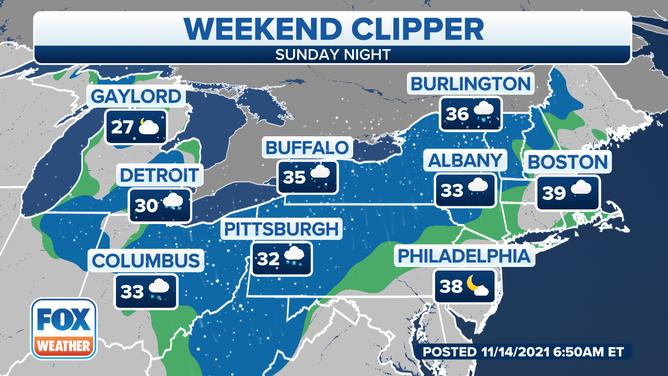 To the north and east, it's much of the same. Detroit can expect to drop below freezing on Sunday night, while Columbus and Pittsburgh will hover around freezing.
Buffalo and Albany, New York, Burlington, Vermont and Boston will be above freezing but still cooler as the clipper system approaches and then moves through the Northeast.