Signs of winter already? First Winter Storm Warning of season issued for parts of Alaska
National Weather Service meteorologists say the snowfall is earlier than usual.
FAIRBANKS, Alaska – While millions of Americans in the Lower 48 are under heat alerts through the weekend, parts of The Final Frontier are bracing for the region's first significant snowfall of the season.
The combination of cooler air, plenty of moisture and an approaching storm system means higher elevations could see several inches of snow.
A Winter Storm Warning has been issued for northeastern parts of the Brooks Range, where meteorologists warn more than 8 inches of snowfall is possible above elevations of 3,000 feet.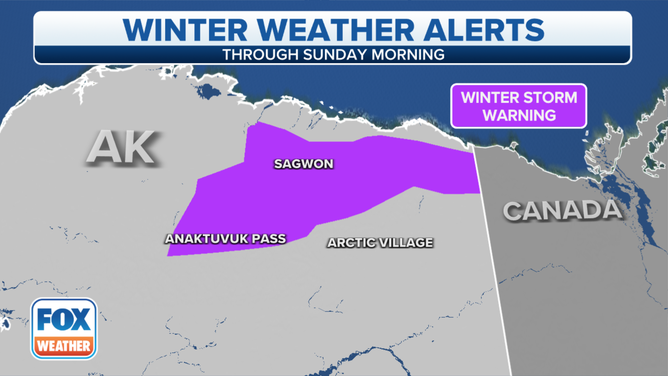 The National Weather Service says the snowy conditions could make travel difficult on the Dalton Highway through the Atigun Pass.
The highway is one of the main thoroughfares for Alaska's North Slope where many large oil production operations are located.
ALASKA EXPERIENCES AN EARTHQUAKE EVERY 10 MINUTES, SCIENTISTS SAY
While snowfall can happen year-round, the NWS office in Fairbanks says the area is mostly snow-free during the heart of the summer.
Since 2005, the NWS has only issued a dozen Winter Storm Warnings during meteorological summer.
The frozen precipitation is expected to mostly stay above 2,000 feet, meaning communities in lower elevations, where temperatures are warmer, will see rain and no accumulations.
This includes the northernmost town of Utqiaġvik, where the sun recently set for the first time in 83 days.
HOW TO WATCH FOX WEATHER ON TV
The state's most populated city, Anchorage, is more than 300 miles south of the Brooks Range and usually doesn't see its first measurable snowfall until around October 15.
While frozen precipitation is still several weeks away for most of Alaska, climate outlooks indicate it could be another colder than average winter for the state.
La Niña is expected to control world weather patterns for a third winter, meaning all eyes will be on the polar jet stream.