52-acre Colorado grass fire sparked by severe weather study mishap: sheriff
A drone crashed and burned during a severe weather experiment, triggering a grass fire.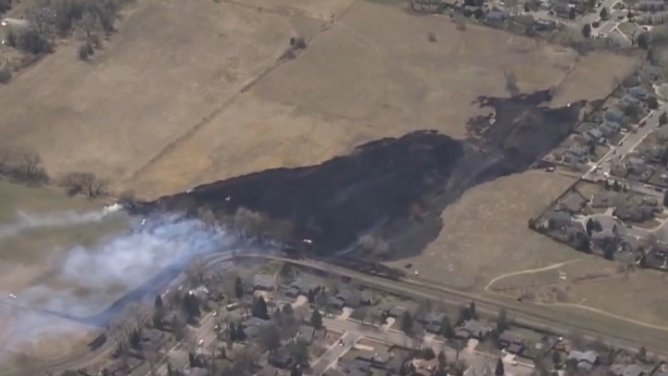 BOULDER, Colo. -- A mishap during a severe weather study was the culprit for a grass fire that eventually burned 52 acres in Boulder County, Colorado on Wednesday afternoon, according to sheriff's officials.
Three researchers with the University of Colorado-Boulder's Aerospace Engineering Department were at the Table Mountain Radio Quiet Zone using a drone for their experiment.
However, around 3 p.m. the drone crashed into the ground at a high speed, causing its battery to dislodge and ignite, Boulder County Sheriffs officials said.
The trio had a fire extinguisher and attempted to douse the flames, but the flames quickly spread amid gusty winds.
Firefighters came to the scene and some nearby residents were told to be ready to evacuate. The fire eventually grew to 52 acres before it was contained. No one was injured and no structures were damaged.
Investigators said the researchers were operating the drone within regulations and no criminal charges will be filed due to the accidental nature of the craft.
Meanwhile, extreme fire danger continues in Colorado Friday with Fire Weather Warnings in effect due to dry soils, low humidity and gusty wind. NOAA's Storm Prediction Center has hoisted an "extremely critical" risk of fire weather – the highest risk on its fire weather outlook scale – across east-central New Mexico and northward into the High Plains of eastern Colorado.
The NWS is urging everyone to be extremely cautious and avoid doing anything that could cause a spark, such as outdoor burning or using outdoor power equipment. People are also encouraged to avoid parking their vehicles in tall grass and to ensure that trailer chains are properly stowed.