2,500 power workers staged in North Carolina ahead of ice storm
Second winter storm in a week forecast to coat Carolinas in ice, snow
WILMINGTON, N.C. – Duke Energy, the primary electricity provider for the Carolinas, has staged about 2,500 workers in North Carolina ahead of a winter storm that is forecast to coat the region in ice and snow.
FOX Weather is forecasting as much as a half-inch of ice accumulation along the coast of North Carolina, where an Ice Storm Warning has been issued. Lighter amounts are forecast across interior sections of both North and South Carolina, where both Winter Storm Warnings and Winter Weather Advisories are in effect.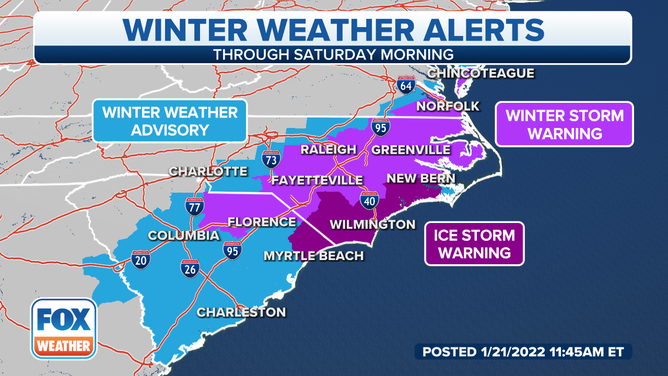 This will be the second icy hand that Mother Nature has dealt the Carolinas in about a week. Last weekend, snow and ice fell across western and central portions of the Carolinas leaving about 100,000 customers without power.
Jeff Brooks, a spokesman for Duke Energy, told FOX Weather multimedia journalist Robert Ray on Friday that crews from the company's Midwest division have been brought to the Wilmington, North Carolina, area to supplement the Carolina-based crews. Wilmington is forecast to be in the center of the heaviest ice amounts.
"These crews have been here since last week, with the storm that we experienced in the Sandhills and across the state, and we moved them forward to be with us down here because we do anticipate that this is going to be a problem area," Brooks said.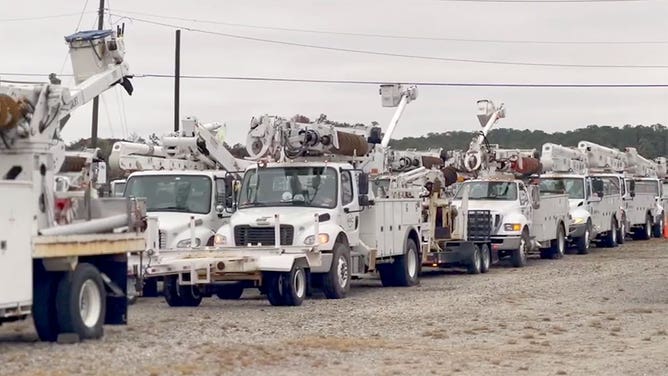 Brooks said it takes about a quarter-inch of ice to start causing problems for tree limbs and power lines. He said that if the worst-case scenario plays out, some customers could be without power for days.
"You're talking sometimes 1-, 2-, 3-day restorations, depending on the number of outages you see," Brooks said. "We're just going to have to watch and see how long that precipitation stays in the area because that will ultimately determine how many outages we're experiencing."
North Carolina Gov. Roy Cooper said Thursday that officials are expecting significant power outages along the coast.
It's been about seven years since the Wilmington area has been under an Ice Storm Warning. Brooks said that is why crews from the Midwest, that are more familiar with winter weather, have been brought to the region.
7 THINGS TO KNOW ABOUT ICE STORMS
"This is an area that's familiar with hurricanes, we get them all the time here, not icing, not winter weather like this," Brooks said.
Cooper said that emergency crews have already been staged in central and eastern parts of the Tar Heel State and will be dispatched to the hardest-hit areas when they're needed.