Storms could complicate clean up of 144,000-gallon oil spill in southern California
Huntington Beach mayor describes spill as 'potential ecology disaster'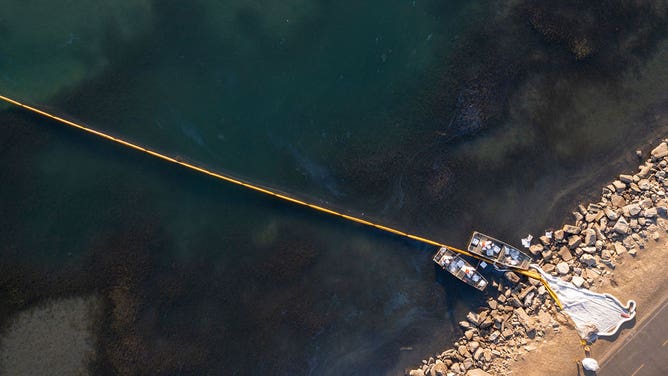 HUNTINGTON BEACH, Calif. --  Crews rushing to clean up 144,000 gallons of oil that spilled into the ocean off the Southern California coast over the weekend may have to contend with stormy weather Monday.
Officials at Amplify Energy, the company that owns the rig about five miles off the coast of Huntington Beach, California, said that a sheen was noticed on the water Saturday. All production and pipeline operations at the site have stopped while the source of the leak is investigated, officials said.
According to FOX 11, the original size of the oil spill was thought to be about 126,000 gallons. That number was increased Monday to approximately 144,000 gallons by Huntington Beach Mayor Kim Carr.
"We are in the midst of a potential ecology disaster here in Huntington Beach," Carr said.

Huntington Beach officials said more than 2,000 feet of protective booms have been deployed to trap the oil at several locations along the shore.
U.S. Coast Guard officials said more than 5,300 feet of boom has been deployed in the ocean. About 3,150 gallons of oil have been skimmed from the surface of the water as of Monday, officials said.
"The ramifications will extend further than the visible oil and odor that our residents are dealing with at the moment," said Orange County Second District Supervisor Katrina Foley. "The impact to the environment is irreversible."
Images of oil-covered animals and sludge-covered sand were being shared on social media.
"Dolphins, whales swimming through that oil, they're breathing in, you know, toxic fumes that are potentially deadly," said John Fleming, Ph.D., of the Center for Biological Diversity. "So, it's really devastating."
Coast Guard officials said 14 boats were used during cleanup operations Sunday, and there is a 1,000-yard safety zone around the nearly 7-mile-long slick.
Sections of Huntington Beach have been closed to the public.
The weather
The weather should be decent for the cleanup efforts for much of Monday, but scattered showers and storms are expected along the coast by Monday evening. 
Winds are blowing onshore Monday morning, but as the storms move through the region the winds are forecast to turn perpendicular to the coast. This could push the oil slick farther north.
Read more about the Los Angeles-area forecast here.